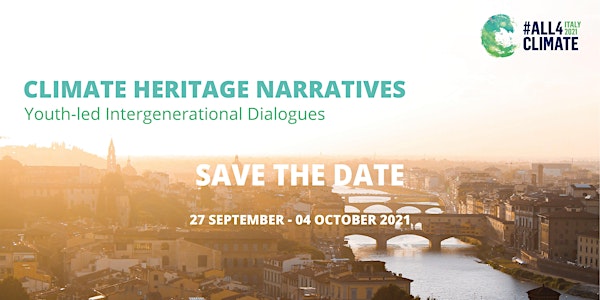 Traditional Knowledge and Skills - Climate Heritage Narratives
One of series of Youth-Led Intergenerational Dialogues exploring how youth-led care for culture can drive climate ambition.
About this event
The Climate Heritage Narratives: Youth- Led Intergenerational Dialogues Series is designed to enable intergenerational exchanges between emerging professionals and experts engaged in cultural heritage or climate change, with youth taking the lead.
Climate change presents an enormous threat to people and their culture worldwide. At the same time, arts, culture and heritage offer immense potential to support just transitions by communities towards low carbon, climate resilient futures. This series is designed to explore how youth-led care for culture can heighten climate ambition. Through inter-generational dialogue, participants of all ages will learn from each other about the crucial intersections of culture, heritage and climate change.
Three thematic areas have been identified and selected to highlight the significant links between culture and heritage and climate change. The theme of this event is Traditional Knowledge and Skills including harnessing nature-based solutions and local resources for tackling climate change at and around heritage sites and properties; community response to disaster mitigation; traditional conservation techniques and tools; re-adaptation and reuse.
This event will be repeated at 11am Mexico City (1pm Buenos Aires time, 6pm Paris time) in order to make it more accessible to participants in the Americas. To sign up for that session, click here : https://www.eventbrite.com/e/traditional-knowledge-and-skills-climate-heritage-narratives-tickets-169867296657