Description
This night is for the Vegetarians.
The vegetarian night is for all of Dublin's vegetarian community, I have designed a 100% vegetarian menu with a wide range of dishes most you will not have had before. Including Traditional Kung Pao Cauliflower, Bok Choy with black mushrooms and Mapo tofu to name only 3 dishes out of 12. I and the Restaurant have gone through each ingredient to make sure it is a 100% vegetarian menu. This is not an all you can eat buffet, it is not Irish/Chinese food it is the real deal, traditional Chinese food same as if you were in China. We share all the food together around a table in a privet room in what is a great night out. 26 Euro includes all the food but drinks are extra and up to you what you drink, Chinese tea will be provided for free on the night. Eat new food, meet new people and have a bit of Craic.

More info...
After spending a few years in China and eating a lot of amazing food, I started this small project to educate the Irish public on what traditional Chinese food tasted like. I have had a few tours and they have gone down really well. I am enjoying the project. It is not a business driven by profit, It a hobbie for me, I only make a small profit hence the price. I am satisfied by the look on people faces when they realize what they have been missing out on. This is about changing the culture of Chinese food in Ireland. I also get to meet some amazing people.
I keep it personal. We sit at a round table in a privet room, I will order 9 - 12 dishes depending on turn out. These dishes are picked out of experience. They are then shared in the middle of the table on a lazy Susie. It is traditional Chinese food from an Irish perspective so the food I pick is for the western pallet. We stay in the one restaurant as I take you no a tour of the dishes around the table. I will explain the dishes and some of the culture and customs of this fascinating country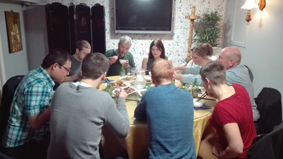 Hope you support this small project and buy a ticket for this event, you can cancel one day before the event. If you do not cancel the day before the event and do not go or try to cancel, there will be no refund. If there are less than 9 tickets sold I will cancel the event and give a full refund to all. I will then hold the event at a later date.

*Disclamer**The restaurants have been chosen from past performances. I do not cook the food so any problems that arise with the food you will direct your complaints to the restaurant. I will also complain on behalf of the tour. If you have an allergy please email me before buying the ticket, I just want to make sure we can cater for that allergy. I can help with allergies but you and you alone are responsible for what you eat. When you buy a ticket you agree to these terms*