Description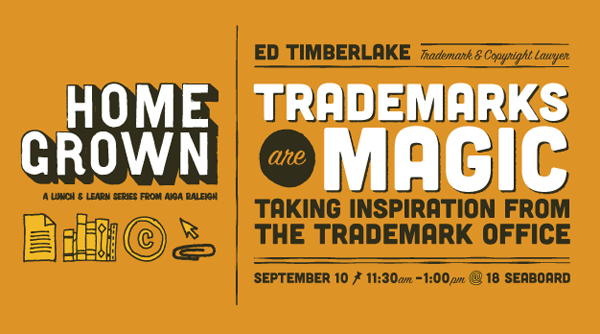 The records of the U.S. Patent & Trademark Office are accessible free online, and contain a treasure trove of design ideas extending back at least as far as 1884. The session will begin with a discussion of trademarks in relation other legal principles, followed by an introduction to the web resources of the U.S. Patent & Trademark Office, and will conclude with detailed instructions for searching trademarks records for design ideas and inspiration. Ed will share the why, why not, protect your work aspects of design.
Join us September 10 for our Homegrown on Trademarks are Magic: Taking Inspiration From the Trademark Office with Ed Timberlake of Timberlake Law.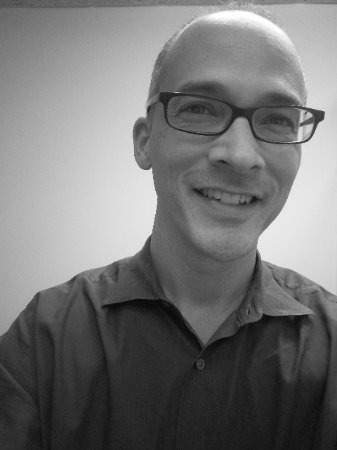 Ed is a trademark & copyright lawyer who's worked at both the U.S. Patent & Trademark Office and the U.S. Copyright Office. He runs Timberlake Law in Carrboro where he spends a lot of time trying to talk people out of using crappy names, logos, slogans, etc. Check out Timberlake Law on:
Register soon as seating is limited.
Tanglewood Farms chicken salad with Perry Lowe Orchard apples, turnips, walnuts, and a bleu cheese vinaigrette
Moore Brothers' beef brisket and asparagus salad with pears, sweet potatoes, bacon, and bleu cheese dressing
Grilled meatloaf with goat cheese smashed red potatoes, spinach, and house-made Worcestershire Wood
Fire grilled Portobello mushroom with braised lentils, butternut squash, and roasted fennel
Shrimp and grits with spinach and champagne tarragon butter
---
Homegrown, a Lunch & Learn series from AIGA Raleigh
Things change fast in our industry, and it's important for us to grow our non-traditional design skills. This monthly lunch series brings local, "homegrown" experts together with designers for an intimate, indepth discussion of different skills or topics that will help designers add a few skills to their toolbox. Homegrown is your opportunity to have lunch with the smartest people in town.