Strategies for Growing Trade and Investments under the African Continental Free Trade Agreement (AfCFTA)
About this event
The Trade with Africa Business Summit convenes global business leaders, trade experts, policy makers, exporters, service providers and investors driving trade with Africa across sectors including manufacturing, agriculture, retail, technology and innovation and more.
This platform strengthens market linkages by bringing together U.S./Global and African business and political leaders and their supporting service providers. Please visit www.twasummit.com for complete event details.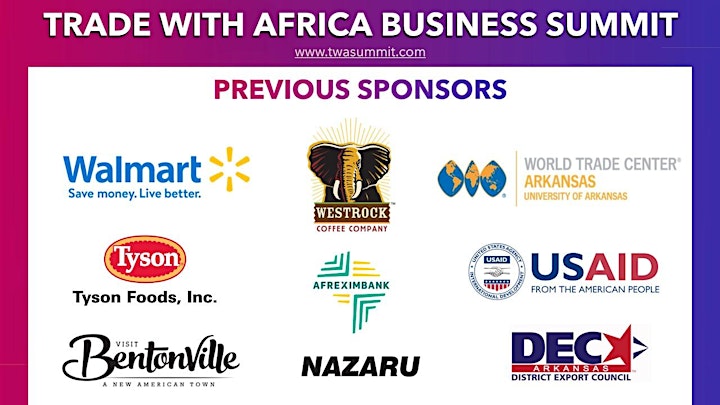 Who Attends?
• Business leaders interested in importing from or exporting to Africa
• Exporter looking to promote their businesses, initiatives and brands
• U.S. & African government leaders that foster global trade 
• Buyers
• Technologists, supply chain service providers with solutions that support trade (Transportation, Logistics, Packaging e.t.c)
• Africans in the diaspora, not-for-profit organizations and friends of Africa looking to connect with the region.
This year's event will be held virtually and virtually networking available to attendees on our digital platform
For inquiry please email: info@twasummit.com