Sales Have Ended
Ticket sales have ended
Thank you for completing your registration! Please visit www.tradewithafricabusinesssummit.com to stay connected and for updates. Thank you
A New Era of Trade and Diplomacy Under the African Continental Free Trade Agreement (AfCFTA)
About this event
-- Following the successful launch of trade under the African Continental Free Trade Agreement (AfCFTA) Nazaru LLC., a USA based service company, is set to host the 4th edition of the annual Trade with Africa Business Summit, as a virtual experience May 31st – June 4th (5 days).
This event offers an immersive experience and a front row sit to leaders who wish to learn best practices from our speakers, access government resources, network with attendees and explore business, trade and investment opportunities across sectors including Agriculture, Retail, Manufacturing, Technology, Export, Infrastructure Development and more.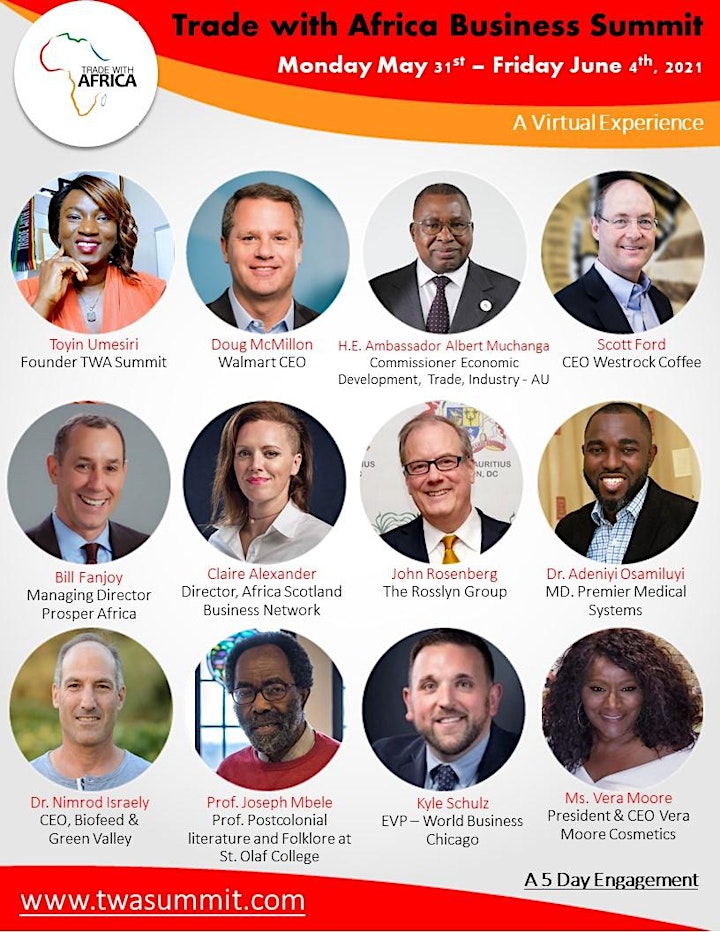 "The Trade with Africa Business Summit is a private sector led and policy-supported platform with focus on advancing trade and investment engagement with the African Continent. It is an honor to bring this important conversation to the leading front as we convene, again this year, global business leaders, trade experts, investors, policy makers, executives and innovators from around the world" Toyin Umesiri, Nazaru CEO and Convener Trade with Africa Business Summit.Confirmed Speakers include:
H.E. AMBASSADOR ALBERT MUCHANGA - Commissioner for Economic Development, Trade, Industry and Mines - African Union (AU) Headquarter – Addis Ababa
SCOTT FORD - CEO Westrock Coffee & Economic Adviser to President Paul Kagame of Rwanda - USA
DOUG MCMILLON – CEO Walmart and Chairman Business Roundtable - USA
BILL FANJOY - Managing Director for Domestic Commercial Engagement for Prosper Africa - U.S. Government Representative - USA
KOMI TSOWOU – Economist at the African Trade Policy Center - United Nations Economic Commission for Africa (UNECA) –– Ethiopia
PROF. JOSEPH MBELE - Professor, Postcolonial literature and Folklore at St. Olaf College, Minnesota
JOHN ROSENBERG - The Rosslyn Group - Washington, DC
DR. ADENIYI OSAMILUYI - MD. Premier Medical Systems – Nigeria
MS. VERA MOORE – President & CEO Vera Moore Cosmetics - USA
BILL MCNAMARA – Director, Illinois SBDC International Trade Center - Chicago
Full list of speakers and tickets can be accessed on the event website: https://www.twasummit.com
Full keynote message by Doug McMillon, Walmart CEO on The Power of Trade will be presented during the summit.
Who Attends?
Global Business leaders & Executives | Trade Financing Institutions | U.S. & African Policy Makers | Buyers | Trade Experts | Manufacturers | Africans looking to showcase their export items |Technologists, supply chain service providers with solutions that support trade (Transportation, Logistics, Packaging etc.) | Africans in the diaspora, not-for-profit organizations and friends of Africa looking to connect with the region.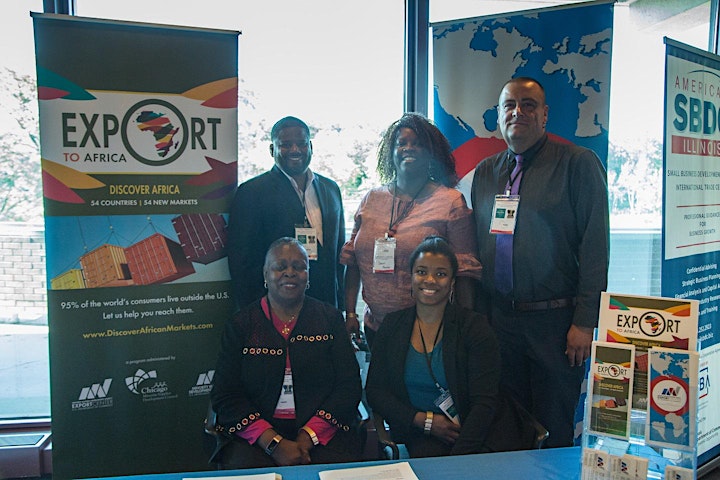 Our acclaimed event, now in its 4th year, offers unique opportunities for networking, knowledge sharing and global exposure with brands, businesses and corporate executives at the leading front of driving transformative growth in the world's next economic frontier.
Event website: www.twasummit.com | Presented by: Nazaru LLC. www.nazaru.com | Host: Toyin Umesiri: www.toyinumesiri.com
Email: info@twasummit.com