Event Information
Location
Doral Park Country Club
5001 Northwest 104th Avenue
Doral, FL 33178
Join us on Monday, May 23 2022 in welcoming the Dominican Republic Delegation , comprised of 17 companies, led by AMCHAM DR.
About this event
Join us on Monday, May 23, 2022 from 12:00 noon to 1:30 pm to expand your network and find opportunities for your business in the Dominican Republic. 
 The Florida Foreign Trade Association will welcome the Dominican Republic Delegation under the TRADE-USA Program. Domi
Special guest speakers, Hon. Jose "Pepe" Diaz, Commissioner District 12, Miami-Dade County; Hon. Juan Carlos Bermudez, City of Doral Mayor, Hon. Digna Cabral City of Doral Vice Mayor Commissioner, and Mr. TJ Villamil, Enterprise Florida Sr. VP Int'l Trade & Business Dev.
Cost of Lunch is $35 for Individual attendees and $30 for guests who come in groups. ***Contributions to the FFTA are tax deductible ***
The event will take place at the Doral Park Country Club located at 5001 NW 104 Avenue, Doral, FL 33178.
More information call 305-546-6437 or email us at: tradeusa@ffta.com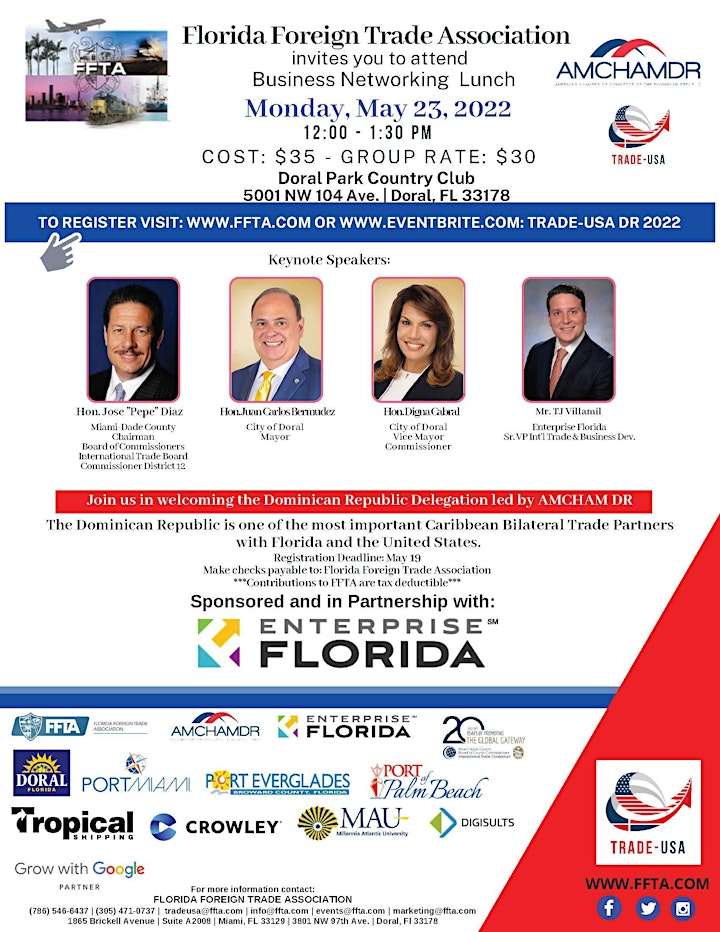 Date and time
Location
Doral Park Country Club
5001 Northwest 104th Avenue
Doral, FL 33178