FAST TRACK TO MIRRORLESS - Wed, Dec 9th Sell your USED digital cameras, film cameras, lenses, and accessories.
About this Event
DESCRIPTION:
Foto Care is proud to be hosting our FAST TRACK TO MIRRORLESS event in partnership with Justin Camp from US Camera Pro to buy your USED equipment.
Your gear will be evaluated on the spot during your scheduled appointment at Foto Care via a Zoom meeting with Justin from US Camera Pro and a Foto Care Sales Representative. We will handle all the details. Register early, submit your equipment list and keep an eye out for a confirmation email.
Don't miss this great opportunity to turn your old gear into a Foto Care Store Credit or Cash (in the form of a check) before the end of the year.
WHEN:
Wednesday, December 9th (By appointment only)
We are running appointments every 15 - 30 minutes. You will sign up for a block of time by purchasing a free ticket and we will follow up with your exact appointment time.
WHERE:
Foto Care, 41 West 22nd Street, New York, NY 10010 (btwn 5/6th Ave)
WHAT GEAR IS ACCEPTED?
Sell your USED digital cameras, film cameras, lenses, and accessories. Make sure all the equipment is clean and in working order, and be sure to bring your batteries and chargers.
PAYOUT OPTIONS:
Option 1: Opt to receive a Foto Care store credit and walk away with 10% more!
Option 2: Receive money for your old gear in the form of a check.
COVID-19 GUIDELINES:
1. Everyone is required to wear a mask properly during your visit to Foto Care.
2. Temperature checks will be administered prior to the start of your appointment.
3. Social distancing will be enforced while in the store and during your appointment.
***Foto Care will have personal protective equipment available for your use***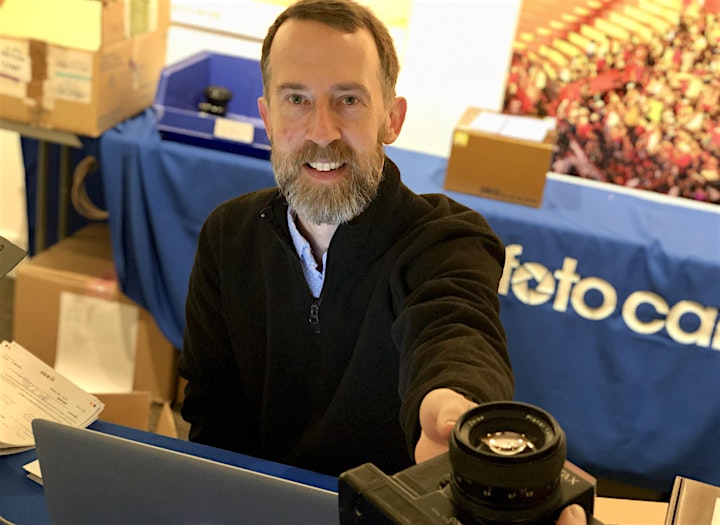 MEET YOUR BUYER:
With 25 years experience in the photography industry serving corporate, retail, and consumer clients, you can count on US Camera Pro to deliver professional service with a personal touch.
Owner, Justin Camp, started working in the family photography business at the age of 15. He worked hard to learn all he could about camera equipment and the photography industry.
NEED MORE INFORMATION:
Please feel free to contact Foto Care at 212-741-2990 or email: support@fotocare.com for more information.
We will do our best to make other arrangements if you're not able to attend this event but would still like to sell your USED camera gear. Simple reach out to us directly.