Relive a night of country hits with the iconic Tracy Byrd and unique country star Colt Ford.
About this Event
Tracy Byrd became a household name on the Country Music Scene in 1993 when his third single, called "Holdin' Heaven", off of his MCA Records, self-titled debut album, hit #1 on the Billboard Country Charts. The Album also included the remake hit of Johnny Paycheck's "Someone to Give my Love to" cementing Byrd as a Traditional Country Troubadour!! The Debut Album went on to be certified Gold, a reward signifying sales in excess of 500,000 copies.
Byrd's second project, "No Ordinary Man", kept building on the momentum the first album created, the first radio single from it called "Lifestyle's of the Not so Rich and Famous" reached #4, followed by another top five hit, "The First Step", then with the release of the smash, chart topping hit "Watermelon Crawl" the second album crossed the half million sales mark and certified Gold. The release of the 4th and last single on this project moved Byrd to the top of both the Billboard Album and Singles charts. The song was called "The Keeper of the Star's" and it shot to #1 on the singles charts and pushed the album to Double Platinum Status, which certifies sales of over 2 Million Copies. "The Keeper of the Star's" won Academy of Country Music's "Song of the Year" award in 1995. A Keeper Year for Tracy Byrd for sure.
His third studio Album, "Love Lesson" is one of Tracy's favorites. It included the title track, another top five hit single for Byrd, also included were the top 15 singles, "Walking to Jerusalem" and "Heaven in My Woman's Eyes", Byrd's personal favorite.
A 4th top 15 single was released called "4 to 1 in Atlanta" which Byrd performed Live on the David Letterman Show. The "Love Lesson's" album also reached sales of 500,000 copies certifying Gold.
"Big Love" became Byrd's fourth studio album with it's release in the fall of 1996. It spawned two more top five singles with the release of the title track and "Don't Take Her She's All I've Got" The Video's of both of these songs reached the top of CMT's Video Chart's and also earned Byrd his first TNN Television Special titled "Tracy Byrd's Big Love" on which Byrd invited guest's Johnny Paycheck, Mark Chesnutt, and Asleep at the Wheel. The Album "Big Love" became Tracy's Fourth consecutive Studio Album to be Certified Gold. Tracy said that this meant more to him than anything because he knew Fan's weren't just listening to his hit songs on the radio, they were laying down their hard earned money to own a copy of their own and that was flattering.
The fifth project on MCA was titled, "I'm From the Country" and it contained the title track a fun, party song stating what most fan's already knew, that Tracy Byrd was from the Country and sang Country Music. The CD also contained a Beautiful Ballad called "I Wanna Feel That Way Again" Both of these single's reached the Top Five on the Charts. It was at this same time that TNN Outdoors recruited Byrd as the TV Host of their Weekend Outdoor Broadcast. Tracy, a well known outdoorsman, was perfect for the job and continued his hosting responsibilities for three years.
At this point in his career, Tracy Byrd, was looking for a change in labels, but still was under contract with MCA Records who were preparing a release of "Keepers: Greatest Hit's" containing all the hit's from Byrd's catalog of songs. The album quickly earned another Gold Record award for Byrd but he was trying to persuade MCA to let him out of his contract so he could pursue a different direction. MCA finally allowed Byrd out of his contract and he quickly signed with RCA Records and got to work on a new project, "It's About Time", that would be released in November of 1999 and would reach the top 10 quickly with the single "Put Your Hand In Mine" Byrd has said that this album is the most Traditional Album he ever released and therefore his favorite.
Tracy Byrd crossed into the new Millennium with the release of his Album "10 Rounds" It took off on the release of a duet with his longtime hometown buddy and hero Mark Chesnutt. The song was called "A Good Way to get on my Bad Side" and was a milestone for Byrd to finally get to record with his good friend. Then came the release of the party song of the year, "10 Rounds with Jose Cuervo" which shot to the top of the Billboard Charts to notch Byrd's third #1 single. He also hit the top 10 with his Spanish guitar flared "Just Let Me be in Love".
Next came "The Truth About Men", which first released the title track which was a comedic look at what Men are really like, it was a team effort with Tracy's buddies Blake Shelton, Andy Griggs, and Troy and Eddie of Montgomery Gentry lending their talents to the song and the video. This Album also released the top five smash "The Drinkin' Bone" which became a crowd favorite sing along song.
Byrd was then moved to BNA Records, the sister label of RCA, and they released his second greatest hits project, another feat that not many artists experience, two Greatest hits projects!!! It debuted in the top five of the album charts and became Byrd's sixth Gold Album, and sent him to over 6 Million Records Sold!!!
Byrd then left the major label and released an album on his own, appropriately titled, "Different Things" Although this project was not commercially successful, it garnered Byrd his highest Critical acclaim of his career with Billboard magazine choosing it as one of their Top 10 Country Albums of the Year!!!
Through all of these years Byrd became a promoter favorite on the road, performing over 4000 exciting shows across the United States, Canada, Mexico, Europe, and Australia from 1992 until 2009! He then say's he needed a break to take care of himself and his most precious thing, his family, wife Michelle, daughter Evee, and son's Logan and Jared, who had taken a backseat to his career for year's. He did not perform from 2010-2013, but in 2014 he got back to the music with a new band and a new found sobriety and love of the thing he enjoys so much. Say's Byrd, "These day's my life has great balance, with my music being a part of it, not all of it. I can honestly say I have never enjoyed it more!!"
Byrd went back in the studio in June of 2016 and started work on his first project in 10 years. Recorded completely in Tyler, Texas at Rosewood Studios, that album is appropriately titled, All American Texan, which is exactly what he is and has always been. This album features 8 tracks written by Byrd, a fact he is very proud of. The album was released in October of 2016 and has been very well received by his fans and critics alike.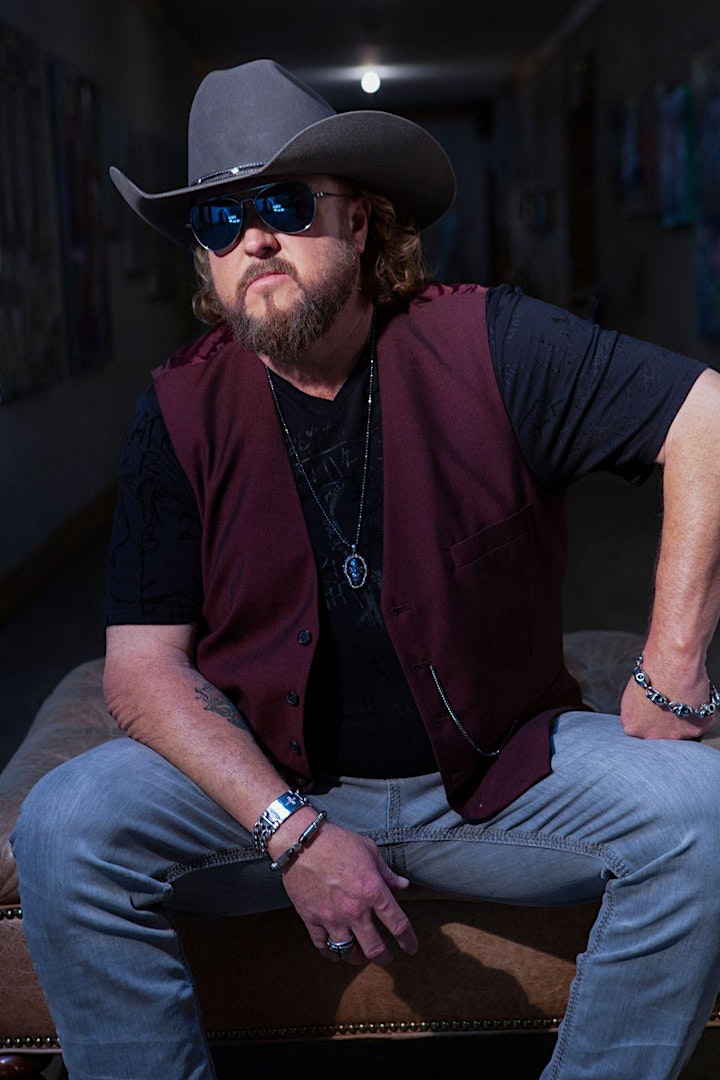 Colt Ford consistently blazes his own trail. By doing so, the Georgia singer, songwriter, rapper, musician, performer, and co-founder and co-owner of Average Joes Entertainment keeps up pace as country's preeminent independent maverick.
By 2019, Colt built a series of staggering successes as he rose to mainstream notoriety. He notched five consecutive Top 10 debuts on the Billboard Top Country Albums Chart with Declaration of Independence bowing at #1 in 2012. Two years later, Thanks for Listening ascended to the Top 10 of the Top 200, with the album reaching #1 on Billboard Rap & Independent charts. Meanwhile, he lobbed six songs onto the Hot Country Songs Chart with "Back" [feat. Jake Owen] going Top 40. Among many accolades, Ford received a nomination in the category of "Vocal Event of the Year" at the Academy of Country Music Awards for "Cold Beer" with Jamey Johnson.
Selling over 3 million albums, attracting millions of followers on social media and hitting 1 billion-plus streams, the country rap pioneer's dynamic discography spans collaborations with everyone from Toby Keith, Brad Paisley, Keith Urban, and Jermaine Dupri to members of No Doubt, Lit, and Lady Antebellum. Additionally, he co-wrote Jason Aldean's #1 hit "Dirt Road Anthem" and Brantley Gilbert's #1 hit "Country Must Be Country Wide" as a behind-the-scenes force in the studio. Moreover, Ford's solo tradition of genre-blurring continued on Love Hope Faith in 2017 by way of cuts such as "Reload" [feat. Taylor Ray Holbrook].
For his seventh and eighth albums, We The People, Volume 1 [2019] & We The People, Volume 2 [2020], Ford once again tossed the rule book out the window, perfecting his dynamic and definitive distillation of country, hip-hop, and rock like never before on nearly 30 songs.
"Making this one, I went back to the beginning when I really didn't know any better," he explains. "I didn't let anybody tell me the rules or say, 'You can't do this; you've got to do that.' Instead, I let the feeling of the songs guide me. The record reignited my passion for playing and making music. My music transcends politics, religion, and rules. That's what this whole project is about."
This passion is brilliantly captured on the album, produced by Noah Gordon and Colt Ford, with Shannon Houchins serving as Executive Producer (Colt and Shannon co-own Average Joes Entertainment). In between a marathon tour schedule of nearly 150 shows in less than 12 months, they recorded at Colt's studio in Nashville. Throughout the process, the star pushed himself like never before, maintaining the hallmarks of his signature style, charting new territory, and hitting his most prolific stride to date with the two-part project all at once.
On We The People, Volume 1, Ford continues to evolve his artistry and—as only he can—amp things up even further.
Fittingly, he introduces the album with the title track and first single "We The People." The twang of clean guitar resounds between boisterous organ and a steady beat as Ford delivers a brazen and beer-soaked state of the union address of his own. At heart, it's a song about unification—no matter race, color, or religious affiliation. Music has a way of bringing people together, and that's the exact message in this song.
"We The People' is really me," he elaborates. "So much of my success is a result of the fact that I am my songs. You're getting me in the lyrics! I don't have chauffeurs, ten sports cars, or my own jet. That's all cool, but I'm just Colt Ford. It's relatable."
In order to clearly expound upon this message in black-and-white, Ford penned an essay about what unites, not divides, Americans, as shared by CMT when premiering the accompanying music video. He wrote, "We have so many things we can agree on, like how cancer sucks. We want clean air and water for the entire world. I promise that people from every background, upbringing, race, and religion all want good things for our kids and for our families."
The album opener "I'm Still Me" upholds a pervasive theme of independence. Swinging from hummable verses into a magnetic chant, he reaffirms, "I'm still the guy you found on MySpace no matter how many things have changed in the world!" He cuts loose on the raucous "Bass Like That," which he appropriately dubs a "good old country song with some clever innuendos."
Overall, the album doubles as a soundtrack for positivity and living life to the fullest for these times. Of course, Ford preserves the right amount of grit and wit to liven and light up any party as his blend of Southern rock, modern country, and rap remains downright unbeatable. Alongside guests such as Jimmie Allen ["Back To Them Backroads"], Mitchell Tenpenny ["Slow Ride"], Michael Ray ["Nightcap"], and more, his lead vocals and raps remain as robust and uniformly strong as ever, uniting the disc in a seamless flow. Nevertheless, "How You Lose A Woman" marks an emotional high watermark for We The People. This vulnerable, vibrant, and vital ballad illuminates Ford's impressive range as he carries a heart-wrenching hook to the heavens and back.
"I have to say 'How You Lose A Woman' is a real, true, and defining moment for me," he admits. "It's how I sing and where I feel good at. It's a straight-up country power ballad that honestly every man in the world should listen to and realize what mistakes not to make. It changed a lot for me."
As Ford kicks off his most prolific and powerful chapter yet, he holds nothing back on We The People.
"Listen to these records…you'll know exactly who I am," he leaves off. "Colt Ford is about God, family, friends, and America. I'm just a guy who loves life. I love people. That's We the People in a nutshell. I love knowing I could make a difference in somebody else's life with a song. I hope you walk away with a smile on your face. I poured my heart and soul into this one. This ain't a hobby. It's life. The fans are the reason I'm here. I'm going to keep doing it for them. I feel like the luckiest man on planet earth, so I'm not stopping. I'm in such a creative space you might hear Volume 3 sooner rather than later," he laughs.