Description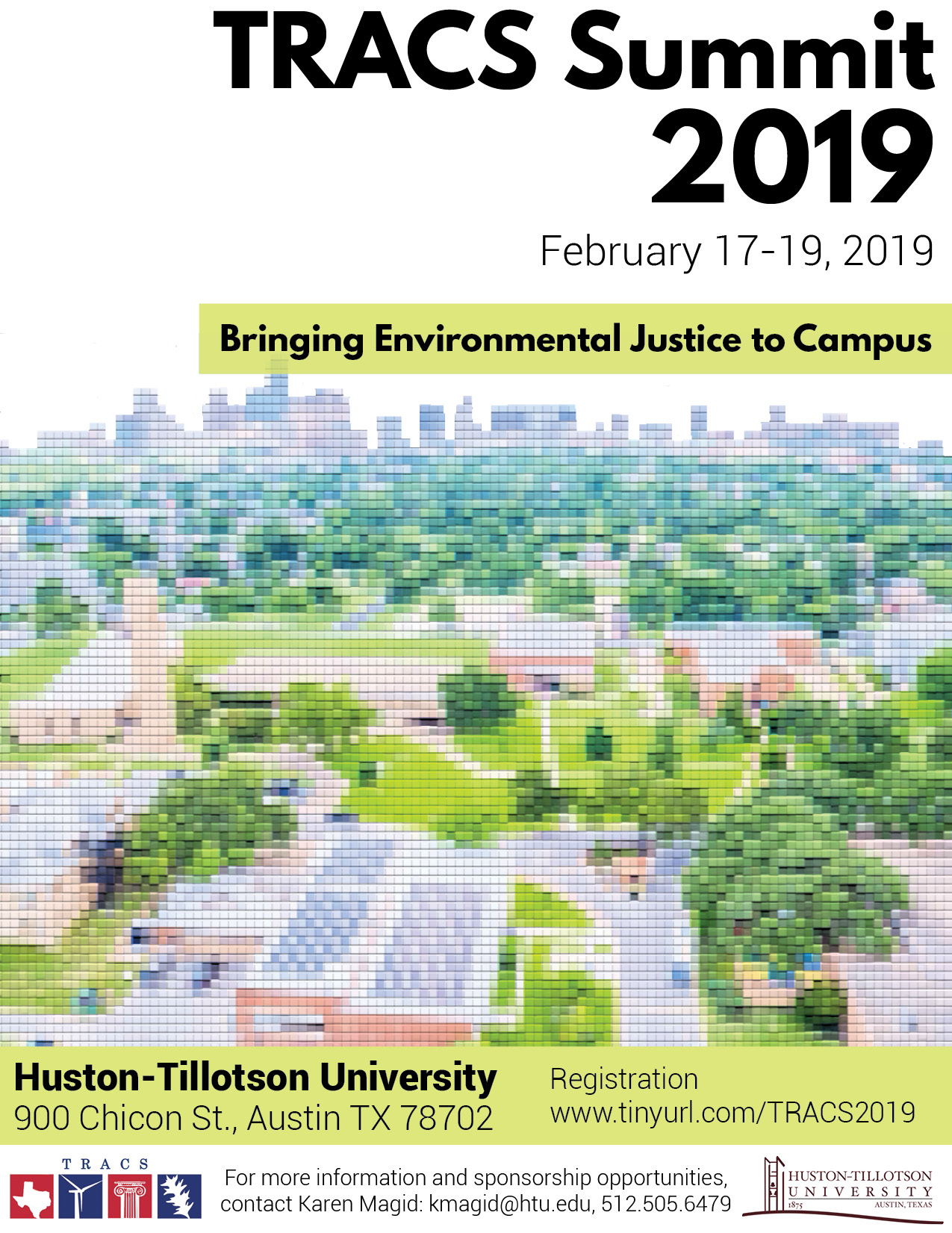 The Texas Regional Alliance for Campus Sustainability (TRACS) is a network of faculty members, students and sustainability professionals supporting higher education in Texas by implementing climate change and sustainability solutions across campus operations, academic curriculum and off-campus fields of influence. TRACS facilitates collaboration between higher education institutions through a variety of means including the Annual TRACS Summit. TRACS is supported by volunteer members representing Texas colleges and universities.
Huston-Tillotson is proud to host the 2019 Summit, taking place on our campus in Austin, Texas from February 17-19, 2019. This year's theme is "Bringing Environmental Justice to Campus." We invite proposals for presentations and posters that consider campus sustainability topics with an equity and EJ perspective.
The call for proposals is open and can be found here.
Conference schedule coming soon. Most events will take place on the HT campus at 900 Chicon St., Austin TX 78702.
---
Lodging
1. Hilton Garden Inn Austin Downtown/Conventation Center
500 N Interstate 35, Austin, TX 78701
Rooms available: Doubles with 2 Queen Beds, group nightly rate $159
To make a reservation, please use this link.

2. Super 8 by Wyndham Austin Downtown
1201 N Interstate Hwy 35, Austin, TX 78702
Rooms available: 25 Doubles. Group nightly rates: $97.75 on 2/17/19; $89.25 on 2/18/19 ($187 for 2 nights)
Reservation link coming soon.
3. Guild East 6th at the Arnold
1621 E 6th St, Austin, TX 78702
The Guild is a boutique hotels located in a residential buildings -- offering 24/7 concierge services and the amenities of home. Virtual check-in and check-out.
Reservation information coming soon. Group Rate: $209/night
4. Native Hostel
807 E 4th St, Austin, TX 78702
Boutique hostel with 4-bed and 6-bed dorms offering over-sized single beds in bunks and four private rooms.
No special rate has been negotiated. Nightly rates from $40/night (bed in dorm) to $250/night (private suite). Book here.
For more information and sponorship opportunities, contact Karen Magid (HT Director of Sustainability).