Track Day for Charity, "Lemons Of Love" - All Ages Welcome to Autobahn (a...
Description
Come join us at Autobahn, a private country club with an auto racing road course (instead of a golf course) to support Lemons of Love. You don't have to be a racer, or a car enthusias to have a great time... You can bring the whole family to the track! We will have lots of things for all ages to do. You can watch the cars, buy yourself a ride in a race car, try your hand at the Red Ryder BB Gun range, take a picture in Chitty Chitty Bang Bang (See pics below) or just kick back and have a lemonade.
This event is open to the public, please share with all of your friends (especially the car enthusiasts). We will have some beautiful exotic cars on display from our sponsors.
We are grateful to Autobahn, GuestDriver.com, Calypso Lemonade, JIDD Motors, Keeley Construction, Gerald Subaru, Midwest Motors, MotorWerks, EXXON Mobile, New York Jewelers and Wayne Chesson with State Farm Insurance for genersously sponsoring this event.
If you have a car, a racing helmet and want to have a go on the race track, you can sign up here.
https://www.motorsportreg.com/events/racing-for-a-reason-lemons-of-love-charity-event-autobahn-country-club-394846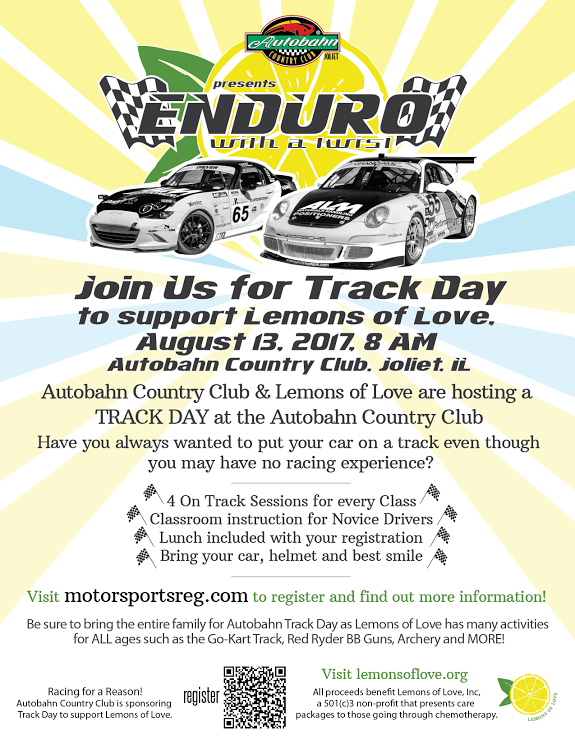 Take your picture with Chitty Chitty Bang Bang!