Description
Visit Tracy Snelling's design studio at the historic Ford Street Artist Live/Work Lofts, a 1908 warehouse that was adapted for residential use in the early 1982.
Through the use of sculpture, photography, video, and installation, Tracy Snelling gives her impression of a place, its people and their experience, and allows the viewer to extrapolate his or her own meaning. Often, the cinematic image stands in for real life as it plays out behind windows in the buildings, sometimes creating a sense of mystery, other times stressing the mundane. She has had solo exhibitions throughout the US as well as in China, Belgium, the Netherlands, and London, and has been awarded residencies in Beijing and Shanghai. Future solo exhibitions will be at Aeroplastics Contemporary in Brussles, Belgium in September and at Rena Bransten Gallery in San Francisco, California in December. Tracey Snelling was born in 1970, in Oakland, California. She received a BFA from the University of New Mexico, Albuquerque.
In addition to visiting Snelling's space, tour participants will have an opportunity to see the "There is a there there" exhibit at Gray Loft Gallery and visit other artist live/work spaces.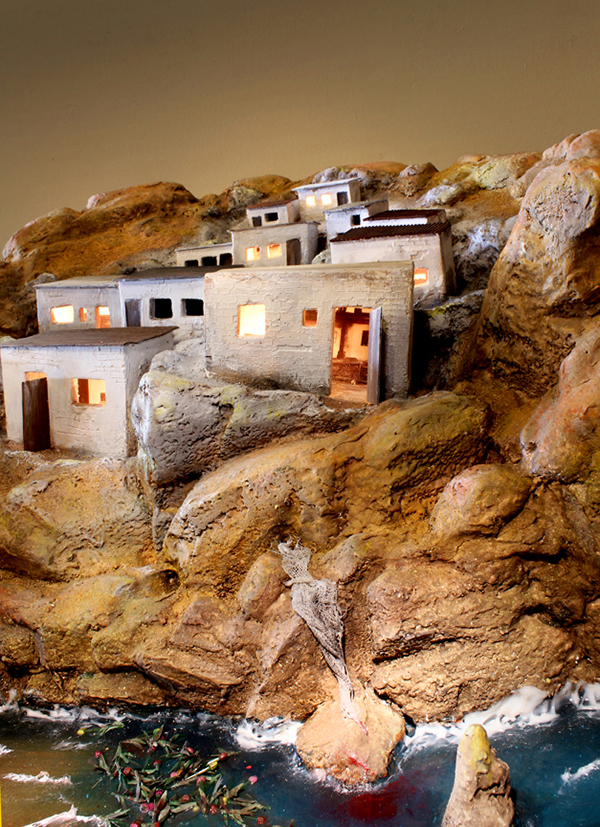 The Handsomest Drowned Man
2012
mixed media
11" high x 24" wide x 23" deep
Wood, landscaping, foam, faux water, paint, lights, lcd screen, media player, speaker, transformer
Based on The Handsomest Drowned Man in the World by Gabriel Garcia Marquez.