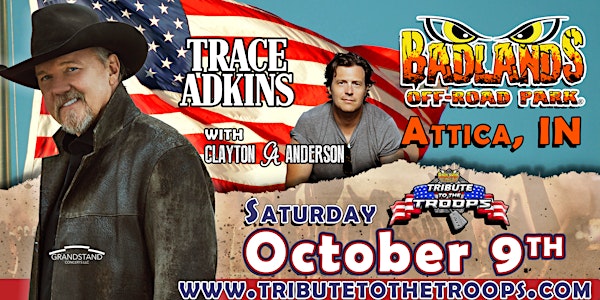 Trace Adkins - Tribute to the Troops
Presented by Badlands Off Road Park
Performers
Trace Adkins
Clayton Anderson
Location
Badlands Off Road Park
3968 N Xavier Road
Attica, IN 47918
Sales Have Ended
Ticket sales have ended
Concert tickets will be available at the gate the evening of the show.
Trace Adkins is coming to Badlands Off Road Park in Attica, Indiana on October 9th with Clayton Anderson for Tribute to the Troops Event!
About this event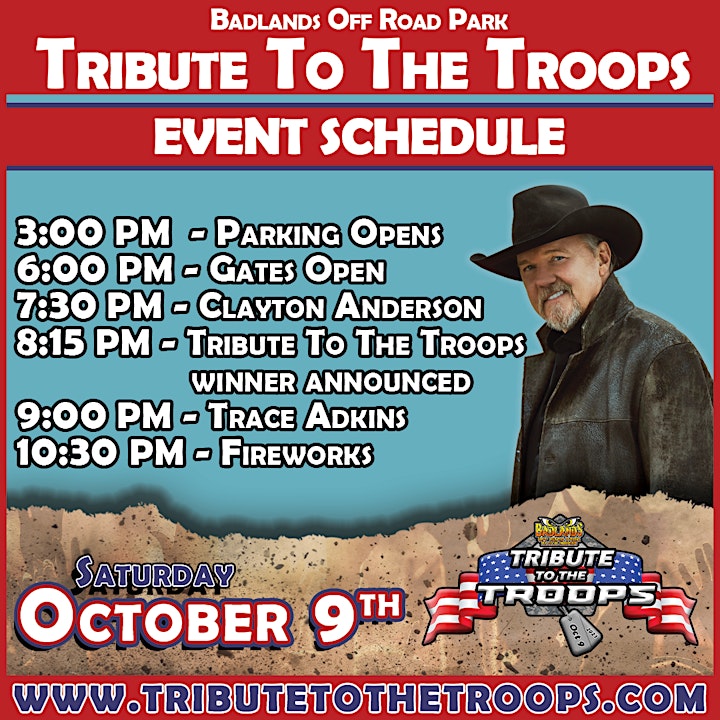 This is the second event in our line of giving back. The first event was "Backing the Blue" in which we gave away a built 2020 Polaris RZR to a special member of law enforcement. This year is for the armed branches. We are giving away a 2021 fully custom Polaris General to a member of service.
Day of riding at Badlands Off Road Park.
Food trucks.
Concert.
Polaris General Give Away.
Children 5 and Under are free.
Concert passes do not include entry into Badlands Off Road Park. Driver Bands for Badlands Off Road are sold separately. Driver Bands for October 9th at the Badlands are LIMITED. If you want to guarantee your spot to ride on October 9th, you can purchase a ride band from the ticket section. For more information on riding at Badlands Off Road Park please visit www.badlandsoffroad.com
VISIT www.TributetotheTroops.com to nominate your soldier for the Polaris Ranger Giveaway!
Towering baritone Trace Adkins has sold more than 11 million albums and charted more than 20 singles in his 25 years in Nashville, a remarkable run for one of country music's most easily identifiable stars. With over one billion spins on Pandora (10 million per month), one million followers on Spotify and nearly 200 million plays on YouTube, the Louisiana native has been back in the studio after releasing his 12th studio album, Something's Going On, in 2017. His EP Ain't That Kind of Cowboy released October 16, 2020 via Verge Records, featuring singles "Better Off," "Mind On Fishin'" and "Just The Way We Do It."A three-time GRAMMY Award nominee, Adkins has won three Academy of Country Music Awards, including the 2009 Single of the Year Award for "You're Gonna Miss This" and Vocal Event of the Year with Blake Shelton for "Hillbilly Bone" in 2010. The Grand Ole Opry member is also an author and spokesman for the Wounded Warrior Project and The American Red Cross, for whom he raised more than $1.5 million dollars as winner of NBC's All-Star Celebrity Apprentice. In recent years, Adkins has performed for our service members across 12 USO Tours. In his 2007 autobiography, A Personal Stand: Observations and Opinions from a Freethinking Roughneck, Adkins recounted his rise to fame, brushes with death, and battles with personal demons. Adkins has also acted in multiple films and television shows, playing a tough-as-nails biker in "The Lincoln Lawyer" (starring Matthew McConaughey), a desperate father in "Deepwater Horizon" (starring Mark Wahlberg), a wise oracle of a tattoo artist in the family friendly film "Moms' Night Out" (starring Patricia Heaton, Sean Astin, Sarah Drew), and as MercyMe's real-life manager, Brickell, in the box office smash "I Can Only Imagine." The film was the third biggest selling movie on its opening weekend in America. His latest role was as a grandiloquent former general in the film "Badland" which was released in select theaters and on Amazon Prime Video and Apple TV in November 2019. For more information and announcements, visit http://www.traceadkins.com/ or on Twitter, Facebook and Instagram @TraceAdkins.