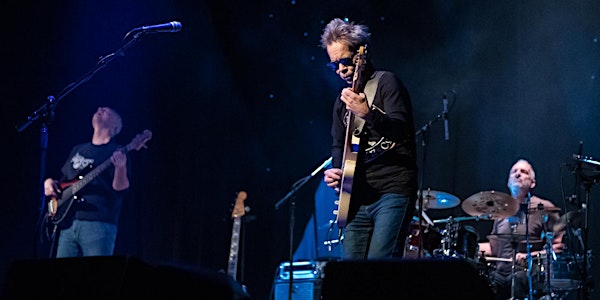 TR3 featuring Tim Reynolds w/ Joe Lawlor and Kristen Rae Bowden
Electric power trio known for their fusion of funk, rock, and jazz, ft Grammy nominee sonic innovator,​ ​Tim Reynolds, lead guitarist of DMB
When and where
Location
Bright Box Theater 15 N. Loudoun St. Winchester, VA 22601
Performers
Headliners
More Performers
Joe Lawlor
Kristen Rae Bowden
About this event
2 hours 30 minutes

ALL AGES

Mobile eTicket
THURSDAY, DECEMBER 8
DOORS, BAR, & KITCHEN OPEN at 7PM
SHOW at 8PM
TICKETS
GENERAL ADMISSION: $25 + admission tax & processing fee
DOOR: $30 + admission tax
Advance ticket sales end at 6PM the day of the show. If tickets are not sold out by this time they will be available for purchase when the doors open.
ALL TICKET SALES ARE FINAL. NO REFUNDS. NO EXCHANGES unless the show is postponed or cancelled
IMPORTANT INFO
GENERAL ADMISSION
Limited seating available on a first come, first served basis. Come ready to party!
ALL AGES
FOOD & DRINK AVAILABLE FOR PURCHASE
________________________________________________________
TR3 featuring TIM REYNOLDS
With a career spanning more than forty years, two-time Grammy nominee and sonic innovator,​ ​Tim Reynolds, is best known for his seemingly effortless guitar virtuosity, his masterful​ ​command of melody and timing, and for his uncanny ability to improvise on any instrument he​ ​touches. Having explored almost every musical style, from rock, jazz, and blues to classical and​ ​reggae, Tim's wide-ranging talent is evident each time he picks up his acoustic or electric guitar. Technically brilliant, yet emotionally honest, Reynolds' music is inspired, authentic, and​ ​unparalleled.
During the mid-1980s, Reynolds founded his breakthrough electric power trio, TR3, known for​ ​their fusion of funk, rock, and jazz. He toured extensively with TR3, using a rotating cast of​ ​musicians during the 1980s and 1990s. It was also at this time that he met and befriended Dave​ ​Matthews and their ongoing musical collaboration began. However, Tim always stayed true to​ ​his first love – the acoustic guitar. He spent the 1990s and 2000s as a road warrior – an acoustic guitar wizard playing to sold-out crowds who quickly determined that Reynolds was​ ​one of the most talented and thoughtful musicians on the circuit. From the widely-​​acclaimed Stream to his most recent solo masterpiece, That Way (2017), Tim's acoustic​ ​prowess and his genius for improvisation continue to burn hot.
In 2007, after a chance meeting with two talented musicians, bassist Mick Vaughn and drummer​ ​Dan Martier, a few rehearsals later, and several stealth appearances throughout North Carolina,​ ​Tim resurrected the electric TR3 to widespread delight. TR3 featuring Tim Reynolds continues​ ​to tour and release critically-acclaimed live and studio albums, including their most recent live album, "Wild in the Sky" (2022).
Although the pandemic halted Tim's busy schedule as lead guitarist for the Dave Matthews​ ​Band in 2020, it gave him the gift of time and space to create new music, explore new​ ​technology, dig deep into his vault, and reconnect and collaborate with old friends. Tim had a​ ​great time collaborating with his long-time friend and fellow musician, Mike Sokolowski, on the​ ​album, Soul Pilgrimage (August 2021, Breezeway Records).
Tim released his first digital download, the ethereal Venus Transit (July 2020) along with a​ ​goldmine of mostly original music videos on his YouTube channel, as well as a few covers,​ ​including his interpretations of Bach's Cello Suite in G and Peter Gabriel's "In Your Eyes." He​ ​introduced some of the new original songs live on the road with TR3 during their Winter 2022​ ​tour. Tim thought the addition of the rhythm section would provide a fresh spin to his iconic solo acoustic style, while making the music more accessible to the fans who are accustomed to the​ ​historically electric rock power trio.
The band will bring their fresh repertoire of acoustic songs into the recording studio in October​ ​before hitting the road in December. On the upcoming tour, fans can expect to hear a mix of the​ ​revamped acoustic trio, (with Tim on acoustic guitar and mellotron, Dan Martier on drums, and​ ​Mick Vaughn on bass) as well as the electric rock vibe from the TR3 they have known since​ ​2007. Tim is excited to get back on the road doing what he loves – from surprising fans​ ​nationwide with his rare solo performances, melting faces with TR3, and touring with DMB.​ ​According to Tim, "It's all good when I have my guitars by my side."
JOE LAWLOR & KRISTEN RAE BOWDEN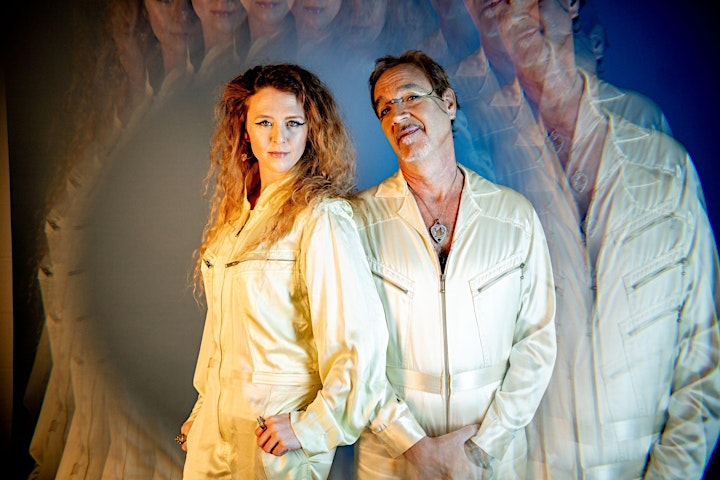 JOE'S WEBSITE // KRISTEN'S WEBSITE
The right kind of friction creates glorious sparks. Coursing within the heart and mind of singer-songwriter Kristen Rae Bowden is a beautiful turmoil of tenderness and willfullness. It's a paradoxical sentiment also evident in her artistic sensibilities.
Kristen's music exhibits a bold vulnerability. She's a confessional storyteller with a theatrical flair who draws from a wide swatch of influences. Select wellsprings of inspiration include classic rock like Led Zeppelin and Fleetwood Mac, experimental alt-rock such as Primus and Radiohead, classic singer-songwriters like Joni Mitchell and John Prine, and the iconic musical theater composer StephenSondheim.
The catharsis in her music is physically evident in her piano playing, and her emotive and dynamic vocals. Kristen plays the piano like she's mad at it; her full body pulsates with rhythm as she attacks the instrument. Her vocals sweep upward from richly expressive lower-register belting to a soaring angelic soprano. Her phrasing swaggers with mama lion toughness, playful sass, and sweet sincerity.
Home was the optimum place for Kristen to nurture her nascent talents. Her father was a charismatic musician, and his infectious love for music made an indelible impact on Kristen and her siblings, many of whom today are professional musicians.
In 2019, following the release of her debut, Language and Mirrors, Kristen teamed up with guitarist Joe Lawlor (Egypt, Dave Matthews Band), bassist Dane Alderson (Yellowjackets), and drummer Nate Brown (Everything) to begin work on her sophomore record.
Joe was born into a creative family from the Washington DC area. He began playing guitar at age 10 and instantly knew he had found his calling. Joe's progress was unbridled and after high school, he attended the prestigious Berklee College of Music.
As a founding member of several progressive funk and rock bands, including the Washington DC based band Egypt, Joe's notoriety grew as exponentially as his guitar playing bloomed. He quickly became a sought after session guitarist and has added his signature style to countless recordings. Joe's influences range from guitar heros like Jimi Hendrix and Jeff Beck, to delta slide blues and the creole/second line stomp of New Orleans.
At the core, Joe Lawlor is a master of American guitar styles, but his embrace of the ethnic modes found in Sitar, and Qawwali music, give him his unique sound. No stranger to R&B, Funk, Blues, Metal and Hip Hop, Joe combines the right mix of all his musical influences to hit the mark, every time. For the past 14 years Joe has traveled the globe with the Dave Matthews band as part of their audio crew specifically working as their live recording engineer and archivist.
________________________________________________________
FAQs:
Is there lodging nearby?
There are lots of great and affordable lodging options — from hotels and motels to camp grounds and bed & breakfast spots — just minutes away from Bright Box. Right around the block is the elegant George Washington Hotel, and Courtyard Marriott is quick drive and within a stones throw to the beautiful (and highly recommended) Shenandoah Valley Museum. Check out these websites to explore your options and discover all the wonderful opportunities in Winchester:
• http://www.visitwinchesterva.com/lodging/hotels-and-motels
• http://oldtownwinchesterva.com
Where do I park?
Bright Box is located at 15 N. Loudoun St. on the beautiful pedestrian mall in Old Town Winchester. The nearest parking is the Braddock Auto Park at 30 N Braddock St. This is about a block away from the venue. The parking garage does have several handicap parking spaces available.
Once you've parked in the garage you'll exit toward the pedestrian mall. Once you hit N. Loudoun you'll make a right and Bright Box will be on your right a few storefronts up, directly across from the Old Court House Civil War Museum
More information about the garage can be found here: https://www.winchesterva.gov/parking/garage-information
Is Bright Box handicap accessible?
Absolutely. The venue is handicap accessible and ADA compliant. The infrastructure in Old Town Winchester is friendly toward those with physical challenges or in wheelchairs. Park in one of the close-by parking garages and come to the main door at 15 N. Loudoun St. (the walking mall). We ask that you arrive when doors open, and we will be happy to escort you to a place best suited to your needs in the theater or to take you to the elevator to access the upstairs Out of the Box room.