Description
TPEA Summer National Conference
Dallas Hilton Anatole Hotel
June 28th & 29th, 2013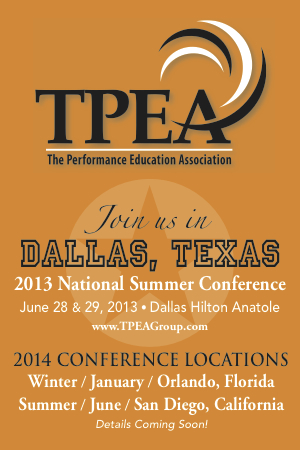 Early Registration for the 2013 Summer Conference is now live!
Sign-up today and take advantage of the savings.
Hands on, practical application based training will be featured in the areas of:
Sports Performance, Tactical Training, Nutrition and Leadership.
Reserve your space today as this event will truly be a must for all practitioners. Learn from the industry's best practitioners and "See" how they implement and integrate quality programming and strategies to maximize your training!
More information will be added as our presenters, vendors, sponsors and intineraries become available.
We'll see you all in Dallas!
If you are interested in becoming a vendor, sponsor or presenter please submit all inquiries to webmaster@tpeagroup.com to learn more!
Featured Presenters:
Session 1 - Secrets of Single Leg Training
Session 2 - Hybrid Metabolic Complexes
Practical prehab & injury prevention for ACL and low back
Diane Vives
Key Movements for Building Better Female Athletes
Core Training for Stabilizing, Strength and Power
Session 1 - Regressions to Progressions - When Less is More
Session 2 - Intro to Performance Taping for Tactical Operators - Using Kinesiology Taping for Increased Performance Under Pressure
Corrective Exercise and Regeneration: The opening act and curtain call to smart training sessions.
F.I.T. Training - Functionally Integrated Training for Long Term Athletic Development
The Power of the Arc - Using the Cybex Arc Trainer to Develop Strength, Power and Speed
Nutrition Periodization and Metabolic Efficiency for Athletes
First Responder Injury Prevention Strategies (TPEA Tactical Exclusive!)
Session 1 - Agility Training from Close to Reactive - How to Ensure Your Movement Sessions Have Transfer to the Demands & Dynamics of the Game
Session 2 - Speed, Power, Strength and Special Endurance for MMA.
Session 1 - Connect The Dots: How to Integrate Traditional Fitness Tools & Movements with InterActive Technology to Enhance Performance
Session 2 - Connect The Dots: How To Use Interactive Technology to Screen Athletes For Traumatic Brain Injury / Concussion To Return To Play
Training Athletes for Performance as Competitors and Warriors
Jerod Wilson
Movement Preparation for Improved Performance
Training Young Athletes for Power - When, Where & How
Organizer of TPEA Summer National Conference - Dallas Texas
THE PERFORMANCE EDUCATION ASSOCIATION (TPEA)  is a professional association dedicated to being a resource for professional growth of its members through various educational arenas focused on practical application.
TPEA offers membership to professionals in the performance industry creating a place to interact with other like-minded practitioners across the United States and the world.
TPEA will achieve its goal of educating and motivating performance professionals through continued dedication to moral and ethical business practices, working in the best interest of the industry, and the organization's members.