Toy Robotics: My Little Pleo - @Colorlabs, May 9, 6:45p-8:30p

Wednesday, May 9, 2012 from 6:45 PM to 8:30 PM (PDT)
Event Details
This seminar is open to all women, men and chaperoned children ages 7 and up!
Food and Drink sponsored by @WalmartLabs !!
Sarah Baker is going to be talking about and showing the Pleo and we will learn how to program it.
Agenda:
      6:45p - 7:20 (ish) - Food/drink networking
      7:20(ish) - 8:30(ish) - Talk on Pleo
       8:30 - 9p - Clean up
See Below the image for details of the talk.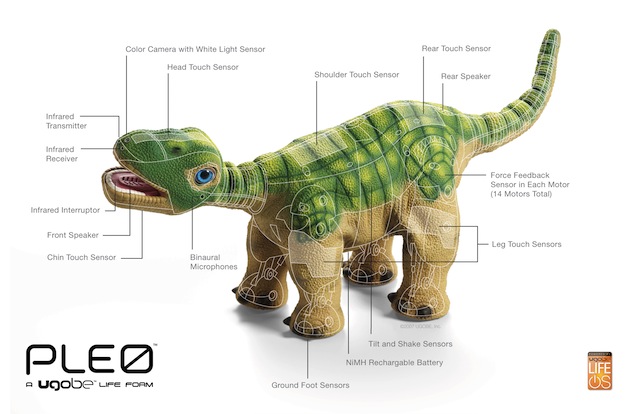 The robotic dinosaur Pleo came on the market in 2007 and a small group of enthusiasts keep it alive and  develop for it.  Sarah will demo some of the home brew tools created by others to program it.

The list includes: MySkit, YAPT, DINO-MITE

She will bring 3 pleos, one without skin so you can see the internals.  She'll share her current work with designing a kids summer camp robotics course using the Pleo.

Depending on interest she can also discuss other hacks people have done, how the pleo is being used in education and research and robotics in general in the bay area.

Nothing needed unless you want to bring a laptop to try MySkit(windows) for yourself.

You can load the software at: http://www.dogsbodynet.com/myskit/index.html
About the Speaker
Sarah Baker moved out to the Bay Area to be Gateway Ops Manager for Alta Vista Search Engine in Digital's Network System Lab, and later worked for Webvan and other start ups.  Today she is the
Dir. of Operations at mSpot an entertainment company providing cellular apps for the major US cellular carriers such as ATT, Verizon and US Cell.
Despite all that she has a background in control engineering, plays with robots in her spare time and hopes her next job will be with a robotics company.
When & Where

Color Labs HQ
201 Hamilton Ave
Palo Alto, CA 94301


Wednesday, May 9, 2012 from 6:45 PM to 8:30 PM (PDT)
Add to my calendar
Organizer
CodeChix - BayArea
We are a local group for women and men (although we concentrate more on women) meeting face-to-face and gadget-to-gadget in a non-alpha, language/os agnostic, supportive environment and creating great things. Our events are either open to all or women-only (see details in the agenda).
We are a 501(c3) non-profit and our mission is Education, Advocacy and Mentorship of women engineers in industry and academia.
Toy Robotics: My Little Pleo - @Colorlabs, May 9, 6:45p-8:30p