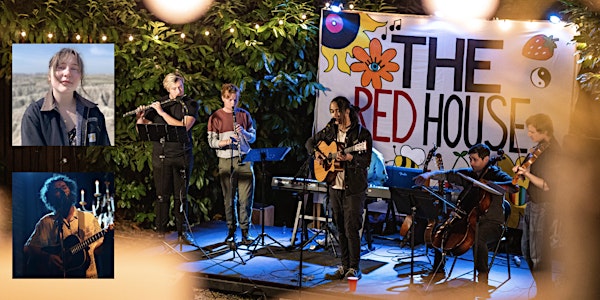 Townsend's Solitaire EP Release w/ Erick Irons & Lilly Miller @ BALLARD
Abbey Arts presents: Townsend's Solitaire EP Release with Erick Irons & Lilly Miller live at Ballard Homestead
Date and time
Starts on Friday, April 14 · 7:30pm PDT
Location
Ballard Homestead 6541 Jones Avenue Northwest Seattle, WA 98117
Refund Policy
Refunds up to 7 days before event
About this event
"Bobby Odle, a Seattle based singer-songwriter performing under the moniker Townsend's Solitaire, is a classically trained percussionist turned folk musician.
Whilst living in Ashland, Oregon, faced with completing a master's degree in percussion performance, as well as a worldwide pandemic, Townsend's Solitaire turned his creative eye towards poetry and songwriting. Drawing heavy influence from artists like The Tallest Man on Earth, Adrianne Lenker, Bright Eyes, and Sufjan Stevens – Townsend's Solitaire prioritizes and treasures genuinity above all else. His music is primarily fingerstyle acoustic guitar paired with a single vocal line singing lyrics addressing common anxieties, loss, and a love for life in this world – all the while drenched in a somber melancholy and nostalgia. His ensemble has mixtures of cello, violin, flute, clarinet, and piano."
-Artist Bio
"Growing up just outside the city of Seattle, I didn't know that I wanted to play music. Back then my days were full of breaking windows, riding bikes, and navigating the world around me. I have memories of my father playing piano in the living room and of him playing cassette tapes of motown in our small mobile home.This was my first relationship with music.
When my father left, my mother moved my siblings and I to the city of Seattle. There I met a handful of odd musicians; some playing at the church and some who played casually.Inspired by these few I decided to learn to play the drums. Not long after I began learning, I broke my ankle and had to stop. That's when I grabbed a guitar and started learning out of a book of chords.
Since then the guitar has been my main form of expression. Songwriting came quickly along with learning to play and over time I've enjoyed playing in churches, as a missionary in Mexico, and most recently as a gigging musician here in the city.
The plan is to keep playing music in the city; making fans and friends and move toward playing music full time as a career."
- Artist Bio
"Located in Fairfield, Iowa, Lilly Miller has spent the last year and a half working on her first EP, and first ever release entitled The Fool. Making music has been a personal and private endeavor in her life until recently, when she realized that songs were meant to be shared. Miller held songs from The Fool very close to her heart. She hopes now that these songs will bring comfort to anyone who thinks about the same things that she often does. The EP was recorded live at Flat Black Studios, a renovated barn in Lone Tree, Iowa, and engineered, mixed and mastered by Luke Tweedy. The Fool is a collection of songs that were written quietly over the past few years. Since this EP was recorded live with just vocals and guitar, Lilly chose pieces that she thought were melodically interesting on their own."
- Artist Bio
@ Ballard Homestead
7p doors, 7:30p show
All ages, mostly seated
--------------------------------------------------
EVENT & VENUE INFO:
Check tickets for show times
Ballard Homestead is ADA accessible
Service animals as defined by the ADA are allowed. Service animals are defined as dogs that are individually trained to do work or perform tasks for people with disabilities.
Please refrain from talking during songs.
Please enter quietly if the show has already begun.
Please leave quietly, it's a very quiet neighborhood. I sense a trend here.
Quiet Picnics Welcome. Big surprise there right?
Light snacks & non-alcoholic beverages may be available for purchase, but no other food or bar service at Ballard Homestead shows.
We have a mix of normal chairs, some tall chairs, and standing room in back.
Seating is not reserved unless noted.
Please limit photos during the show so as to not distract other attendees from the experience.
We are an all ages venue. Kids 10 & under are free at Abbey Arts concerts & arts events unless noted.
Entering the venue indicates agreement to adhere to the Abbey Respect Policy. All are welcome.
--------------------------------------------------
ABOUT ABBEY ARTS, SEATTLE:
NONPROFIT 501C3, NON-RELIGIOUS, EST. 2005
Presenting welcoming music, arts & cultural experiences for people of all ages & incomes.
Home Venue: Fremont Abbey, 4272 Fremont Ave North, Seattle, WA 98103 / 206-414-8325 Ballard Homestead: 6541 Jones Ave NW, Seattle | + South Park Hall, Woodlawn Hall Greenlake, UHeights Auditorium (UDistrict), St Mark's Cathedral (Capitol Hill), & more
--------------------------------------------------
See Updated Public Health Safety Info at the bottom of this page under Abbey Arts Presents. All Abbey Arts venues adhere to WA State & King County health guidelines. Thanks for helping keep our community safe!
--------------------------------------------------
About the organizer
Public Health Info:
Be sure to check your events ticketing page for any special requirements per event.
That being said, we still strongly encourage people attending to follow all safety protocols shown below and per King County Public Health.
Attendees are welcome to wear masks at their discretion, all are welcome. Please don't discriminate based on mask or no mask. Some people may opt to wear a N95 for their own protection.
Please check your specific event details before purchasing a ticket.
THESE GUIDELINES MAY CHANGE AT ANY TIME DUE TO PUBLIC HEALTH GUIDELINES
-----------MORE INFO--------------
All Abbey Arts employees & volunteers are vaccinated.
We are operating at full capacity and do not have any capacity restrictions unless otherwise noted in the event description.
We have added hand sanitizing stations and air filtration systems around our venues. We encourage you to regularly sanitize and fully wash hands when you use the restroom.
****
By entering the Venue, you and the members of your group voluntarily assume the risks of contracting COVID-19 and agree to release, waive, discharge and covenant not to sue any Artist performing or Abbey employee or company (including their owners, officers, employees, volunteers, agents and the City of Seattle), and hold these entities and persons harmless from liability regarding any and all claims relating to COVID-19 and indirectly or directly arising out of or relating to the Venue or event.
****
Individual events may have additional safety measures in place, see Ticketing pages for details.
-----------------------
ABBEY ARTS, SEATTLE:
NONPROFIT 501C3, NON-RELIGIOUS, EST. 2005
Fremont Abbey | Ballard Homestead | South Park Hall | St Mark's Capitol Hill | The Auditorium @ UHeights |  & more
Independent nonprofit, non-religious, all ages/incomes. 
Low Fee Tickets! No hidden high fees like Ticktmstr. :-)
[ Click here to subscribe to our optional text messages. ]
[The views and opinions expressed at events are those of the artists and performers and do not necessarily reflect Abbey Arts. About Page | Respect Policy.]
Refunds may be available per event settings.
No refunds due to support act changes.
Tickets for rental events may be via their website. 
Note: Entry requirements are subject to change. By purchasing tickets to this event you agree to abide by entry requirements in effect at the time of the event. Check the venue website leading up to your event for the latest protocols.