Description
With deep regret and an abundance of caution, we are CANCELING our annual Spring Egg Hunt. We will issue full refunds to ticket holders ASAP. Hopefully this difficult time will be over soon and we'll celebrate together at Go Green Brooklyn Festival in June. In the meantime, be well and stay healthy.
* * *
RAIN OR SHINE
SUNDAY, APRIL 5th, 2020
11 AM, 12 Noon, 1 PM & 2 PM
Bring your own basket and join an old-fashioned egg hunt! Town Square's 9th Annual Egg Hunt is back at FourFiveSix in fun and trendy Williamsburg/Greenpoint! Take your picture with the Easter Bunny, have fun with our spring photo booth, enjoy fun eggstacular crafts, and music. Fabulous face paintings, and delicious mimosas and Bloody Mary's at extra cost. Wear your very best Spring bonnet and join us at fourfivesix in Brooklyn.
All children, including babies, must have an Egg Hunt ticket. Children must be accompanied by a responsible adult. Egg hunts will be arranged for groups of 15-20 kids between 11 AM and 3 PM. Pick the hour of your choice when purchasing your ticket. This way, you can better plan your afternoon. By the way, if there's available capacity in the following hour, you are more than welcome to extend your stay. However, if there's not, then we'll be shooing you out at the end of your hour. $20 in advance, $30 on the day of the event (while supplies last). Special mommy and daddy tickets for $5.

Tickets sell out every year. So do get yours quickly!
Proceeds will help local Brooklyn Scouts with Pack 7 (meets at St. John's Lutheran Church in Greenpoint) and Troop 26 (meets at I.S. 318 in East Williamsburg).
EGG HUNT HIGHLIGHTS
The Easter Bunny is confirmed! Bring your camera and take lots of priceless pictures!
Fun eggstacular crafts to enjoy!
And let's not forget those refreshing Mimosas and Bloody Marys for moms & dads!


EGG HUNT FAQs
Do I need a ticket? ANSWER: YES. Everyone will need a ticket. Each child (babies too!) will need an egg hunt ticket and they'll receive a bag of eggs to join an egg hunt. We'll have a special area set aside for babies. Children must be accompanied by a responsible adult. We do have special $5 tickets for each family for mom and dad.
Do infants need a ticket to enter the party? ANSWER: YES, unfortunately space is limited and all children need a ticket. Also, babies love Easter eggs too! We'll have a special baby area set up for you to have fun with your babies and their eggs.
Can mom or dad transfer their ticket to someone else? ANSWER: YES. If mom or dad can't come and would like to give them to grandma, grandpa, or another adult family member or friend, that's totally fine.
Will the Easter Bunny stop by? ANSWER: YES, he will!
Will there be other activities at the egg hunt? ANSWER: YES, there'll be fun music to dance to and eggstacular crafts to enjoy. We'll also have face painting and refreshments at extra charge.
Do I have to choose a specific hour? ANSWER: YES, you will be asked to select your time when you get your ticket. This time is when you'll be admitted into the event.
Can I stay beyond my selected hour? ANSWER: YES, if there's capacity. NO, if there's not. We won't know until that time.


Can I get a refund? ANSWER: YES until 30 days before the event. No refunds will be provided after that date.
What happens if it rains? ANSWER: It'll be rain or shine with canopy tents in the backyard. We'll have a wonderful time!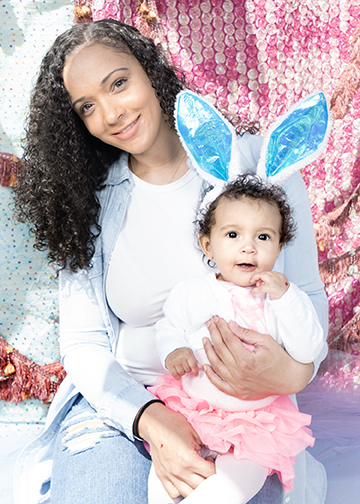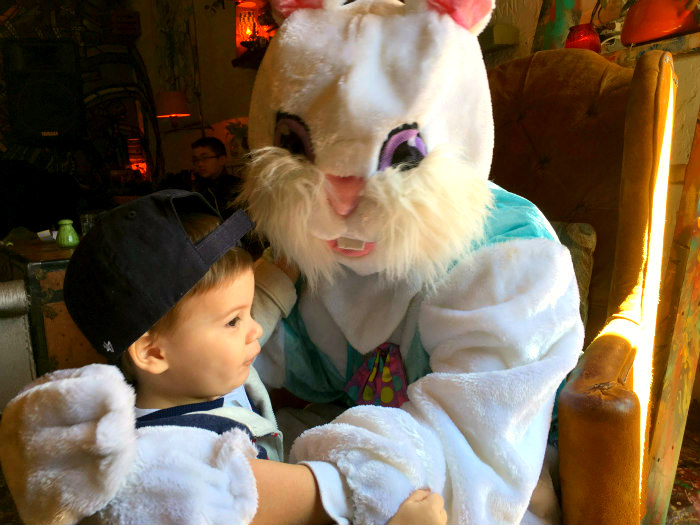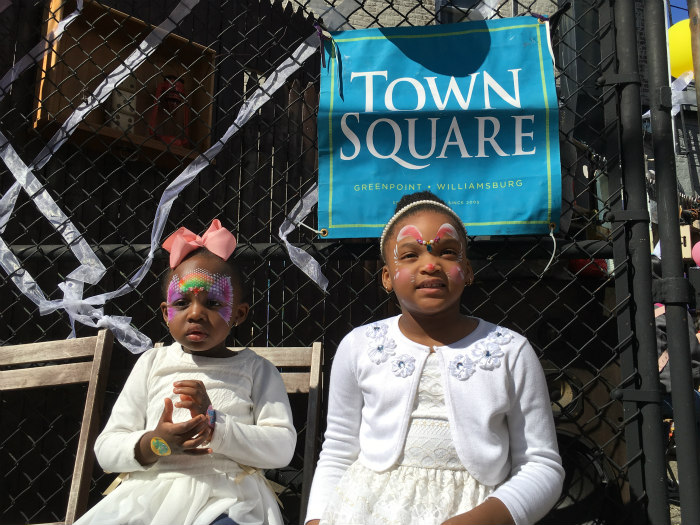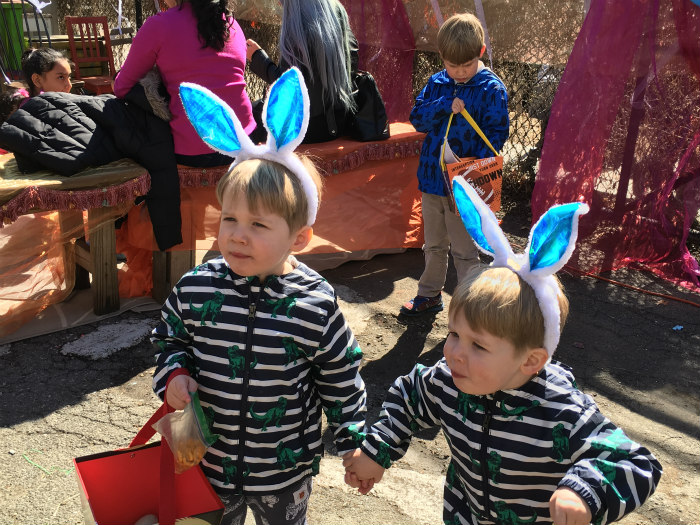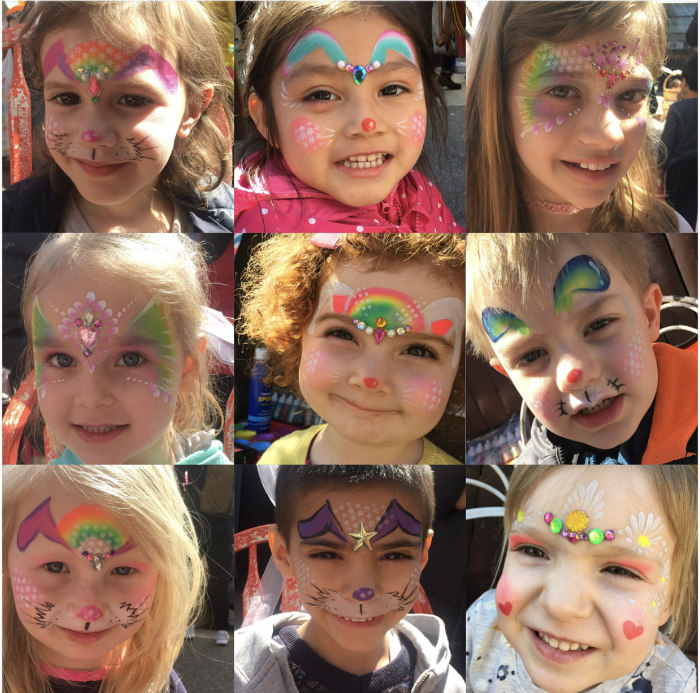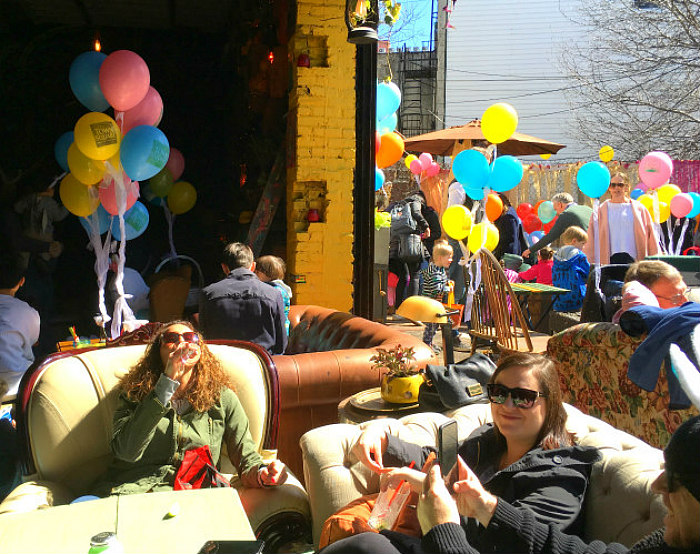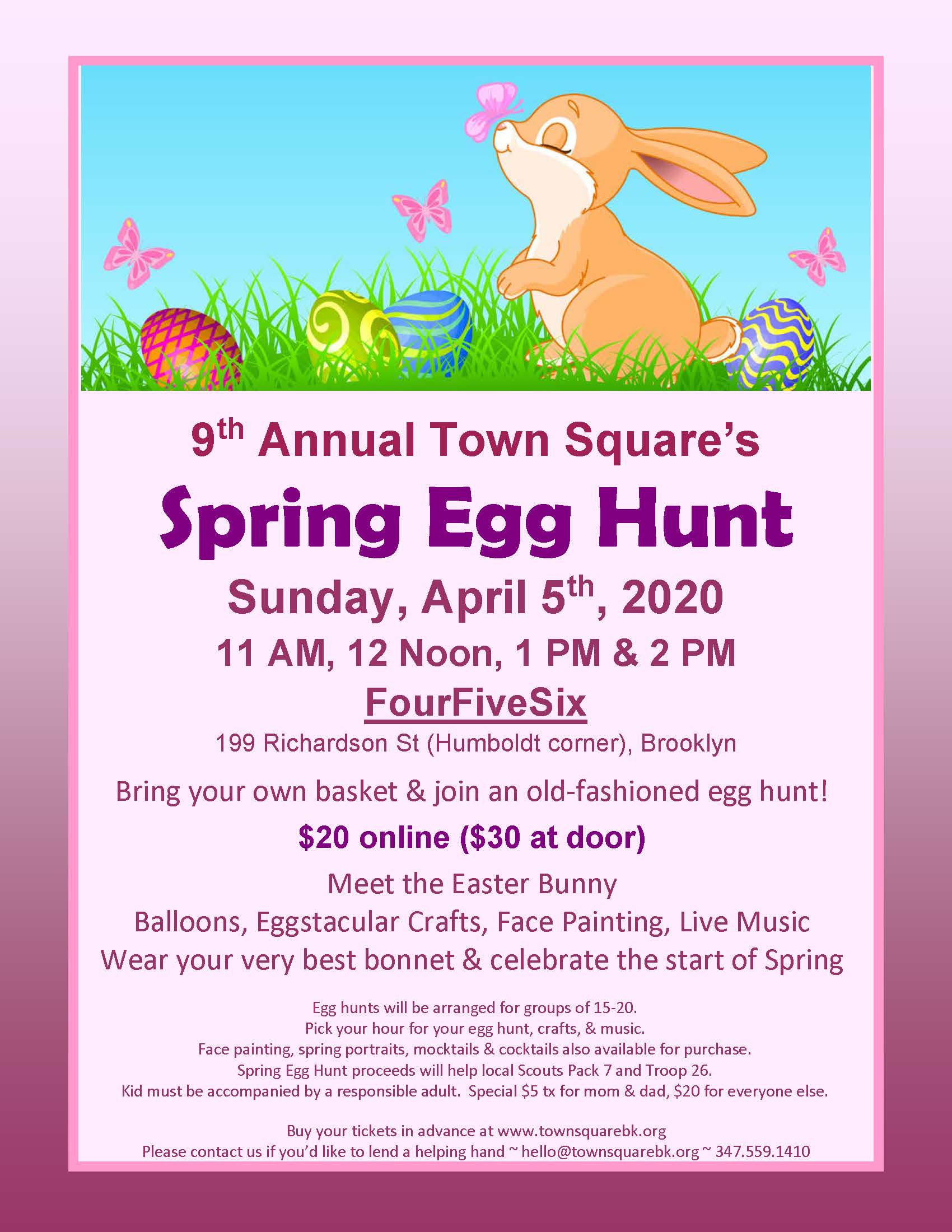 Organizer of Town Square's Annual Spring Egg Hunt 2020 ~ CANCELED!
TOWN SQUARE is a community-based 501(c)(3) organization serving Brooklyn since 2004.  We're responsible for many recurring family events in Greenpoint and Williamsburg including our popular Spring Egg Hunt, SummerStarz movie series, Greenpoint Children's Halloween Parade, Spooktacular Party, Zombie Nerf War, Santa Brunch and more. We also offer green programs and informative expos including Greencycle Swaps, Go Green Brooklyn Festival, and Schoolfest.