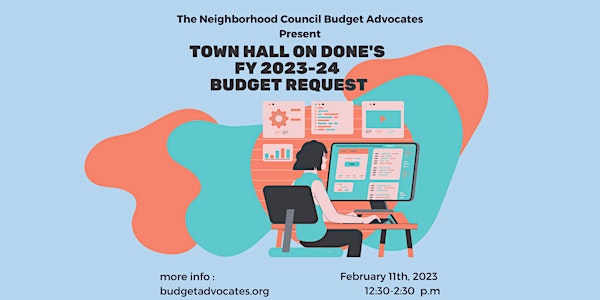 Town Hall on EmpowerLA's Fiscal Year 2023-24 Budget Proposal
Learn about the Department of Neighborhood Empowerment's Fiscal Year 2023-24 Budget Proposal from DONE General Manager Raquel Beltrán
About this event
Come learn about the Department of Neighborhood Empowerment's Proposed FY 2023-24 Budget with DONE General Manager Raquel Beltrán and the Neighborhood Council Budget Advocates. The Town Hall will begin with a budget presentation from GM Beltrán and a question and answer period will follow. To make the most of our limited time we respectfully ask that all questions for General Manager Beltrán about the proposed budget be submitted in advance via event registration or email to info@budgetadvocates.org by February 6th.
Documentation regarding the proposed budget can be found at:
This is meant to be a productive discussion about the Department's proposed budget. Please keep all comments and questions limited to that topic. Disruptive behavior and hate speech will not be tolerated.