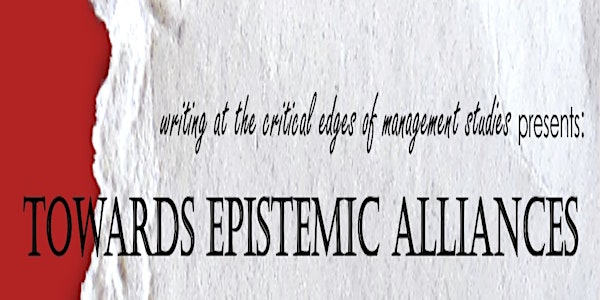 Towards Epistemic Alliances
Thinking through multi-structural analyses of power and difference
By Writing at the Critical Edges
Date and time
Tuesday, July 2, 2019 · 9:30am - 5:30pm BST
Location
Patersons Land - 1.21 University of Edinburgh Holyrood Road Edinburgh EH8 8AQ United Kingdom
About this event
The motivation follows from conversations between writers in management and organisational studies and in sociology thinking through the production and persistence of structures of power as they shape our worlds.
Management writing focuses on philosophies and practices of management as they coalesce structures of domination and control; sociological writing is concerned with the emergence and operation of social relations that structure our worlds. Nowhere is the congruence of these agendas more evident than in the study of colonial power wherein the Other has been nothing but an object of management. Moreover, colonial power remains manifest within the most pressing issues of the day - from migration and gentrification to employment and incarceration.
This seminar, thus, seeks to engage the epistemological alliances between Management and Sociology (and other social sciences).
Invited speakers: Avi Boukli, Ipek Demir, Marsha Garratt, Mrinalini Greedharry, Sarah Golightley and Chryssy Hunter.
Bursaries: A limited number of bursaries are available for PhDs and ECRs. Please apply here: https://criticalpedagogiesproject.com/bursaries/
Venue: There is level access to Paterson's Land, with Room 1.21 accessible by lift. Accessible and unisex toilets are available in the building. If you have other requirements, please contact us and we will do what we can to make the event accessible for you.
Food: Tea, coffee, light refreshments as well as vegetarian/vegan lunch will be provided. Please let us know if you have any other requirements.
For more information on the speakers and schedule, please visit: https://criticalpedagogiesproject.com/critical-edges/seminar-1-july-2nd/