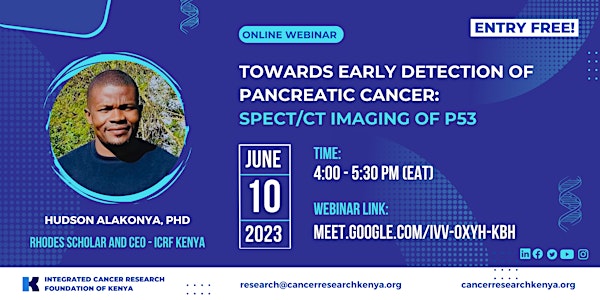 Towards Early Detection of Pancreatic Cancer: SPECT/CT Imaging of P53
Dr. Alakonya will present on his newly developed imaging agent to aid in the early diagnosis and prognosis evaluation ofpancreatic cancer
Date and time
Sat, 10 Jun 2023 06:00 - 07:30 PDT
Agenda
2:00 PM - 2:15 PM
ICRF Introduction
2:15 PM - 3:00 PM
Presentation: Towards early detection of Pancreatic Cancer
About this event
1 hour 30 minutes

Mobile eTicket
Pancreatic ductal adenocarcinoma (PDAC) presents an ever-increasing burden to patients, clinicians, and healthcare sponsors due to its skyrocketing incidence and lowest five-year mortality rates of less than 8% among solid malignancies. PDAC cases and deaths are predicted to double within this decade, and it will become the second leading cause of cancer mortality worldwide. The major causes of these grim statistics are late diagnosis among pancreatic cancer patients (>80 diagnosed with advanced metastatic tumours) and high levels of resistance to standard-of-care therapies. There is therefore a clarion call to increase efforts to understand the biological and genetics underpinning the pathogenesis of PDAC and discovering sensitive biomarkers for early diagnosis and development of targeted treatment.
p53 protein is the master tumour suppressor protein in humans and is responsible for guarding the human genome against genotoxic and cellular insults that can cause cancer development. It is the most mutated protein in human cancers, and its incapacitation facilitates the development and progression of cancer as well as resistance to therapies. In PDAC, it is mutated/abnormally expressed in approximately 75% of patients and is known to enhance tumour aggressiveness, therapy resistance and overall poor prognosis. This makes it a suitable marker for both early diagnosis and stratification of patients during treatment sessions.
In this seminar, Hudson Alakonya will be presenting the results of his PhD project where he focused on developing a novel monoclonal antibody radiolabelled with a radioisotope as a single photon emission computed tomography (SPECT) imaging agent to aid in the early diagnosis and prognosis evaluation of PDAC patients. Hudson's work has led to the development of the first successful radionuclide imaging agent for interrogating p53 protein in living tissues (in vivo).