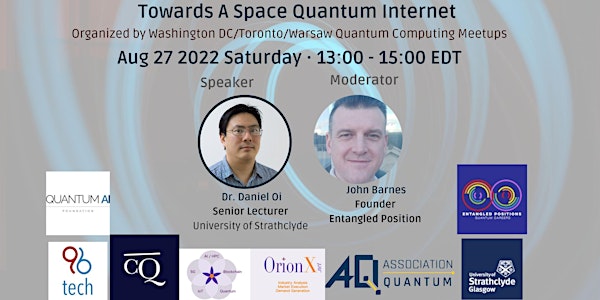 Towards A Space Quantum Internet
Towards A Space Quantum Internet
About this event
Abstract: The long-distance transmission of quantum signals has tremendous potential for enhancing or enabling new applications in secure communications, quantum computation, high accuracy positioning, navigation, timing, distributed sensing, and tests of fundamental physics. However, the exponential losses inherent in optical fibres inhibits the range of direct terrestrial transmission and quantum memories and repeaters are a long-term possibility. Satellite-mediated quantum communication is promising for the establishment of intercontinental links with pioneering experiments by the Chinese satellite Micius demonstrating its feasibility. Here, Dr. Oi shall provide an overview of international efforts to develop space-based quantum communications and cover some Quantum CubeSat programmes.
Bio: Dr Daniel Oi is a Senior Lecturer at the Department of Physics, University of Strathclyde, Glasgow, UK. His area of research encompasses fundamental quantum theory, quantum information processing, space quantum communications, and quantum technology development. He completed his graduate studies at the universities of Cambridge (MASt) and Oxford (DPhil), performed post-doctoral research at the Department of Applied Mathematics and Theoretical Physics, Cambridge, was a fellow of Sidney Sussex College, Cambridge, before moving to the University of Strathclyde. Dr Oi leads the International Network in Space Quantum Technologies and is the Editor-In-Chief of the journal "Research Directions: Quantum Technologies" published by Cambridge University Press.
Facilitator: John Barnes, Founder of Entangled Positions.