Description
Note: These things are better experienced live (so that you feel part of the community). Having said that, the slides, audio and etherpad from our first online gathering are available on the Mozilla wiki. Make sure you sign up to the Google Group!
---
Overview
The Mozilla Foundation has a vision of a web literate planet. We've built some tools to help and now we're asking the question: What are the skills, competencies and literacies necessary to read, write and participate in the Web - now and in the future? We've already started the thinking but we want to go further and develop a web literacy standard that we can all align with and teach to. And we need your help.
We want to reach people at web scale, and that means lots of different individuals and organizations teaching various skills and competencies - many of you are doing this already - but we need a way for it to roll up to something bigger.
We need a way to ensure we're teaching the right things, to connect various options and help learners discover pathways, and of course, to find ways for us all to track our impact. That's where the standard comes in - we can build consensus around the overall learning map and then each chart our course against it. So, let's develop the standard and do this together.
Join us in this kick-off online gathering to learn more about the work we've accomplished with literacies and badges so far, discuss where we want to go, and find out ways for you or your organization to get involved. Make a point to get involved; we're counting on you!
Web Literacies grid v0.9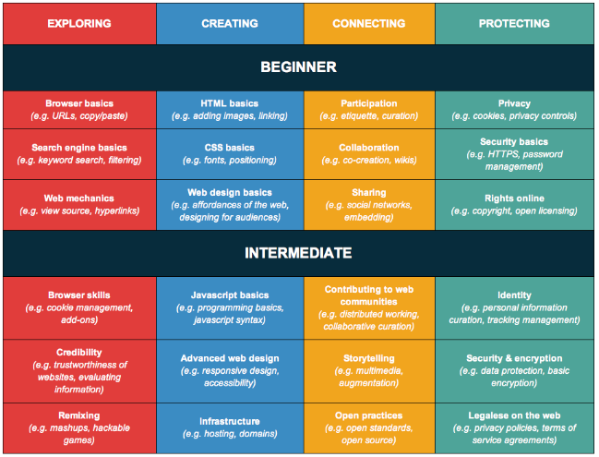 Potential audience
Web-focused organizations (e.g. DIY.org)

Informal learning organizations (e.g. CoderDojo)

Teachers/administrators in formal learning organizations (e.g. schools/colleges/universities)

Mentors/guides in informal contexts (e.g. Scouts/Girl Guides)

Academics interested in new literacies in practice

Existing standards-focused organizations

Anyone interested in new pathways to learning on the Web
Structure:
Introduction

Overview of Web Literacies work so far

Relationship to badges

Q&A

PS Introduce yourself to the community before the event by joining the Mozilla Webmaker list!
Organizer of Towards a learning standard for Web Literacy [ONLINE GATHERING] 2
The Mozilla Foundation is a non-profit organization that promotes openness, innovation and participation on the Internet.
Although thousands of people are part of Mozilla, the Mozilla Foundation itself is a small team of people. We provide core services to the Mozilla community and promote the values of an open Internet to the broader world.
Read the Mozilla Manifesto.