Tout-Monde Festival | Day 1 - PAMM: Opening Ceremony
Description
Opening Ceremony of the Tout-Monde Festival, the first Caribbean Contemporary Arts Festival, initiated by the Cultural Services of the French Embassy in the United States and the France Florida Foundation for the Arts.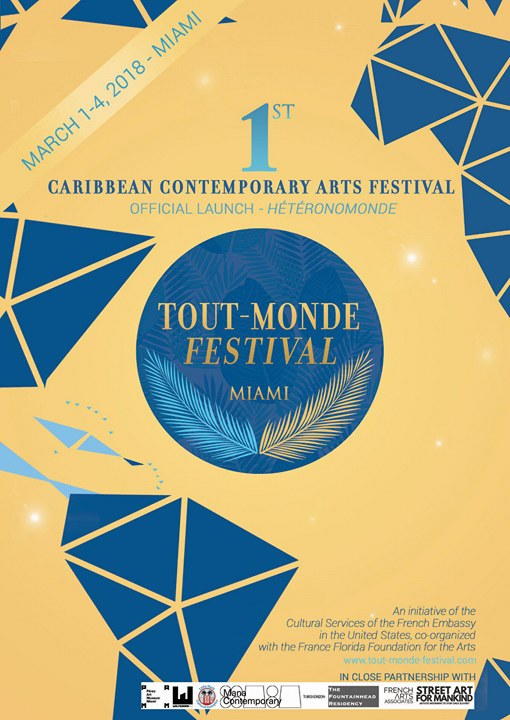 This Opening Ceremony, hosted at the Perez Art Museum Miami, will unite for the first time ever in the United States an exceptional selection of Caribbean authors and artists. French Politician and former Minister of Justice of France, Mrs. Christiane Taubira, will open the Ceremony as Cultural Ambassador of the festival.

An exciting conversation will follow between famous author Patrick Chamoiseau (Martinique) and Professor Dr. Michael Dash (Trinidad-and-Tobago), moderated by internationally renowned author Edwidge Danticat (Haiti), to explain the very meaning of "Tout-Monde", a concept introduced by Martinican poet, author and philosopher Edouard Glissant (1928-2011).

A once in a lifetime duo performance will follow by Jazz musician Jacques Schwarz-Bart (Guadeloupe) and choreographer and dancer Léna Blou (Guadeloupe). The curators of the festival, Johanna Auguiac and Claire Tancons, as well as PAMM's chief curator, Tobias Ostrander, and French Cultural Counselor, Bénédicte de Montlaur will briefly present their vision of the festival.
Event sponsored by Rhum Clément, Norwegian Air and Heico.

Program
6PM-6.20PM: Opening speeches (Auditorium)
Moderation and introductions by Vanessa Selk, Director and Founder of the Festival
* Presentation of the partnership by Tobias Ostrander, Chief Curator at the Pérez Art Museum Miami
* Presentation of the Festival by Bénédicte de Montlaur, Cultural Counselor of the French Embassy in the United States
* Intervention of Christiane Taubira, Cultural Ambassador of the Tout-Monde Festival
6.20PM: Inaugural Conference (Auditorium)
* Introduction and presentation by Edwidge Danticat, moderating author
* Patrick Chamoiseau & Michael Dash in conversation - "Edouard Glissant's Tout-Monde: relevance and significance in politics and arts." Followed by Q/A from the audience.
7.20PM: Hétéronomonde, Tout-Monde Festival first edition (Auditorium)
* Introduction of Hétéronomonde Edition 2018-2019 by Claire Tancons & Johanna Auguiac, Festival Curators
* Duo performance by Léna Blou & Jacques Schwarz-Bart: dance and musical improvisation on jazz
8PM-9PM: Peace Offering (Portico)
* VIP reception (by invitation only)