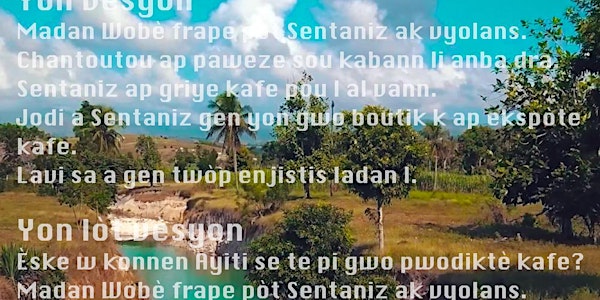 Tout Istwa Se Istwa: Cultural Story Machines
By MIT Center for Art, Science & Technology (CAST)
Date and time
Tuesday, April 2, 2019 · 5 - 7pm EDT
Location
66-154 25 Ames Street Cambridge, MA 02139
Description
In Haiti there is a Kreyòl saying tout moun se moun — everyone is someone — meaning that everyone deserves equal respect.
"Tout Istwa Se Istwa (all stories are stories): Cultural Story Machines" is a hands-on workshop for sharing cultural stories on the Web, using simple but effective computational techniques to show different text each time a page is reloaded. Those who participate will, in the two hours of the workshop, develop Web-based stories that invite people to learn about different cultures and see from different perspectives.

MIT community members from all cultures are welcome to come and bring traditional stories, in any language — tout lang se lang!

BIC, a singer, songwriter, and poet who is visiting MIT from Haiti, will work with the group as people build story machines from their traditional stories. During his MIT visit in September 2017, BIC worked with Prof. Michel DeGraff and Prof. Nick Montfort to author "Sentaniz Nimerik," a Haitian story in Kreyòl presented in computational form on the Web.

BIC, Michel DeGraff, and Nick Montfort are organizing this workshop because every single language deserves equal respect and can bring out the joy of story-telling through literature, linguistics and computation.
---
Dinner will be provided at the workshop: if you have any dietary restrictions, please let us know when you register.
About the organizer
The MIT Center for Art, Science & Technology (CAST) creates new opportunities for art, science and technology to thrive as interrelated, mutually informing modes of exploration, knowledge and discovery. CAST's multidisciplinary platform presents performing and visual arts programs, supports research projects for artists working with science and engineering labs, and sponsors symposia, classes, workshops, design studios, lectures and publications. The Center is funded in part by a generous grant from the Andrew W. Mellon Foundation.  Evan Ziporyn, Faculty Director; Leila W. Kinney, Executive Director.