Event Information
Location
211 S Christopher Columbus Blvd - Penns Landing
Website: http://www.phillyseaport.org/
Philadelphia, 19106
Description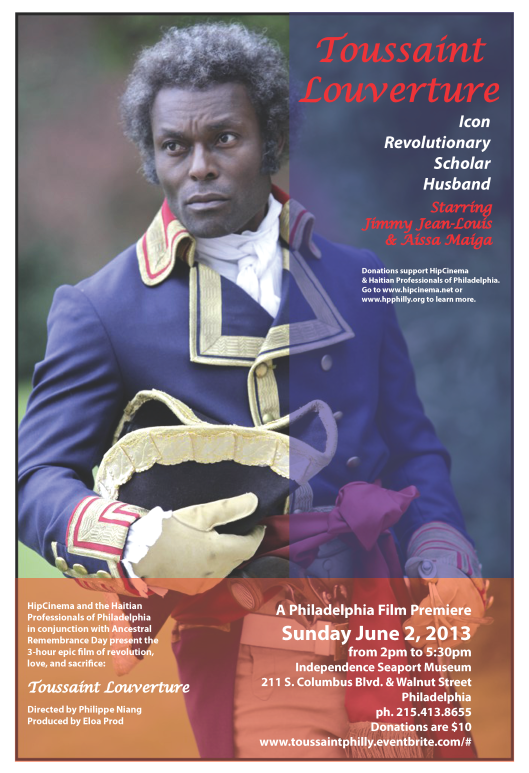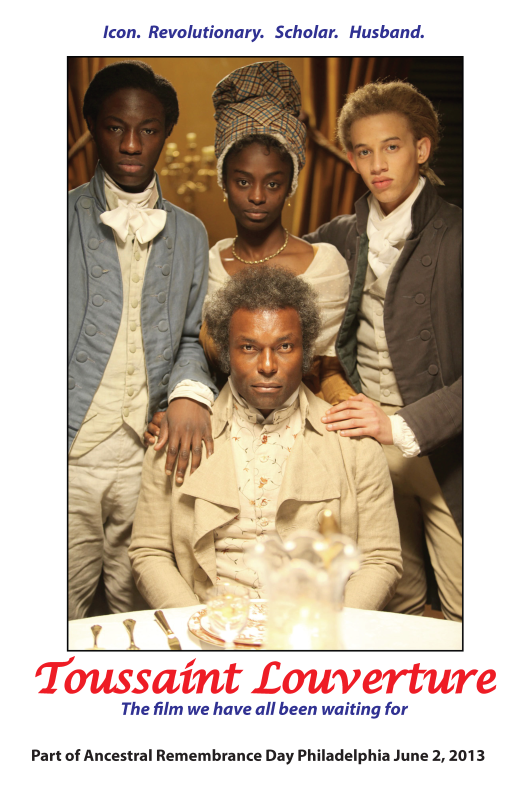 We are screening the Philadelphia premiere of TOUSSAINT LOUVERTURE starring Jimmy Jean-Louis! This is a special fundraising event for HIPCINEMA and Haitian Professionals of Philadelphia.
The film is presented in conjunction with theMiddle Passage Ceremony & Port Marker Project at the Independence Seaport of Museum of Philadelphia.
The English subtitled 180 minute film will be shown with a brief intermission.
Film synopsis: Toussaint Louverture was 8 when he saw his father thrown in the sea of The Cap of Santo Domingo by a slave buyer finding him too old and useless. Toussaint Louverture will keep these horrible moments in his mind. They will be the foundation of his revolution and rebellion. Later, he is bought by a new master, Bayon de Libertad who will recognize at once his intelligence and drive. Bayon will allow him to learn reading and writing and give him his freedom at 33 years of age. Soon after this, he asks the entrepreneurial and lovely Suzanne (played by Aissa Maiga) to become his wife. At 50, Toussaint Louverture starts a Revolution to free his people and country, becoming 'The Black Spartacus '. He will first join the Spanish Army against The French Army. They will propose him a deal he will accept and he becomes General Toussaint Louverture. He proclaims a Constitution for Santo Domingo (Haiti), which angers Bonaparte. How does leadership change this family man? How much will he sacrifice to liberate Haiti? See the film on June 2nd and find out.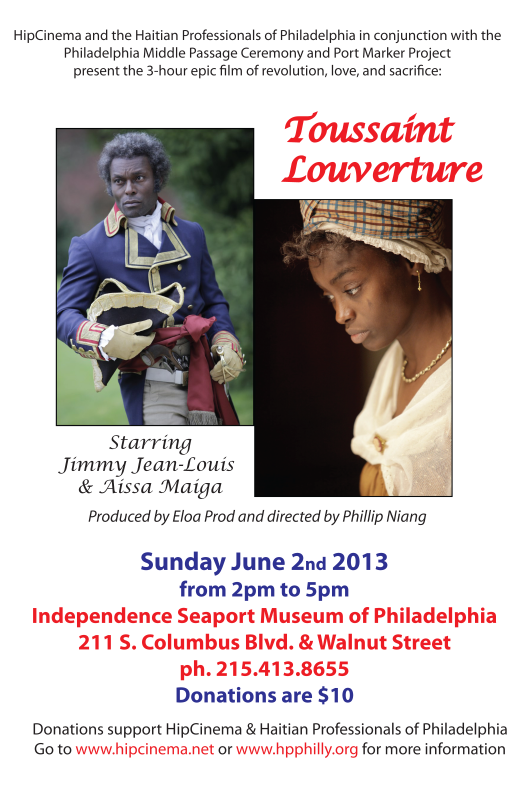 Benefactor's Reception
Honoring Our Elders
June 2, 2013, 12 Noon to 2:00 PM
Independence Seaport Museum
Penn's Landing, Philadelphia PA
*Purchase a ticket for the film screening and receive a special discount for the Benefactors Reception preceding the film.
**Ticketed events inside the seaport museum include Reciprocal Admission for participating museums.
Contributions to The Philadelphia Middle Passage Ceremony & Port Marker Project and reception proceeds are exclusively for application and installation of a historical marker acknowledging the enslaved Africans who disembarked in Philadelphia during the Transatlantic Human Trade.
RSVP: http://tinyurl.com/PhillyMPC
The Philadelphia Middle Passage Ceremony & Port Marker Project
E-mail: storymama01@gmail.com
Google #: 267-225-2541
Follow us on twitter! @PhiladelphiaMPC
Date and Time
Location
211 S Christopher Columbus Blvd - Penns Landing
Website: http://www.phillyseaport.org/
Philadelphia, 19106