Tourism Conference Series 2017 : BEYOND 2020 Navigating the Changing Needs...
Actions and Detail Panel
Tourism Conference Series 2017 : BEYOND 2020 Navigating the Changing Needs...
Wed, Feb 22, 2017, 8:00 AM – Thu, Feb 23, 2017, 6:00 PM MYT
Description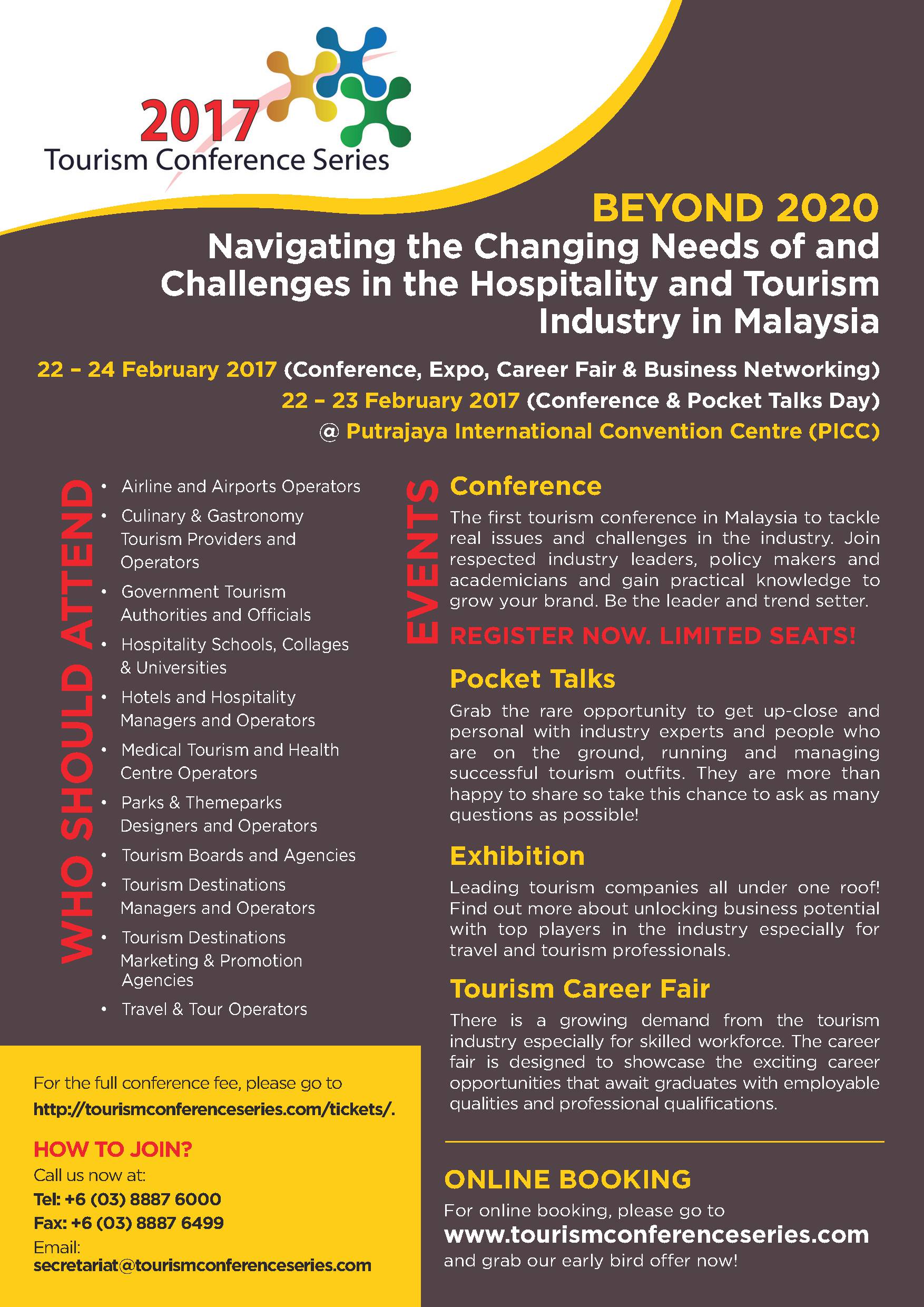 'BEYOND 2020 – Navigating the Changing Needs of and Challenges in the Hospitality and Tourism Industry in Malaysia' is the first of its kind in the national level initiative of Tourism Conference Series. It is a 2-day event being curated by MOTAC and managed by Addruse Consulting, a multidisciplinary creative media and event management company that offers an all-inclusive consultancy and innovative service to our clients. Our goal is to bring together bright minds and experienced industry leaders to give an in-depth presentations that are idea-focused and implementation-driven that will foster learning, inspiration and motivation – and ultimately ignite passion among the audience.
Concurrent to the main event, there are pocket talks, a 3-day exhibition and a tourism career fair to be held from 22 – 24 February 2017 within the same venue. For the latest info, please visit our website at www.tourismconferenceseries.com.
Why?
There is an urgent need to address the continuing challenges in the travel and hospitality to remain competitive in attracting quality talent and loyal workforce. What are the steps that the key players should urgently undertake now in order to accommodate the latest and future trends in the industry? The real issue of managing future workforce will also be highlighted.
What we aim to achieve?
The conference shall attempt to address the questions that should be on the mind of those who want to be the leader and trend setter in different components of the travel and hospitality industry. Thought-provoking ideas and challenges shall be discussed in detail. We encourage students to attend as the focus will be on them, the future workforce of the industry.
How?
We have carefully selected speakers who are not only experienced in their niche areas but also are highly thought of as leaders and change makers. The conference brings them together under one roof to share their knowledge with one common objective which is to prepare the industry players on how to successfully navigate and overcome the challenges that are certainly coming our way.
WHO SHOULD ATTEND?
Hotels and hospitality managers and operators

Medical tourism and health centre operators

Tourism Boards and agencies

Tourism destination managers and operators

Homestay managers and operators

Travel and tour operators

Tourism destination marketers and agencies

City Hall and local councils

Event manager and planners

NGOs –, 1M4U,

Gabungan

Bersatu

M'sia, Persatuan Franchise, Persatuan SPA, KLTA, MAH, PATA, MATTA, BUMITRA, etc.

IPTA students e.g. ITM, UUM, UPM, UTM, UKM etc.

IPTS students e.g.

Unitar

, KDU, KBU, Sunway University, Lim

Kok

Wing,

Nilai

Collage etc.

VOKAS students e.g.

Politeknik

,

Vokasional

, Int.

Kemahiran

Mara, IKBN,

Giat

Mara etc.

KEM – KBS, MOTAC,

Kem

.

Wanita

, MITI, MIDA, MOHR, CEDC, Local Authorities, Wilayah Iskandar, States (Development Economy Centre) etc.

Individuals – Bloggers and social influencers
Date and Time
Location
Putrajaya International Convention Centre (PICC)
Presint 5
Putrajaya, Wilayah Persekutuan Putrajaya 62000
Malaysia