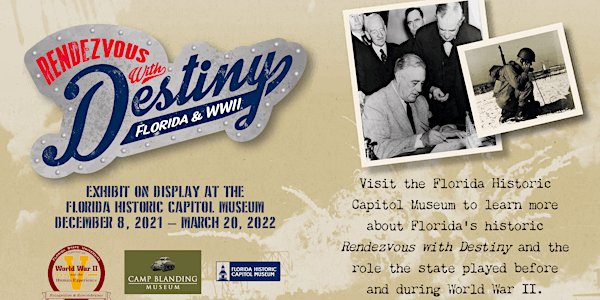 Tour with Dr. Kurt Piehler - Rendezvous with Destiny: Florida and WWII
Event Information
Location
Florida Historic Capitol Museum
400 South Monroe Street
Tallahassee, FL 32399-1100
Tour of Rendezvous with Destiny: Florida and WWII led by guest curator and WWII scholar, Dr. Kurt Piehler.
About this event
Join Dr. Kurt Piehler, director of the Institute on WWII and the Human Experience at Florida State University, for a personal tour of the newest temporary exhibition, Rendezvous with Destiny: Florida and WWII. This monthly tour is available by reservation only on a first-come-first-serve basis (with a waiting list option) and will last approximately one hour. Participation is capped at 13 guests and three total tours are offered.
About the exhibition:
Eighty years ago in December 1941, US President Franklin Delano Roosevelt and Congress declared war on the Empire of Japan, Italy, and Nazi Germany. This action followed the December 7 Japanese attack on Pearl Harbor Naval Base in Hawaii, which was a day, the president said, that will live in infamy.
Years before entering the war, the United States prepared to defend democracy, and Florida was at the forefront. Floridians stepped onto the national stage to serve their country in military and diplomatic positions. New facilities for land and naval military operations were developed in the state, and men and women throughout the nation came to Florida to train. These mobilization efforts forever changed the state—economically, socially, and politically.
Visit the Florida Historic Capitol Museum to learn more about Florida's historic Rendezvous with Destiny. Developed in partnership with Camp Blanding Museum and The Institute on World War II and the Human Experience at Florida State University, this exhibit and programming share the stories of the pre-war period and entrance into World War II from the perspective of those who experienced it – the Floridians defending America on the front lines and back home.
Location
Florida Historic Capitol Museum
400 South Monroe Street
Tallahassee, FL 32399-1100