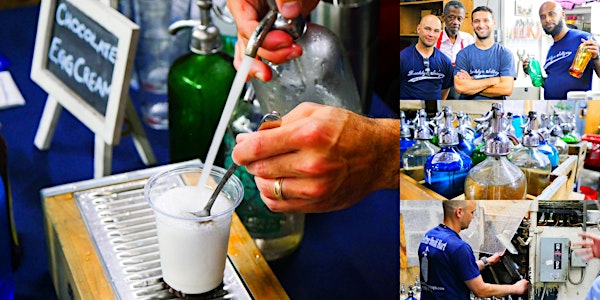 Tour, Tasting, and Egg Cream Reception @ NYC's Last Seltzer Factory
New York Adventure Club | www.AdventureClub.com
When and where
Location
Brooklyn Seltzer Boys 474 Hemlock Street Brooklyn, NY 11208
About this event
While reaching a consensus on New York's best pizza slice or cocktail lounge might prove impossible, deciding on the best fizzy water is a fact that can't even be argued — that's because there's only one seltzer company left in NYC that has the equipment to produce gold-standard carbonated water (warning: once you taste the good stuff for yourself, store-bought seltzer will forever be a disappointment).
Join New York Adventure Club for an exclusive tour and tasting inside Brooklyn Seltzer Boys, a fourth generation family-owned business in Cypress Hills, Brooklyn, that has been hand-filling seltzer bottles and delivering them to customers' doorsteps for over fifty years.
Led by Alex Gomberg, Vice President of Brooklyn Seltzer Boys, our unique experience at the last seltzer factory in New York will include:
An overview of the seltzer industry, from its rise and fall, to its recent resurgence
The history of Brooklyn Seltzer Boys, formerly known as Gomberg Seltzer Works Inc., which has been filling seltzer bottles since 1953
A private tour through the seltzer factory, which still uses century-old machines capable of filtering and carbonating city tap water with 60 pounds-per-square-inch of carbon dioxide
A closer look at the seltzer bottle refilling process, from equipment demonstrations to the maintenance of hand-blown siphon bottles from Czechoslovakia and Austria dating back to the 1800s
A taste test between store-bought fizzy water and artisanal seltzer from the factory line
Afterward, Brooklyn Seltzer Boys will whip up some of their award-winning egg creams, which strike the perfect balance between milk, Fox's U-bet chocolate syrup, and the best seltzer on the market!
Click here to watch a short documentary on Brooklyn Seltzer Boys.
Click here to see pictures from one of our last visits to Brooklyn Seltzer Boys.
See you there!
*Please wear comfortable shoes as we'll be on our feet for the duration of the experience
Transportation:
By Subway: Take the A or C train to Euclid Av Station — Brooklyn Seltzer Boys is a 7-minute walk from the station.
By Car: Since street parking is limited in the area, metered parking can be found several blocks away at Grant Avenue Municipal Parking Field located on Grant Avenue between Pitkin and Glenmore Avenues.
Testimonials
"I love the historic machinery." -Michael
"Comprehensive tour, the owners giving the tour were amazing, knowledgeable and very friendly. It's exactly what I was looking forward to!" -Marcie
"Fascinating in-depth tour of the only remaining seltzer works in NYC. An amazing historical gem made accessible by NY Adventure Club." -Jeffrey
"Unique trip." -Ira
"Amazing little piece of working history and NYC lore. Owner Alex was enthusiastic and informative. And who doesn't love seltzer. Also, fun to visit far off neighborhoods in the city." -Jonathan
"Tour guide was interesting, demonstrations were great, egg creams were delicious, very inspiring." -Elisa
"Learning about the history of the seltzer business in NY." -Olga
"I liked everything about the event- even getting to the location got me to an area I've never been. Although I love seltzer & even have a small collection of vintage seltzer bottles I had never given a thought to how it was bottled. Very interesting. Cool to see a 5th generation guy with his masters degree take on the family business." -Dona
"Alex was VERY engaging and informative." -James
"I love the obscure behind the scenes." -Lloyd
"Hands on tour by the owner who is passionate about his business." -Richard
"The opportunity to see something I couldn't have done on my own." -Suzanne
"The owner was very friendly, enthusiastic, and knowledgeable. He took the time to answer all of the questions." -brooke
"Personal, informal, informative, nostalgic, friendly and openness of Alex and of course the egg cream." -Barbara
"Everything from demonstration to history to the egg cream. Glad I had cash with me to purchase neat stuff." -Carolyn
"It was interesting to hear about the family history and the business history thought Alex was engaging and gave a great talk." -Beth
"Neat to see how seltzer was made and sample their products." -Michele
"Everything." -Lisa
"The guy at the seltzer plant was very personable, interesting, and gave us a lot of information. It was nice to have an egg cream at the end." -Caitlin
"Very real, everyone very cool old school Brooklyn." -Elizabeth
"Great people. Great story. Super relaxed and intimate." -George
"Very interesting part of New York history. I was glad to see it in action. Alex was friendly and funny." -Jessica
"Was interesting, fun and a small crowd. The egg creams were delicious!" -Zachary
"An interesting and unique experience, plus the guide was very friendly and clearly cared a lot about the subject." -sarah
"Such a great afternoon spent with the owners of this special business!" -Staci
"Informative, personal, great" -Kevin
"Everything. Gomberg's (now Brooklyn Boys) is a legend in the seltzer world. Alex and Kenny were warm, welcoming, and full of seltzer knowledge." -Barbara
Disclaimer
By attending a New York Adventure Club experience, you accept our terms of service.
Categories: In-Person, Factory & Facilities Tours