Description
Tour Paolo Soleri's 1956 Cosanti complex led by his special assistant, now Director of Paolo Soleri Studios, Roger Tomalty. Experience passive solar architecture and learn about arcoloogy at this important Arizona Historic Site.
Meet in the gallery area at 8am.
Please donate $20 to the Cosanti Foundation at the gallery register when you arrive in the morning.
We're pleased to offer a 20% discount on all books and publications about or by Paolo Soleri purchased by participants on day of tour.
Wheelchair accessible.
ABOUT COSANTI
Paolo Soleri, founder of Arcosanti, settled on a 5-acre plot in Paradise Valley in 1955. He was later joined by his students and began work on the experimental buildings of Cosanti. Designated as an Arizona Historic Site, Cosanti presents a unique bio-climatic architectural environment. Its structures feature many imaginative design elements, reflecting Soleri's innovative construction techniques.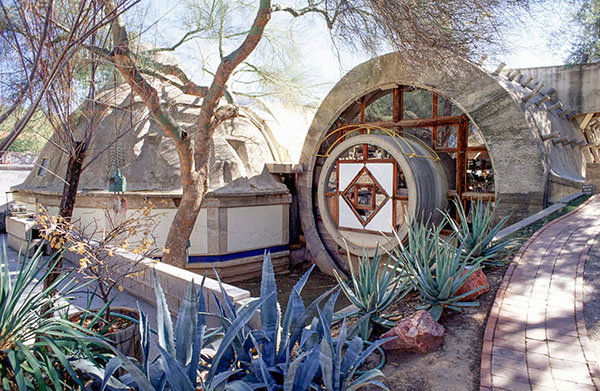 Most of these structures were built using the earth-casting method. Concrete was poured over pre-shaped (curved and sometimes colored with cement pigments) earthen forms; the earth excavated once the concrete solidified. Many are built below ground level and surrounded by mounds of earth. This acts as natural insulation to help moderate interior temperatures year round. South facing apses are used at Cosanti and Arcosanti as year-round outdoor workspaces, providing sunny space in the winter and shady conditions in the summer as the architecture employs the changing angle of the sun.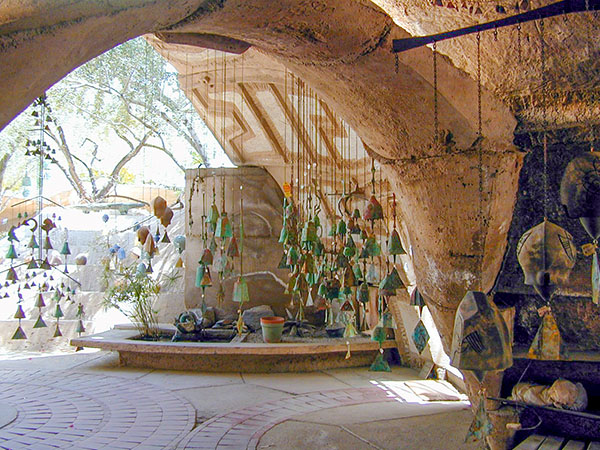 Soleri Studios is a production site for Soleri windbells and sculptures. Proceeds from Bronze and Ceramic crafts provide a major source of the funding for Arcosanti construction. These pieces are sold in the Cosanti and Arcosanti galleries and are available online on the Cosanti Originals Website. The Gallery offers:
Soleri Bronze Bells, Sculpture and Special Assemblies
Soleri Ceramic Bells, Planters and Ceramic Tiles
Publication (Books, Videos, CDs, Postcards, etc.)
Original Drawings and Limited Edition Prints