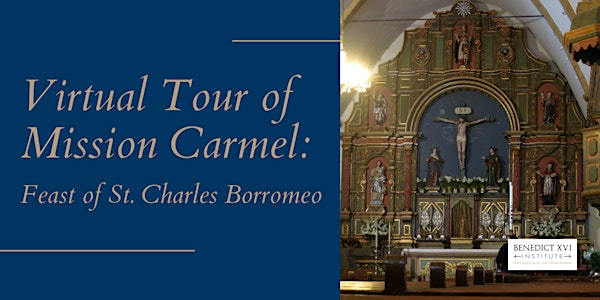 Tour of Mission Carmel on the Feast of St. Charles Borromeo
Tour of Mission Carmel with Amy Guiliano and Jewel Gentry on the Feast of St. Charles Borromeo
Refund Policy
Contact the organizer to request a refund.
Eventbrite's fee is nonrefundable.
About this event
Late registrants, join us by clicking on this link at at 5:30 pm Pacific: https://us02web.zoom.us/j/84310372112
November 4th is the Feast of St. Charles Borromeo. Celebrate with us at 5:30 pm Pacific/8:30 pm Eastern with a virtual tour of Mission San Carlos Borromeo de Carmelo, aka Mission Carmel.
Join us via Zoom and learn more about the great St. Junípero Serra through this intimate visit with the Mission he founded, where his body lies buried. Before America became a country, St. Junípero Serra had founded this beautiful Mission Church (originally near Monterey in 1771).
The tour will be led by Mission curator Jewel Gentry. The virtual 3D recreation of the Mission was created by Amy Giuliano with your help on behalf of the Benedict XVI Institute. Join us for this inaugural virtual tour. Joining us will be author Christian Clifford to discuss St. Junípero's legacy and to speak about the unknown, fascinating story of first California Indian mission seminarian Pablo Tac.
Among the highlights of the Carmel Mission Basilica Shrine:
The final resting place of Saint Junípero Serra, Founding Father of California.
The Caravaca Cross: the personal reliquary cross of Saint Junípero Serra, and one of the most important artifacts of California and Colonial Missionary History.
Our Lady of Bethlehem Statue: the oldest European styled statue of Our Lady brought to Carmel by Saint Junípero Serra.
The original bell nicknamed Ave Maria was made in Mexico City in 1807. It was placed at the Mission in 1820. When the mission was secularized in 1834, the bell was removed and held onto by local Native Americans for safekeeping. It was re-installed in the mission bell tower in 1925.
The monumental bronze and travertine cenotaph (1924) was sculpted by Uruguayan-American American Jo Mora, cowboy, photographer, artist, cartoonist, illustrator, painter, muralist, sculptor, and historian who lived with the Hopi and wrote about his experiences in California "Renaissance Man of the West".
Mission Carmel on the beautiful northern California coast, was the second mission built by Franciscan missionaries in Upper California. It was first established as Mission San Carlos Borromeo in Monterey, California near the native village of Tamo on June 3, 1770, by Father Junípero Serra, and was the site of the first Christian confirmation in Alta California.
On May 9, 1775, Junípero Serra baptized what appears to be the first Esselen, Pach-hepas, the 40-year-old chief of the Esselen, near death at the time, so perhaps one of the first Indian saints?
Come join us in a fitting tribute to St. Junípero Serra and the American saints!
About Christian Clifford.
Christian Clifford is the author of Saint Junípero Serra: Making Sense of the History and Legacy, a children's book, Who was Saint Junipero Serra? , as well as Meet Pablo Tac: Indian from the Far Shores of California, the story of the first California mission Indian seminarian. His latest is Pilgrimage: In Search of the REAL California Missions, the story of his 800-mile walk on the California Missions Trail.
Clifford's writings have appeared in Aleteia, Angelus, Cal Catholic, California Teacher, Catholic Exchange, Catholic News Agency, Catholic San Francisco, ChurchPOP, Crux, Philippine Daily Inquirer, San Diego Reader, Today's Catholic Teacher, among others.
Learn more at Missions1769.com.