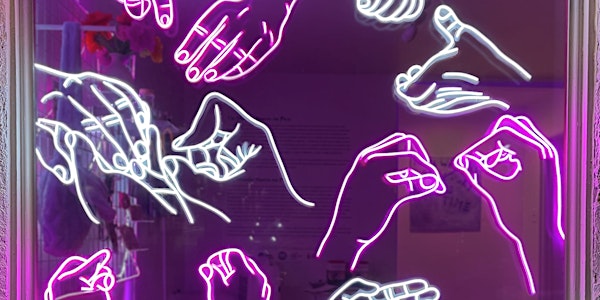 Tour of "Manos a la Obra" in Spanish and English with Cognate Collective
Related to Cognate Collective's exhibition Manos a la Obra and ongoing project Market Exchange.
When and where
Location
18th Street Arts Center (Airport Campus) 3026 Airport Avenue Santa Monica, CA 90405
Refund Policy
Contact the organizer to request a refund.
Eventbrite's fee is nonrefundable.
About this event
In conjunction with the exhibition Manos a la Obra, Cog•nate Collective will be leading a tour in Spanish and English from 1:30 - 2pm on October 30th, with a meet & greet with artists from 2-3pm. Please join us for this casual and fun event! 
Afterwards, head to the Third Street Promenade for the Dia de Los Muertos event at 5pm, where you can see the artisans in action and view Market Exchange's collaborative altar.
This is a live, in-person event. Masks will be required and LA County social distancing guidelines will be followed.
Note that capacity is limited, first come first served.
ABOUT THE EXHIBITION
18th Street Arts Center is pleased to present the exhibition Manos a la Obra of new work by Cog•nate Collective, along with collaborators from their ongoing Market Exchange project, on view in the Propeller Gallery at 3026 Airport Ave, Santa Monica from October 25, 2021 - February 5, 2022. 
​​Manos a la Obra gathers projects created in long-standing and speculative public marketplaces in the Tijuana-Los Angeles transborder region, continuing Cog•nate Collective's interest in documenting transnational economic and cultural networks of exchange at the scale of the local.
The exhibition features collaborative gestures undertaken in the last year with Santa Monica artisans and vendors working toward establishing a community marketplace in the city that can function as a platform for self-determination and collective agency. With a core group of collaborators including Ines Garcia, Laura Hernandez, Carmela Morales, Lily Alinaghizadeh, Abby Juan, and 18th Street Arts Center intern Brian Rojas, Market Exchange has met since Fall of 2020 to begin forming a self-organized artisan vendor cooperative, created an installation at the Pico Pop-Up gallery in collaboration with the Pico Improvement Organization, produced a website, and held several pop-up marketplaces in Santa Monica.
ABOUT THE ARTISTS
Since 2010, Tijuana-Los Angeles based artists + researchers Misael Diaz and Amy Sanchez have collaborated as Cog•nate Collective to develop community-based research projects + public interventions + experimental pedagogical programs in the US/Mexico border region.
Siting their practice primarily within markets, they seek to analyze how popular + informal forms of cultural + economic exchange taking place between transnational communities can be mobilized in defiance of solidifying political boundaries — proposing an understanding of the border not as bifurcating line, but as a region expanding and contracting with the movement of people and objects.
+++
Junto con la exposición Manos a la Obra, Cog • nate Collective tendrá una gira en español e inglés de 1:30 a 2:00 pm. el 30 de octubre, con un encuentro con les artistas de 2 a 3 pm. ¡Únase a este evento casual y divertido!
Luego, vaya a Third Street Promenade para el evento del Día de los Muertos de 5:00 p.m. a 10:00 p.m., donde podrá ver a les artesanes en acción y ver el altar colaborativo de Market Exchange.
Este es un evento en vivo y en persona. Se requerirá cubrebocas y se seguirán las pautas de distanciamiento social del condado de Los Ángeles.
Tenga en cuenta que la capacidad es limitada, por orden de llegada
SOBRE LA EXPOSICION
18th Street Arts Center se complace en presentar la exposición Manos a la Obra del nuevo trabajo de Cog • nate Collective, junto con colaboradores de su proyecto en curso Market Exchange, que se exhibirá en la Galería Propeller en 3026 Airport Ave, Santa Monica a partir del 25 de octubre, 2021 - 5 de febrero de 2022.
Manos a la Obra reúne proyectos creados a lo largo de varios años y de modo especulativo en mercados públicos de la región transfronteriza de Tijuana-Los Ángeles, continuando el interés de Cog•nate Collective de documentar redes transnacionales económicas y culturales de intercambio a escala local.
En esta última obra, les artistes y sus colaboradores dialogan entre lo hecho a mano y lo producido en masa, entre artesanía y bienes de segunda mano, a través de una serie de gestos conceptuales / escultóricos que están inspirados en la labor que emprenden artesanes y vendedores para transformar las condiciones materiales y socioeconómicas.
La exposición presenta gestos de colaboración realizados en el último año con artesanas y vendedores de Santa Mónica, que trabajan para establecer un mercado comunitario en la ciudad que pueda funcionar como una plataforma para la autodeterminación y la agencia colectiva. Con un grupo central de colaboradores que incluye a Ines García, Laura Hernández, Carmela Morales, Lily Alinaghizadeh, Abby Juan y el pasante del 18th Street Arts Center Brian Rojas, Market Exchange se ha reunido desde el otoño de 2020 para comenzar a formar una cooperativa de vendedores artesanales autoorganizada, creó una instalación en la galería Pico Pop-Up en colaboración con Pico Improvement Organization, produjo un sitio web y celebró varios mercados emergentes en Santa Mónica.  Para aprender más acerca de Market Exchange – la colaboración con artesanos de Santa Mónica que dio inicio en el otoño del 2020 y aún sigue en marcha – por favor visite: marketexchange.18thstreet.org.
SOBRE LES ARTISTES
Desde 2010, les artistes e investigadores de Tijuana-Los Ángeles Misael Díaz y Amy Sanchez han colaborado como Cog • nate Collective para desarrollar proyectos de investigación basados en la comunidad + intervenciones públicas + programas pedagógicos experimentales en la región fronteriza de Estados Unidos / México.
Situando su práctica principalmente dentro de los mercados, buscan analizar cómo las formas populares + informales de intercambio cultural + económico que tienen lugar entre comunidades transnacionales pueden movilizarse desafiando la solidificación de las fronteras políticas, proponiendo una comprensión de la frontera no como una línea bifurcada, sino como una región que se expande y contrae con el movimiento de personas y objetos.