Tour Frank Lloyd Wright-Inspired Home

Saturday, August 23, 2014 from 10:00 AM to 1:00 PM (EDT)
Event Details
OWNERS OF A FRANK-LLOYD WRIGHT-INSPIRED ORIGINAL ARCHITECTURE OPEN THEIR DOORS TO RAISE FUNDS FOR PEDIATRIC CANCER RESEARCH THROUGH
THE TY LOUIS CAMPBELL FOUNDATION
Unique Opportunity for Architecture Fans to Tour the Famed Petra Island
The Massaro Family has graciously announced an upcoming fundraiser for which they will open their doors to their privately-owned residence inspired by designs of world-renowned architect Frank Lloyd Wright.  Aptly known as "The Massaro House," the residence was constructed on the heart-shaped Petra Island and shares acreage with "Chahroudi cottage," the original structure designed and built by Wright in 1951.  Both structures will be open for touring, with registration fees of $100 per individual benefiting the Ty Louis Campbell Foundation for childhood cancer research. 
The fundraiser is scheduled for August, 23, with three tours running at 10AM, 11:30AM and 1PM. Please note, the homes are not handicapped accessible and the island is only accessible by boat.  All registrants are asked to arrive 30 minutes prior to their touring time.
Sitting atop the waters of beautiful Lake Mahopac, it's easy to see why Frank Lloyd Wright originally designed this amazing piece of art to hover over the water like the bow of a beautiful ship. Although the Massaro House was not the house Frank Lloyd Wright actually built on this 11 acre island in 1951 (now known as the Chahroudi cottage), it is the house he envisioned for this property.  Instead, after several drawings of scaled down sketches, the owners at that time settled on a 1,200sq foot cottage set back from the original site.  His spectacular 5,000sq foot vision was later brought to life by Massaro more than 50 years after Wright originally put it on paper.
The in-depth 1 hour tour of both structures will provide participants with an up-close look (inside and out) with thoughtful commentary from Massaro, himself.  For $100/per person, participants will be taken by boat from the shores of beautiful Lake Mahopac (located 50 miles north of Manhattan and easily accessible by train), docking and exploring both the original Chahroudi cottage and the Massaro House.  The tour will include a detailed presentation of the building process, including pictures from the beginning, middle and end of the process.
The History of Petra Island 
In 1949, Frank Lloyd Wright received a commission from an engineer named A. K. Chahroudi to build a house on Petra Island, which Chahroudi owned at the time. Wright worked on designing a one-story, 5,000sq foot house for three months, but the project was cancelled when Chahroudi realized he was not able to afford the budget that Wright envisioned for the project. Instead, Wright then designed the 1,200sq-foot cottage that still exists today (pictured here).
In 1996, Petra Island was purchased by Joseph and Barbara Massaro.  They received the original renderings for the 5,000sq foot structure from Dodd Chahroudi, sometime after the purchase of the island.  Massaro hired Thomas A. Heinz, an architect and Wright historian, to complete the unfinished design, construction of which occurred 2003 – 2007.
Heinz employed 3D computer software to model aspects of Wright's design not self-evident in the original renderings and provided updated heating and cooling solutions that were not part of the original Wright concept, such as air conditioning and radiant heating.
Similar to Wright's famous "Fallingwater" structure, the house's design does not merely accommodate but actually incorporates the island's topography. A 12-foot high, 60-foot long rock forms the exterior to the entry and an interior wall, while a smaller rock doubles as a kitchen and bathroom wall. The house features a cantilevered deck that stretches 25 feet over Lake Mahopac. Its 18-foot high living area is illuminated with 26 triangular skylights.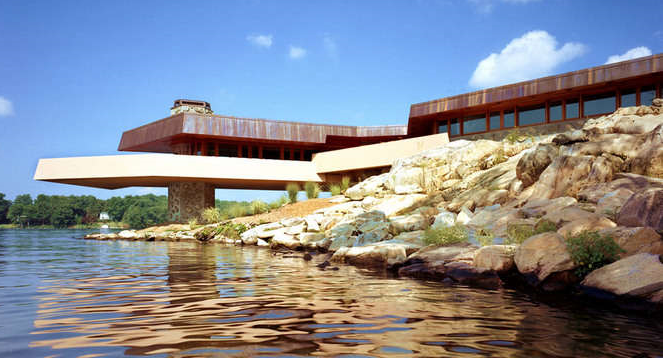 When & Where

Petra Island

Lake Mahopac, NY 10541


Saturday, August 23, 2014 from 10:00 AM to 1:00 PM (EDT)
Add to my calendar
Organizer
The Ty Louis Campbell Foundation is a nonprofit organization dedicated to funding innovative research and clinical trials specifically geared toward the treatment of aggressive childhood cancers (including brain and spinal cord tumors). Our organization seeks less toxic, more effective treatments that are specifically designed for children fighting cancer. Our ultimate mission is to help fund the intelligence and technology that will uncover new ways to improve the quality of life for, and ultimately cure, children with cancer.