About this Event
Join us for the 16th annual Tour des Chutes! On July 11, 2020, we will ride, run, or walk to support children and adults with cancer in Central Oregon.
While Tour des Chutes has traditionally featured an in-person event, this year we are shifting to a fully virtual event to ensure the safety of our participants, volunteers, and community. Thsi was a difficult decision, but we believe it is the best choice given the uncertainty surrounding COVID-19.
EVENT DETAILS
We will begin our celebration of community on June 26th, posting a new, interactive blog post each day leading up to July 11. These posts will inspire, motivate, and share experiences with every participant to show the power of the programs and community we support.
All registered participants will be asked to "pledge" the number of miles they plan to ride and/or run/walk, and our hope is to exceed last year's total number of miles (64,000!).
See our website for more details.
REGISTRATION DETAILS
All registered participants will receive a coupon book as a thank you from local businesses for supporting Tour des Chutes. Youth participants will receive their own coupon book. Registration prices will remain fixed until July 11.
Adult Cycling and Run/Walk: $25
Youth Cycling and Run/Walk: $15
*Youth are considered any participants 15 or younger at the time of the event.
When registering, please consider adding a donation to Tour des Chutes if you are able. Even a small amount can go a long way! (You can select "Donation" at the end of the registration page, and enter any custom amount.)
If you need a paper registration form, please email us directly at tdeschutes@gmail.com.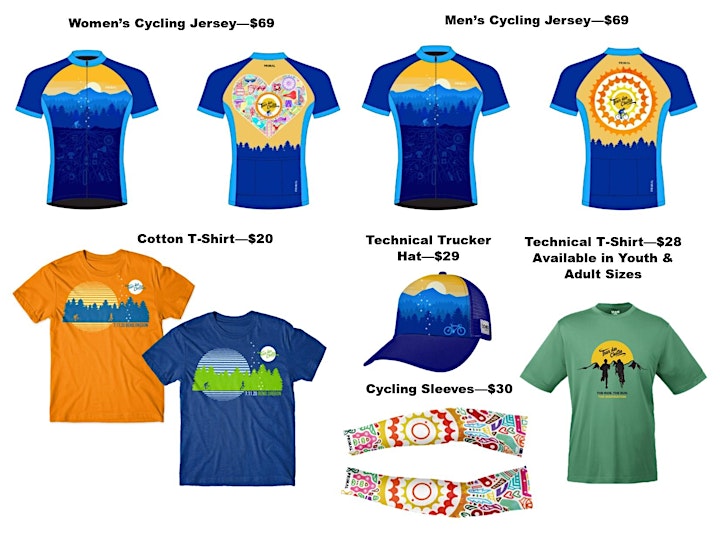 TOUR DES CHUTES GOODS
We will once again offer some great Tour des Chutes goods to outfit any participant. This year we are excited to have partnered with artist Jon Marro (learn more about Jon at www.jonmarro.com) to create some incredible custom designs that really capture the spirit of Tour des Chutes. Jon has put together designs for the following:
Jersey. Our 2020 Tour des Chutes jersey will be produced by Primal, and features a women's cut and men's cut. The jersey is $69, and the size chart can be found here.
Technical Trucker Hats. We are partnering with BOCO Gear to produce another great technical trucker hat, featuring more of Jon's artwork. These hats are $29 each.
Cotton T-shirt. Our 2020 event t-shirt is another variation of Jon's design, and is $20.
Cycling Sleeves. New for 2020! A great accessory for any rider, they are $30.
Technical Shirt. Finally, another newcomer for 2020, our first technical shirt! Designed by Electric Graphic Design and available for $28.
All TdC goods can be shipped - please select the "shipping" ticket and be sure to enter a mailing address when registering.