Sales Have Ended
Registrations are closed
Sorry, preregistration has closed. Onsite registration opens at 6:00 am on May 6 for long distance riders and 7:00 am for all other riders.
Sales Have Ended
Registrations are closed
Sorry, preregistration has closed. Onsite registration opens at 6:00 am on May 6 for long distance riders and 7:00 am for all other riders.
Description
Registration for the 2017 20th Anniversay Tour de Stooges opened on January 1, 2017
What? You're looking for beautiful scenery, great cookies, the best after-ride meal and all the vidiot fun a stooge could want? Well, then don't be a knucklehead or a victim of soicumstance. You better not miss the 20th annual Tour de Stooges on Saturday, May 6, 2017, in Lebanon, Illinois (See the About the Ride page for a map of Lebanon). Miss it, and I'll moiderize youse!
The rolling countryside has great scenery, picturesque farms, fields of wildflowers on lightly traveled country lanes. Plus, our ride features the best rest stop treats around. Yes, our Missouri friends might need to drive a little, but the trip down Interstates 70 or 64 is about the same as traveling from downtown to West County. Plus, the trip is worth it and we promise a ride to remember. After you ride, there's an all-you-can eat hot meal with lots of variety including pizza, salads, soups, stir-fry, sandwiches, etc. served in the Ames Dining Hall at McKendree University.
We're again continuing the Moe Metric Century and a full 100-mile route — the Roger Kramer Memorial Century named after the founder of Tour de Stooges. There's a 10-mile route, too, and other intermediate routes for your velocipedic pleasure — something for everyone, and family-friendly, too. After the ride, we spread out, eat and watch Three Stooges shorts until the cows come home. Nyuk, nyuk, nyuk.

Using the family registration discount option? Please select "Group" registration.
Be sure to order your 20th Anniversary Tour de Stooges T-shirt and/or Limited Edition Jersey at checkout when you register for the ride. T-shirts and Jerseys are not included with ride registration and must be ordered in advance to guarantee availability and size. Want a jersey or t-shirt without ride registration? Go to the TdS t-shirt and jersey only order page.
20th Anniversary TdS T-Shirt -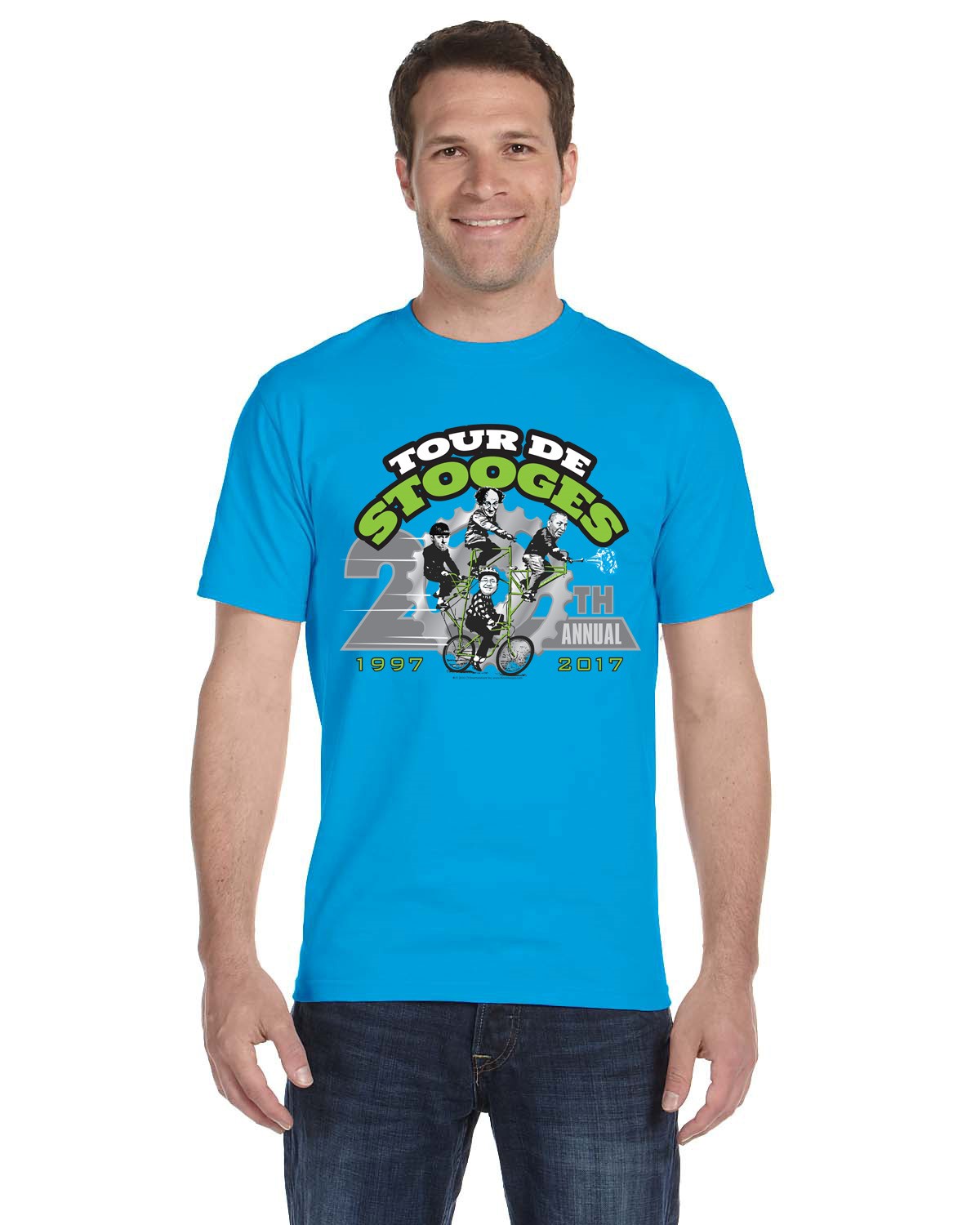 Who's that fourth stooge on our T-shirts? Not Shemp. Not Curly Joe. That's Roger Kramer, the late founder of this ride. He loved the Three Stooges so much that he had their complete catalog of movies and short films. He regularly peppered his conversations with "why soitenly," "pick two" and "nyuk-nyuk-nyuk." He brought together his passions to found this bicycle ride with great food and showings of his favorite comedy trio's masterworks. Some years he put the ride on almost single-handedly, so its survival and this celebration of the 20th Tour de Stooges is a tribute to him.
2017 Limited Edition Anniversary Cycling Jersey (150 available - Full zipper - size XS to XXXL - men's and women's sizes available (size chart:
https://retro2ride.com/mens-and-womens-jersey-performance-tee-sizing-charts/) - Please order by April 10 to guarantee size selection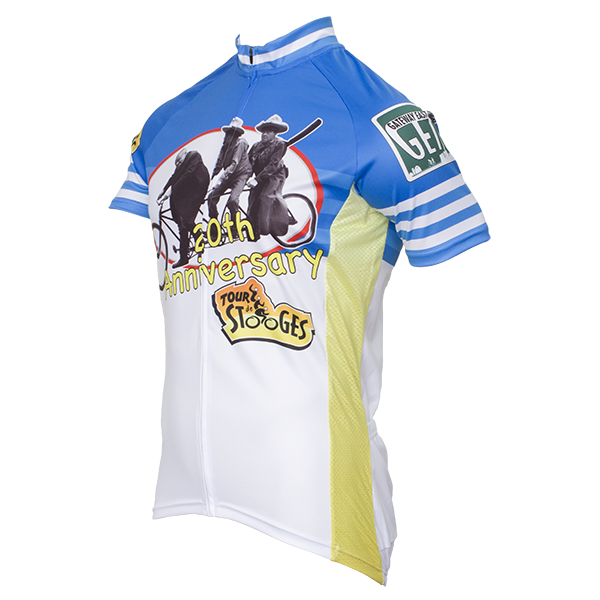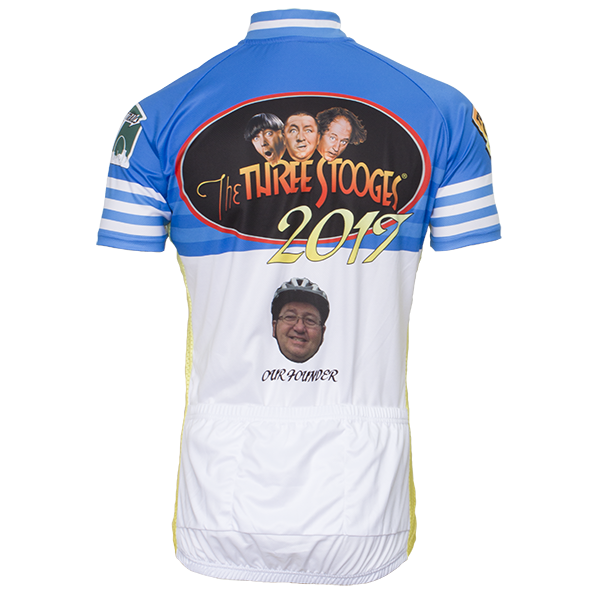 Jersey Pre-orders end March 31, 2017 to gurantee availability and size selection. Limited to 150 jerseys by our license.
FAQs
How can I contact the organizer with any questions?
Please contact us at info@tourdestooges.org. You will receive a reply within 24 hours.
What's the refund policy?
There are no ride fee refunds unless the ride is cancelled by Gateway East Trails. The ride goes on rain or shine, though severe weather may delay the starting time or result in cancellation. If the ride is delayed, lunch service hours do not change, they are controlled by the McKendree University food services contractor.
There are no refunds for t-shirt or jersey sales. In the rare event the ride is cancelled due to weather conditions they will be mailed to the purchaser.
What routes will we follow?
Route maps will be posted on our web site at www.tourdestooges.org about a week prior to the ride for download. In case there are last minutes changes due to road conditions, etc. we suggest waiting until a day or two before the ride before downloading to your gps system. Maps also are available at check-in. plus they will be posted at check-in, and at each of the rest stops.