Bike your own adventure with Tour de Bier KC!
About this event
BikeWalkKC is celebrating our 10th Anniversary with a special-edition Tour de Bier KC! Bike Your Own Adventure on this self-guided tour of Kansas City's brewing past and present. Explore historic neighborhoods, discover new brews, and see your city with fresh eyes.
While our region continues to navigate public health uncertainties, we are committed to celebrating Kansas City bike and beer culture while keeping our brewing friends and our riding friends safe and healthy. This extended Tour de Bier KC will allow riders to spread out and ease capacity pressure on our small local breweries.
Ride bikes. Drink beer. Do good.
Tour de Bier riders support advocacy and education, making the KC metro a safer and more fun place to walk and bike
Riders will have September 1-30 to "Bike Your Own Adventure," visiting breweries and points of interest
3 routes to choose from: 15ish miles, 30ish miles, or 40ish miles
Every registration gets a chance to win a guided Flint Hills bike tour or a Wera signature tool kit
Free lunch, t-shirt (if you register before Thursday, August 5) and beer samples
Digital packets with beer and lunch tickets will be emailed to you, or pick up a printed packet at any participating brewery if you don't use a smartphone
Tour de Bier KC 2021 will be a self-supported ride. There will be no SAG.
Have questions? Find the answers on our FAQ!
How to use your BikeWalkKC member code to get $10 off General Admission
After you click the blue "Enter promo code" link (see example below) and enter your member code, members-only tickets will appear and be available to purchase.
Have questions about your membership status? Email BikeWalkKC at info@bikewalkkc.org.
The Tour de Bier KC is a production of BikeWalkKC, whose mission is to redefine our streets as places for people to create a culture of active living. Learn more about our education programs, advocacy efforts, and planning services at www.bikewalkkc.org.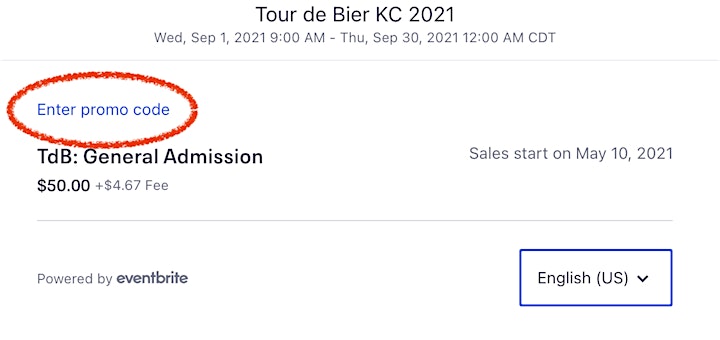 Organizer of Tour de Bier KC 2021