Tour Bus Stop #2 - Sufi Prayer, Sohbet, Zikr

Thursday, November 3, 2011 from 7:30 PM to 11:00 PM (ADT)
Event Details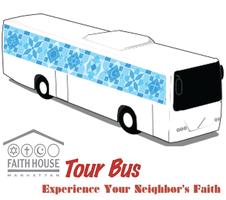 Sufi Prayer, Sohbet, Zikr
A night with Sheikha Fariha and the Nur Ashki Jerrahi Sufi Order
Dergah al-Farah
245 West Broadway, between Beach and White Streets (located next to Tribeca Tavern) Closest Subways: 1 to Franklin; A, C, E to Canal 7:30 pm – Sheikha Fariha will give a talk on Sufism 8:30 pm until late – Zikr ceremony (with breaks to leave)
NOTE: We have reached capacity for this event (including RSVPs in various places). If you would like to be put on a waiting list, email bowie@faithhousemanhattan.org. 
Tonight's form of remembrance, the zikr circle, is a ceremony of the centuries old lineage of the Halvetti-Jerrahi Sufi Order of Turkey.   When a dervish or spiritual aspirant steps over the threshold into a Sufi circle, she leaves the world and its concerns behind.  One comes only to open and offer one's heart to God through remembrance- prayer, chant, praise, entreatment, devotion; a state of conscious presence and invocation of God.  When we participate in zikr, communally or individually, we are losing our selves in timelessness and opening our selves to praise and ecstasy, which is our true nature.  The zikr circle rends the veils that are woven by the self's desires and attachments and can become a constant meditation that facilitates, in turn, an individual's awareness, connection and relationship with God. Online Introduction to Sufism – scroll down to Sept. 23, 2010 talk by Sheikha Fariha (23 minutes, mp3 download or stream) 
www.nurashkijerrahi.org/events.htm
www.nurashkijerrahi.org
When & Where
245 WEST Broadway
Between Beach and White Streets
New York, 10013


Thursday, November 3, 2011 from 7:30 PM to 11:00 PM (ADT)
Add to my calendar
Organizer
Faith House Manhattan
We are an experiential inter-religious community that comes together to deepen our personal and communal journeys, share ritual life and devotional space, and foster a commitment to social justice and healing the world.
Twice a month, Faith House hosts Living Room gatherings where we share holy days, learn new spiritual practices, and address current cultural and social issues. Each gathering has a specific theme and participatory elements. 
Visit us! Website Facebook Twitter MeetUp 
Tour Bus Stop #2 - Sufi Prayer, Sohbet, Zikr