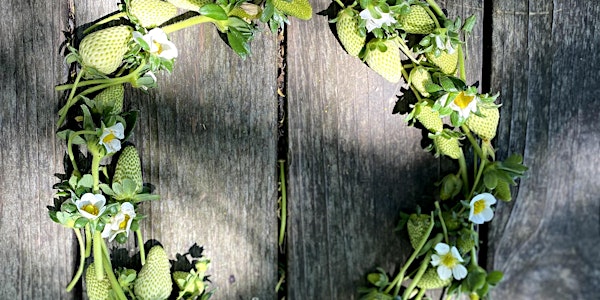 Touching Earth: Zen and Farming
Join three generations of Bay Area farmers & Zen students for a conversation about bringing contemplative practice to life in the garden.
Refund Policy
Refunds up to 1 day before event
Eventbrite's fee is nonrefundable.
About this event
Touching Earth: Zen and Farming
Saturday November 13, 10 am - 11:30 am via Zoom
Panelists: Wendy Johnson Sensei, Sara Tashker Sensei, Jack Thomas
Note that this is a virtual workshop via Zoom.
Witness and join a conversation between three generations of Bay Area farmers & gardeners. Wendy, Sara, & Jack will discuss several methods that transform manual labor and land-based work into an expression of gratitude and a technology for healing. Learn how to bring your contemplative practice to life in the garden.
Wendy Johnson is a Buddhist meditation teacher and organic gardening mentor to the Edible Schoolyard program of the Chez Panisse Foundation. Wendy has been practicing Zen meditation for thirty-five years and has led meditation retreats nationwide since 1992 as an ordained lay dharma teacher in the traditions of Vietnamese teacher Thich Nhat Hanh and the San Francisco Zen Center. Wendy is one of the founders of the organic Farm and Garden Program at Green Gulch Farm Zen Center in Marin County. In 2000 Wendy and her husband, Peter Rudnick, received the annual Sustainable Agriculture Award from the National Ecological Farming Association. She received lay Dharma Transmission in the Soto lineage of Shunryu Suzuki Roshi, and she is the author of Gardening at the Dragon's Gate.
Sara Tashker has been an organic farmer and residential practitioner at San Francisco Zen Center since 2002. From 2007 she has helped lead Green Gulch Farm's six-month Organic Farm and Garden Apprenticeship for people interested in integrating residential Zen Buddhist practice and hands-on training in organic farming and gardening. She loves that her every activity is the fertile ground of Zen practice: growing food, relating to community, being a mother, appreciating the breath and body. In fall 2011 she served as Shuso (Head Student) at Tassajara Zen Mountain Center with Abbots Myogen Steve Stücky and Sojun Mel Weitsman; and in 2020 she received Dharma Transmission from Sojun Mel Weitsman at Tassajara Zen Monastery, completing her priest training and becoming a teacher in the Soto lineage of Shunryu Suzuki Roshi.
Jack Thomas (he/they) is Co-Director at Friends of Alemany Farm, where he has found meaningful work since late 2019. Grounded in an intersectional understanding of justice, and a deep-rooted commitment to repairing humanity's relationship with itself and planet Earth, Jack understands that communal work with the land is an essential ingredient in personal and collective liberation. Before FOAF, he spent four years engaging Buddhist psychology, philosophy, ecology, and practice at Green Gulch Farm and Zen Center, where he met, studied, and farmed with Wendy and Sara. He received the Bodhisattva Precepts in 2018. Jack is enthusiastic about growing resilient urban ecosystems; restoring food sovereignty and native foodways to disenfranchised frontline communities; fostering cultural expressions of interdependence; and sowing the seeds of health for the planet - and all her beings.
SUGGESTED DONATION: $15 per person; no one turned away for lack of funds. Our workshops are donation-based and support the farm. Please give at the suggested level or higher if you are able. 
FAQs
What do I do if I cannot afford to make a donation?
While we encourage everyone to make an offering commensurate with your means, and in an amount that feels powerful to you - and we rely on such gifts to make workshops like these possible. But we also recognize that money can never be a barrier to entry. Therefore our workshop is offered freely: please select the "Equity Admission" option if it applies to you.
What should I bring with me? 
A notebook, warm tea, and an answer to the questions: "What is my inmost request? What is the most important thing in my life?"
How and when will I receive Zoom details?
We will email Zoom log-in details to you before the workshop.
Can I offer questions or interact with the panelists?
Yes, your participation is encouraged. We will being the workshop with a discussion, and then open it up for questions and comments from attendees.