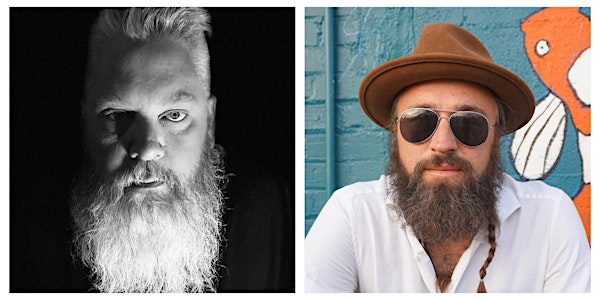 TOTH: Michael O'Connor & Jason McIntyre
Swallow Hill welcomes Michael O'Connor and Jason McIntyre to our Tuft stage for Top of the Hill!
When and where
Location
Swallow Hill Music - Tuft Theatre 71 East Yale Ave Denver, CO 80210
Performers
Michael O'Connor
Jason McIntyre
About this event
MICHAEL O'CONNOR
Michael O'Connor is a guitarist, singer and songwriter living in Washington State. For decades he has performed and recorded with musicians including Ray Wylie Hubbard, Slaid Cleaves, Adam Carroll, Susan Gibson, Terri Hendrix, and Jeff Plankenhorn. A lifetime of hard-won experience has allowed Michael a rare insight into the world of the rough, the faithless, the romantic, and the unlucky, all of whom find refuge in his songs. Michael has toured throughout the United States and overseas, performing in esteemed venues and festivals. In June 2010, Michael was inducted into the South Texas Music Walk of Fame in Corpus Christi, Texas, with a star bearing his name. He has released seven albums and is continuing to release new music.
Everyday Songwriting Workshop: Join Michael and Jason for a workshop at Swallow Hill the day after the concert. Get complete details and register here.
JASON MCINTYRE
"The songs of our friends is all that we get to keep this wheel spinning 'round," frontman (of the band Lemont) and chief songwriter Jason McIntyre sings over the waltzing refrain of guitar and fiddles. And that's exactly the story here; While Lemont's seven members are spread around three states, the band's ethos is still rooted in State College, Pa., where it formed 10+ years ago (taking its name from the nearby village of Lemont) and began crafting a sound that weaves together myriad strains of American music -- a rootsy blend easily classified as Americana but with a depth and reach that bleeds beyond the boundaries of any specific genre.
Considering the song, McIntyre, now residing in Austin, TX recalls "that was me sitting on my porch in Colorado, thinking about that community in Pennsylvania I'd left behind that I was yearning for at the moment, just telling the story of how important community is and how important each other's songs are and envisioning us back there, sitting by the creek and sharing songs with each other, writing and playing into the night."
The six SONGS OF OUR FRIENDS speak to that tight and instinctive connection. Lemont formed as a kind of culmination of the members', and particularly McIntyre's, musical histories in central Pennsylvania. Guitarist Junior Tutwiler and bassist Corry Drake worked with him in the Rustlanders, while fiddler Daniel Collins, vocalist Kate Twoey and keyboardist James Harton were part of the Contraband. Rounded out with drummer Kevin Lowe, Lemont has the benefit of abundant familiarity and a familial bond, but with a shared appetite for finding new avenues to explore and fresh musical corners to poke around.
"I've been playing with those folks for many years, under various identities, not knowing what or who we were," McIntyre explains. "With Lemont we've really found a voice and an identity, with a lot of room to really grow within it."
McIntyre came to songwriting early; Picking up guitar as an adolescent, he was more interested in creating his own material rather than covering what was on radio and MTV, as many of his friends were doing at the time. The Beatles and Beach Boys were "formative bands," while The Band became a favorite as well. McIntyre's travels eventually took him to a music production job at the House of Blues in Los Angeles, but upon returning to State College he was taken under wing by Mark Ross at Alley Cat Music, who mentored McIntyre in the blues and also introduced him to Tutwiler.
This concert is part of our Top of the Hill Concert Series, which showcases our talented school teachers who are undoubtedly some of the best professional musicians along the Front Range.