Description
weMED Wellness is giving away a FREE Milk & Honey Manicure for you and a friend, from SNS Organic Nails & Spa.
Attend our FREE Wellness Seminar at noon on Wednesday, October 18, to be entered in to the drawing.
Enjoy a complementary meal, catered by Whole Foods, and learn more about how weMED changes lives everyday!
Here's a story from one of our past winners:
Helen has had a great year! So far:
* She reduced her all-over arthritis pain
* Her knees feel stronger than ever
* Her anxiety and depression have vanished
* Her acid reflux is gone
* Her thyroid is healthy again
* She sleeps great and has tons of energy
* She lost 20 pounds
AND SHE DID IT ALL WITHOUT MEDICATION
You can have a great year too!
Seats are limited - RSVP Required
Drawing is held at the end of the seminar. Must be present to win.

weMED Wellness Center
713-572-3888
Our Featured Speaker: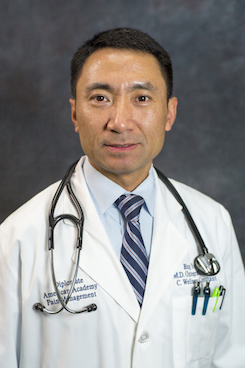 Dr. Bing You
Dr. Bing You, International Renowned Western-Eastern Medical Doctor, (who has over two decades integrated medical practice experience, St. Luke's Hospital Privileged and advising MD Anderson Cancer Center on fighting chemo and radiation side effects), will present nutrition inside out. Dr. You will teach you what you need to know to have a personalized nutrition strategy that will work for your lifestyle, fight chronic disease, and keep the holiday weight off.
Schedule:
12:00 -12:15pm - Welcome and Introduction
12:15-1:15-pm Appetizers and Featured Guest Speaker Dr. Bing You
1:15-2:00pm Lunch, Questions and Announcements
LUNCH MENU
Field Green Salad with choice of Ranch or Balsamic Dressing
Grilled Vegetable Tray
Chicken & Beef Fajitas
Bottled Water
PARKING INFO: Free parking in garage. From there, go to second level of the store (elevators available) and look for our banner.