Description
Passion & the Power of the Mind-Muscle Connection: What is driving your decision to become a certified personal trainer?
If you have a strong desire to help people live an active and healthy lifestyle, being a personal trainer can be one of the most rewarding careers available to you. Eight-time Mr. Olympia Lee Haney discusses what he believes are the most important tools to becoming the best personal trainer you can be.
The greatest characteristic of becoming a great trainer I have found is being passionate about helping people. Just as it is important to have the power of the mind-muscle connection to make progress in the gym, a trainer must genuinely connect with their clients. Building a relationship of caring and trust is the first step in getting and retaining your clients. Carry within you the desire to help people live healthy and productive lives.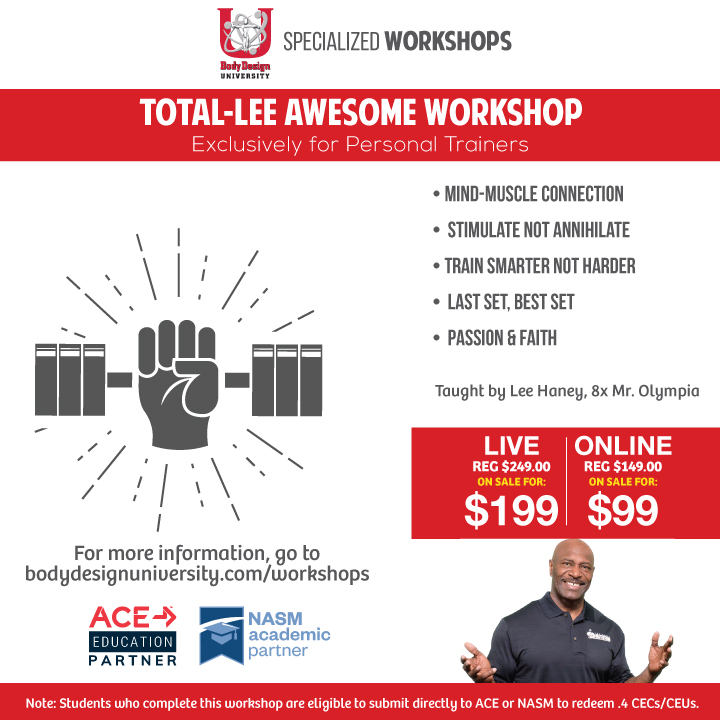 Member and Student Promotional Codes:
"BDUGRAD " Graduates from our Personal Trainer Course get 50% Off.
"BDUSTUDENT" New Personal Trainer Course students receive TWO FREE workshops.
Read what other students are saying!
"This workshop showed me how to stay persistant and always have passion for this career." -Jamie Townsend
"Lee Haney is my fitness hero! I've always wanted to meet him and gain knowledge from him." -Adara Ervin
"Lee Haney is so passionate." Robert Herrin
"Gave me a lot to think about especially since I am not yet a trainer." Jada Henderson
"Mr. LEE HANEY! What is there to explain???" -Melanie Bryant
"Lee gave me another outlook of the industry. I loved learning about his experiences." -Brenique Lewis
NOTICE: OUR WORKSHOPS MAY BE SHOT ON VIDEO AND STILL PHOTOGRAPHY!