Event Information
Refund Policy
Contact the organizer to request a refund.
Eventbrite's fee is nonrefundable.
Training of Trainers for Recovery Coaching a Harm Reduction Pathway, digitally delivered. (Must be registered for 3/13-3/27 RCHRP training.)
About this Event
Training of Trainers for the 3/13/21 through 3/27/21 offering of Recovery Coaching a Harm Reduction Pathway©, hosted by Tennessee Recovery Alliance. TOT registrants must also attend the RCHRP training if they have not already done so.
LEARNING OBJECTIVES
Participants will be able to:
Discuss their abilities as trainers
Describe key elements in the development of this training
Participate in a walk-through of each module of the 18-hour Recovery Coaching a Harm Reduction Pathway
Explore their comfort level with each of the modules
Deliver a ten-minute practice piece of the curriculum
Give and receive feedback.
SCHEDULE
Five 8-hour sessions and three hours of self-paced learning activities. Each session includes two fifteen-minute breaks and one hour-long lunch. Session dates/times are:
Saturday, 3/28/21: 9:00am - 5:00pm EST (6:00am - 2:00pm PST)
WHO BENEFITS FROM THIS TRAINING?
Trainers and organizations who wish to provide their own offerings of Recovery Coaching a Harm Reduction Pathway©.
PREREQUISITES
Completion of a Recovery Coaching a Harm Reduction Pathway© course. Experience in training peer services staff is requested.
HOW DOES THIS WORK DIGITALLY?
Shortly after you register, you will receive an invitation to the first Zoom session including instructions for joining by video and phone. You will be able to participate in real time throughout the training with trainers and other participants as part of large and small groups. Feel free to pick a fun background in Zoom!
Note: Though you will receive a new invite via Zoom for each day of the training, you will only need to pay for the training once upon registering here.
ABOUT ZOOM
Zoom provides some basic instructions for using its videoconferencing platform, and here are some of them: You can join the Zoom meeting by simply clicking the link provided to you upon registering. You may choose to call into one of the phone numbers provided for audio or just use your computer's audio system. We suggest using a computer to be able to see people and the presentation clearly, and to do your best to secure a private space with limited noise/distractions. You will need to click "start video" in the lower left corner of your Zoom window upon entering the training. You'll be muted upon entering but you can hold down the space bar on your computer to speak.
PARTICIPANT MANUALS
Your registration includes a mailed physical copy of the RCHRP trainer's manual, as well as an emailed digital version. Please provide an accurate mailing address during registration.
CEUs
A digitally signed certificate reflecting your status as a certified trainer of the RCHRP curriculum is provided upon completion of this training and the participants' submission of an evaluation. TOT participants must sign and digitally submit a contract outlining expectations of trainers from the curriculum's owners, Jim Wuelfing and The LeMire Group LC.
REFUND POLICY
Refunds requested up to seven days prior to the first training day will be paid in full. Later requests will be considered on a case-by-case basis.
ABOUT THE TRAINER
Jim Wuelfing is owner and principle associate of the New England Center, dedicated to exceptional training, facilitation and consulting services for nearly 40 years. In the recovery supports arena he has been a major contributor in the design and delivery of several curricula including the CCAR Recovery Coach Academy and CCAR Ethical Considerations for Recovery Coaches, as well as SOS Developing Excellence in Recovery Coaching and Recovery Coaching a Harm Reduction Pathway. He has aided in the formation of several statewide recovery community organizations and has served on the board of the Massachusetts Organization of Addiction Recovery. Jim also has a decades-long experience working on social justice issues focusing on racial inequities and understanding the dynamics of power and privilege. He co-wrote with Arthur Woodard, Jr. the nationally well-received training Racism of the Well-Intended, and Recovery Coaching a Harm Reduction Pathway© with Dean LeMire in 2019.
More info about RCHRP at: thelemiregroup.com/rchrp-info
Training Contact: Michael Galipeau, michgalipeau@gmail.com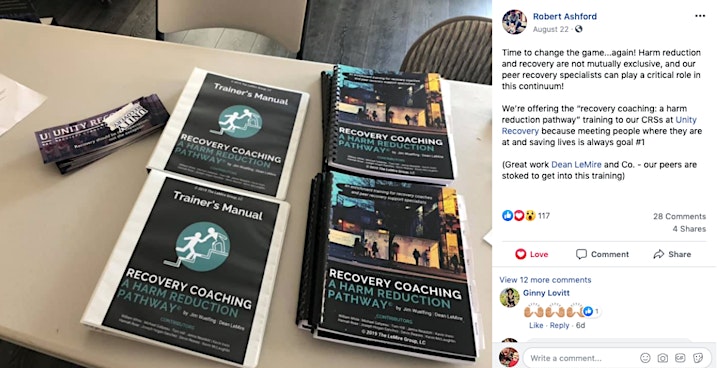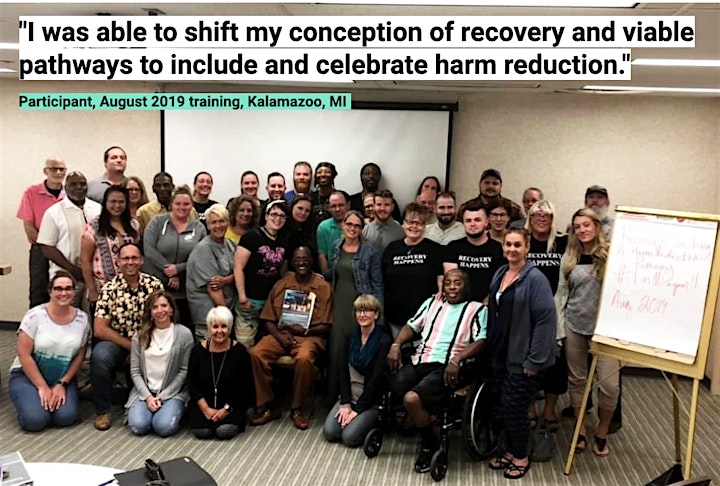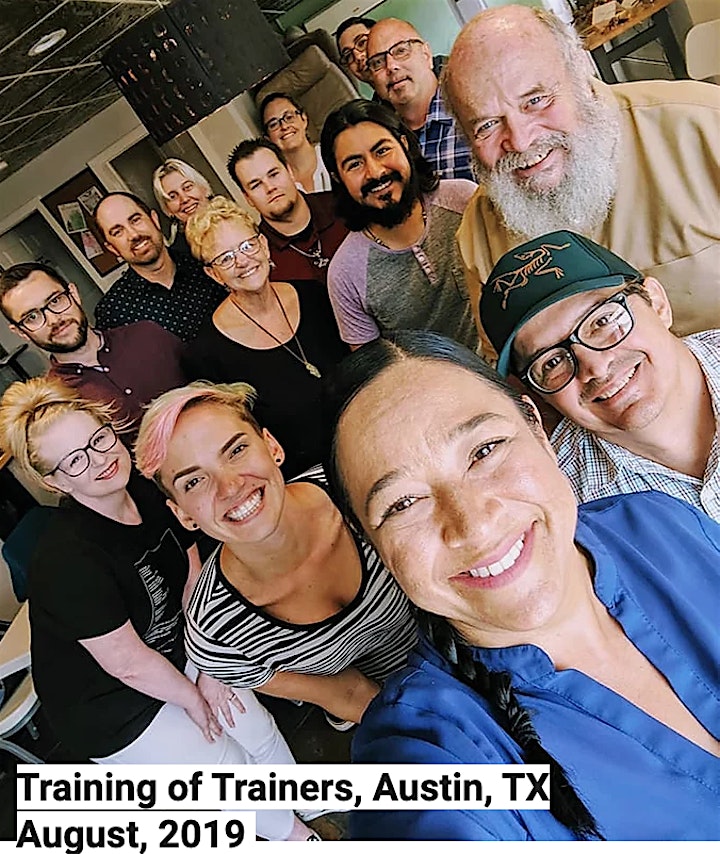 Date and Time
Location
Refund Policy
Contact the organizer to request a refund.
Eventbrite's fee is nonrefundable.