Description
Training Program Overview
Tortoise & Hare's Winter Running Program is open to runners of all abilities and will help you prepare for races 5k-marathon at the Hot Chocolate run (12/2/18), Rock and Roll Marathon (1/13/19), and Phoenix marathon (2/9/19). Please make sure when signing up that you pick the appropriate option for race(s) and distance(s) you want to do.
Please note, while this is open to all runners, we will only have a beginners training plan for the 5k. We do not suggest that someone with no training signs up for the half marathon or marathon. However, the beginners program will give you the base you need to build into those distances in the future.

Group Runs
Group runs will be held every Saturday at 6am starting September 29th. We will do some warm-ups and stretching and then head out for our run. The coach will help your find your pace and distance group for these runs, and will spend some time with each of the runners. When we return we'll stretch and have an opportunity to talk with other runners in the group and ask questions of the coach. You should wear comfortable clothing and appropriate running shoes and bring along water. Please note, the weekend of October 27th there will be no group run as the coach is out of town. On the weekend of November 4th the coach will be available on Sunday, and will host a group run that day based on interest. You can feel free to meet with others in the coach's absence to train.

Training Plan
Each of you will receive a training plan. The shorter races will have an 8 week training plan, the longer races will have a 12-16 week training plan. For the longer races we expect you to have some base of running already started even if you haven't trained for a race before.
There will be three tiers to the plan for beginner (5k only), intermediate, and advanced runners. Please be honest with us, and yourself, about your current level of fitness. Starting out too hard is the surest way to end up burnt out, injured and discouraged. By slowly building on your fitness level we can help get you on your way to enjoying running in the long term and achieving larger goals later down the road.

Your Coach
Coach Des started running in 8th grade cross country, and really never stopped. Along with her years of running experience, she has a level 1 coaching certification from Road Runner's Club of America. She is a contributor at Trail Sisters, an ambassador for Skratch Labs and a Nathan Sports Athlete. While she has experience in road racing, she currently focuses on trail races for own competitions, and has been known to occasionally compete in obstacle course racing. She loves sharing her passion for running with others, and is excited to work with you to prepare for the Ice Cream run, and hopefully to enjoy running for years to come. If you need to contact coach at any point you can email her at: finlaycoaching@gmail.com
Who: Runners of all abilities
When: Training programs start on a rolling basis starting Saturday, September 29th. Runners will meet almost every Saturday for their long runs.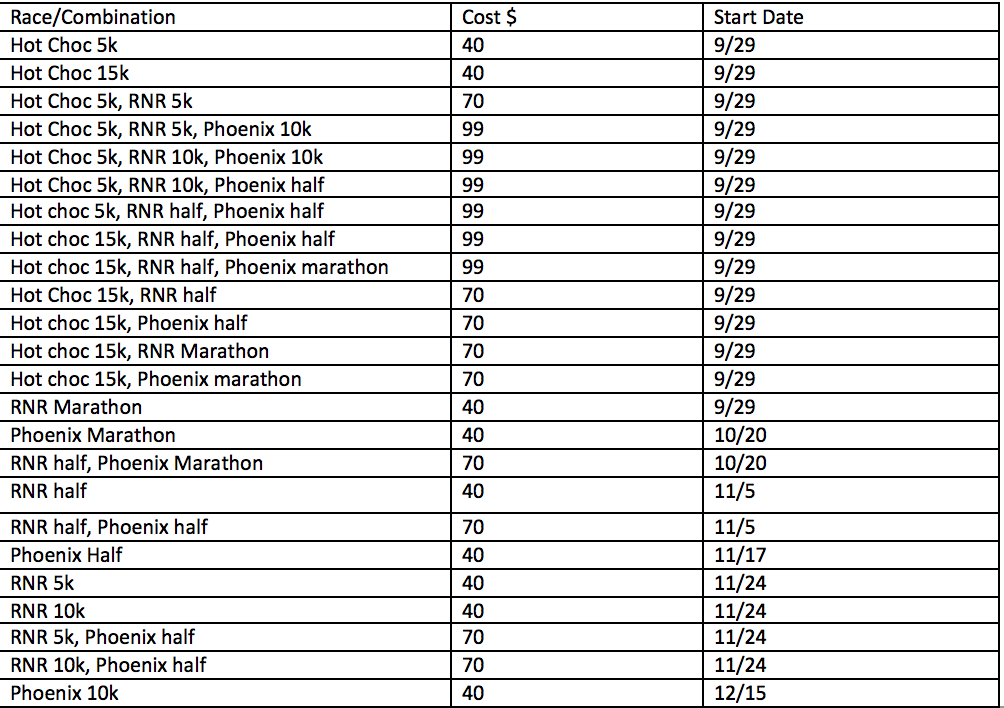 Where: Training runs will start and end at Tortoise and Hare Sports: 17570 N. 75th Ave Suite 605 Glendale, AZ 85308.
Cost: The cost varies based on the number of races you are training for and the distance(s), 1 Season Pass is $40, 2 Season pass is $70 and includes training for 2 goal races, 3 season pass is $99 and includes training for 3 goal races. Please note, the cost doesn't include the entry fee to the various races. The actual value of a training program like this with an experienced coach is $200-400.
Frequently Asked Questions
What happens if I can't make every practice?
No problem. The weekly workout schedule is included in your packet, so even if you miss the group run you can still do the run on your own. And, you'll still be more likely to complete the run than if you were training on your own because of the accountability provided by the group.
What if I don't want to do the target race/run?
You are by no means required to do a race. However, races are a great way to measure your progress, meet other runners, and celebrate your fitness. Often at races there are runners and walkers of all abilities, and people cheer in everyone from the first to the last.
Where will we be running?
We will meet at Tortoise & Hare and run from there. We will stay on sidewalks to minimize traffic concerns. We will have turn-off options for different distances. If you have questions about where you should run on your own during the week, coach will be happy to discuss it with you. One of the great things about running is that it lets you explore your surroundings in a new way. We will also be running on the canal.
What if I'm the slowest person in the group?
Someone always has to be the slowest person. However, it is rare in the running community that the last finisher isn't celebrated and encouraged as much the first finisher. All of your teammates will be there to cheer you on as you finish. The beauty of running is that you can compete against yourself, and even if you are slow you are still doing something great for your health.
I'm not able to run currently, is this group for me?
That depends on your reason for not running. If it is simply a matter of fitness, then this is definitely the right group for you. We will work with you to improve your endurance and fitness, and build to a point where you are able to run. However, if you are injured or have a health issue that prevents you from running, then this might not be the group for you. If you have questions or concerns feel free to reach out to coach to discuss them. As mentioned before, anyone signing up for the half or full marathon should already have a base of running.