The 2021 Torrance Festival of Ideas is a cultural event organized by The Torrance Center at UGA's Mary Frances Early College of Education.
About this Event
The Torrance Festival of Ideas is a three-day cultural event where a wide range of creative and imaginative experts present their innovative ideas to the general public.
The 2021 Torrance Festival of Ideas showcases 21 speakers who will present their unique perspectives on themes relevant to creativity, imagination, visual art, digital art, music, humor, empathy, consciousness, well-being, mindfulness, childhood, aging, education, equality, identity, healing, health, crisis, curiosity, innovation, entrepreneurship, authenticity, political resistance, and sociocultural change.
The spirit of Athens will also be showcased, with features on local non-profit organizations that serve the community in creative and crucial ways.
The Torrance Festival of Ideas is free to attend and is open to anyone and everyone. Registration is limited to the first 1,000 attendees!
SCHEDULE OF EVENTS
The full Festival page can be accessed HERE. The detailed schedule of events (including talk summaries and speaker bios) are available for each day - April 23, April 24, April 25.
- APRIL 23, 2021 -
Love, loss, trauma: Interconnectedness and being human
We Are More Than Numbers
Mindfulness 101
[Local Non-Profit Spotlight]
[Local Non-Profit Spotlight]
Aging and Dying with A Sense of Humor: An Improvisation in Diaspora
Racial Identity: A Promising Protective Factor for Minoritized Populations
Blind Mind's Eye: The Science of Extremes in Visual Imagery
Crisis, Curiosity and the Creative Process: Awakening Scientific Discovery Through Art
- APRIL 24, 2021 -
The Musical Child: Are we missing the developmental window?
Surviving and thriving post retirement and stroke
From Creative Seeds To Commercial Success
[Local Non-Profit Spotlight]
[Local Non-Profit Spotlight]
Is Pain Real? A journey into a peculiar, perplexing and paradoxical world
Where we are with COVID-19 and how vaccines are helping
The True Selfie: Beauty, Authenticity, and Instagram
Empathy + Innovation: The Unexplored Intersection of Creativity
- APRIL 25, 2021 -
The Durham Commission on Creativity and Education
Zoom Obscura, and other digital mischief
Survival, Escape, Rescue, and Renewal
[Local Non-Profit Spotlight]
[Local Non-Profit Spotlight]
The Domino Effect in Photography
Breath Art: The Past, Present and Future of Creative Breathing
Gustav Mahler (1860-1911): Music as Religion, Then and Now
The Arts as Political Resistance
OPEN CALL FOR SUBMISSIONS ...
We are encouraging people of all ages and backgrounds to participate in a creative challenge exploring the theme: Reflections on 2020 (see flyer below).
For more details and to submit work, please visit the CREATIVE SUBMISSION PAGE. Please contact us with any questions or concerns here: torrance-festival@uga.edu.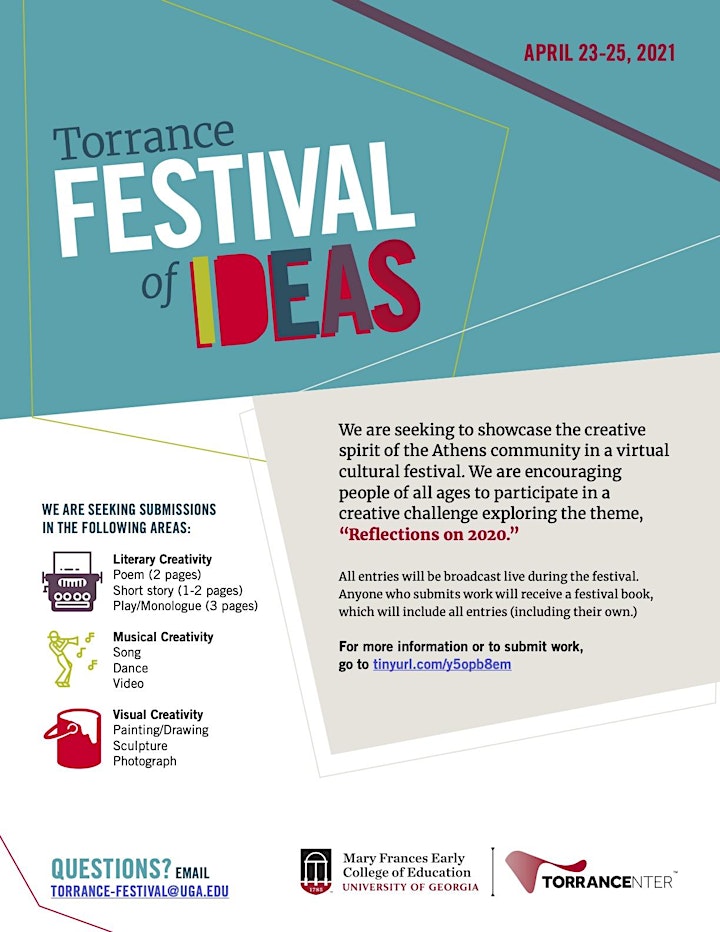 Organizer & Festival Chair:
E. Paul Torrance Professor | Director, Torrance Center
UGA Mary Frances Early College of Education
Event Coordinators:
UGA Senior: Management Information Systems
UGA Senior: Public Relations