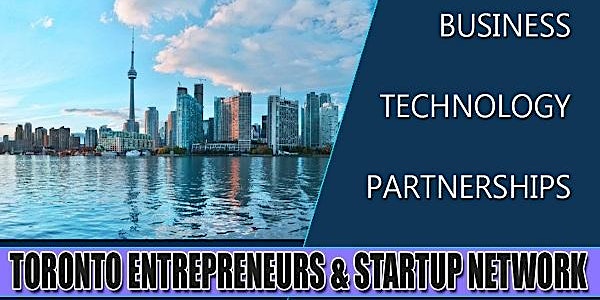 Toronto's Big Business, Tech & Entrepreneur Professional Networking Soiree
Location
Midtown Gastro Hub
1535 Yonge Street
Toronto, ON M4T 1Z2
Canada
Refund policy
Contact the organizer to request a refund.
Eventbrite's fee is nonrefundable.
Toronto's Big Business, Tech & Entrepreneur Professional Networking Soriee
About this event
LIKE FB PAGE FOR FUTURE EVENTS - CLICK HERE 
 MAKE SURE TO RSVP.
**FREE GIFT WITH CONFIRMED RSVP AT THE EVENT** 
 ***TO ATTEND BUT RSVP MUST***
 This is the largest networking mixer for Entrepreneurs , Startups and Business Professionals In Toronto. 
Calling All: Tech Startups ! Entrepreneurs ! Bussiness Owners ! Professionals ! Free-lancers, policy-makers, game-changers, and heroes!
Starting 2022 with Toronto's Best Professional Networking Affair. Please join us for an evening of creativity, inspiration and passionate conversations.
Join & raise a glass - make connections with co-founders, partners, coaches or core team members for your start-up- meet fellow professionals and mingle with makers of great and big ideas - take home treats from growing community and some business cards.
Hosted By - Toronto Entrepreneurs, Startup & Business Coalition.
Ambiance:
- Name Tags will be provided to everyone who attends. We request you put your name and industry on your name tag.
- Make sure you bring enough business cards.
- The dress code is Business Casual.
Timings:
- Event is from 6:30 PM to 9:00 PM..***Arriving on time recommended.
Admission: FREE to attend. Must RSVP.
Drinks Policy: 
One drink minimum (mandatory), it will help support the venue as they are holding space for us.
***Since this is a drinking establishment, all attendees must be 21+.***  
For Sponsorship & Business Queries Email
Moveyourcareer@gmail.com
Your chance to meet new clients and generate more business?
• Do you know that Nearly 100% of people say that face-to-face meetings are essential for long-term business relationships?
• Do you know 92% of people trust personal recommendations more than any other form of marketing?
• Do you want to grow your business?
• Do you want to build long-lasting, strong relationships within a diverse group of professionals?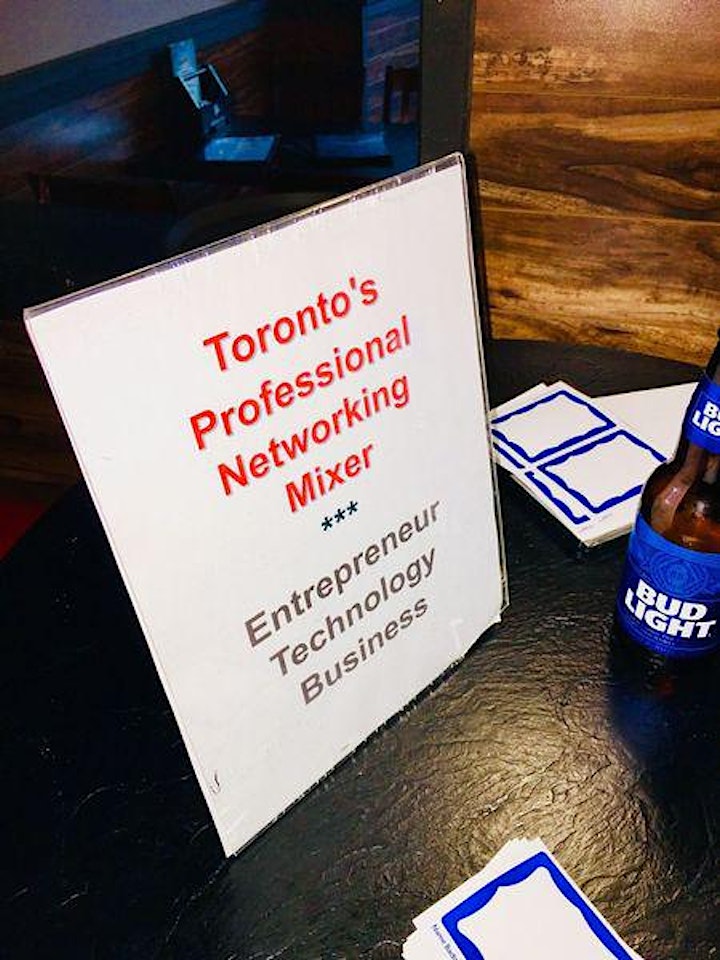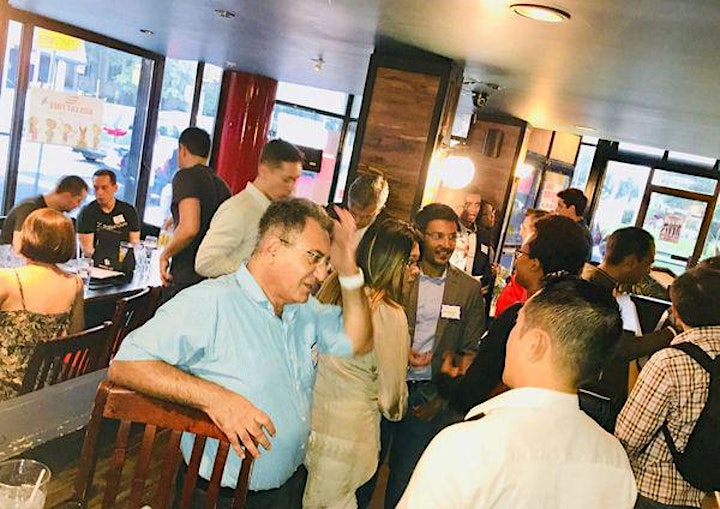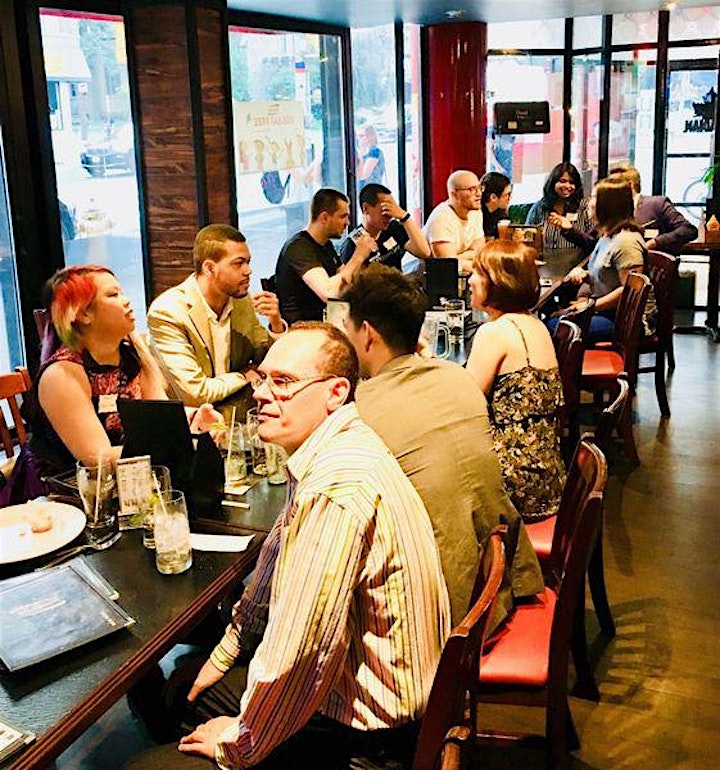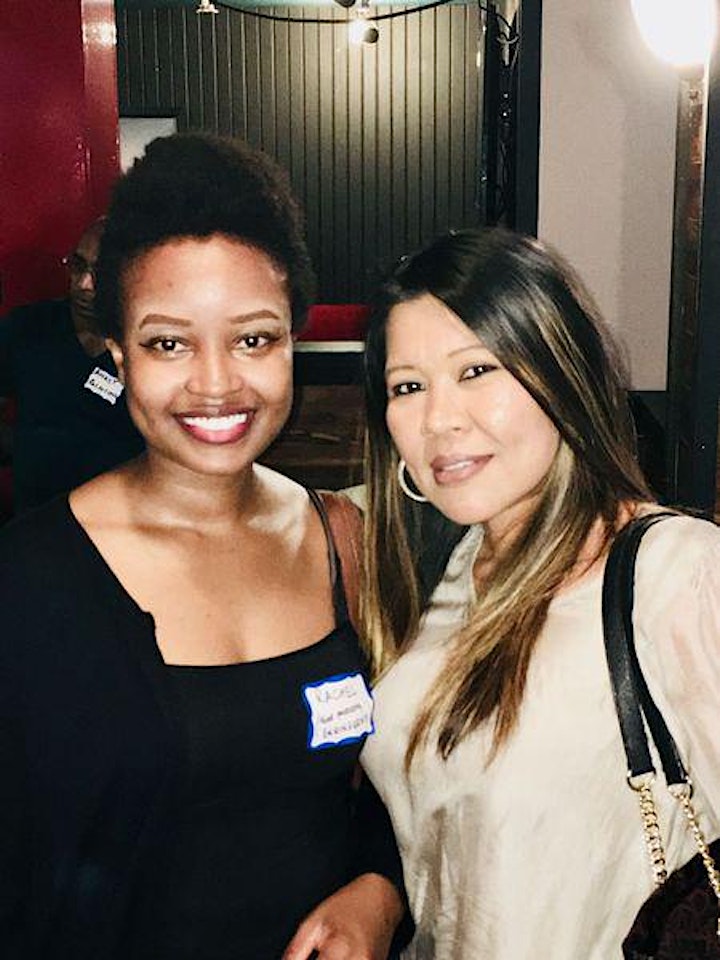 Covid Restrictions – Attendees To Follow (No Exception)
Attendees Must Be Vaccinated And Carry Proof Of Vaccination
Temperature Checks
Use of Face Masks Encouraged During The Event.
Contact Tracing is Done Through Rsvp Email Provided.
RSVP AS OF May 15th
First Name Last Name
Himanshu Sethi
Nicole Fu
Ken Ndubisi
David Nguyen
Hiroo Thadaney
Frank Frimpong
Faisal Naeem
Allen Borts
Ahmad Sear Sultani
Ari Papa
Dionne Buchanan
HT Magarh
Urpirio Moreno
Peter Arshi
Syed Salman Ali
Chris Germano
Manit Kaushal
Ashwini Kamath
Vaal Galliani
Swathi Kalaivani Alagaraj
Kendra Thomas
Johanna Coutinho
Sean Burman
Mohamed Omar Mohamed
Basil Aribi
Iris Wang
Zack Steel
Francesco Cinti
Sajitha Ibrahim
Vikesh Suresh
Katelyn Cutrara
Tracy Qian
Paul Sharma
Parvinder Shergill
Sajjad Abu
Karan Dhawan
Fazley Shabab Chowdhury
Tiffany Wong
Anas Allam
Bijoya Chakraborty
Bukky Sosanya
Abbas Kaizer
venkat sainath reddy
Curtis Wang
Curtis Wang
Curtis Wang
Rajinder Singh
tejwant singh
Ari P
Mehmet Kocacinar
Narem Karakoyun
RAFAT RAMOS ROBLES
Edima U
Jean-Paul D'Andrea
Hirak Das
Deepak Subramani
Ratan Singh
Ali Azadpour
Daniyal Ahmed
Sidharth Parihar
Emad Alloush
Stefan Knezevic
Chris Cosentino
Alieu Sarr
Abdulrahman Xoshnaw
Anna Makaryan
Ani Grigoryan
Sandeep Kaur
Brandon Ling
Rafi Faqiri
Harini Jayaraman
Kartik Sorathiya
Yinka Ogunyebi
Noah Roelofsen
Joseph Bayquen
Annum Khan
Victor Mwangi
Marianna Michalitsianou
John Esposo
Louise Marquez
Vishal P
Zee Ivanova
Kartik Sorathiya
MUHAMMAD FAISAL
Hasmik Nazaryan
Kunal Sood
Kevin Orlando
Dario Neimarlija
Dario Neimarlija
Dylan Brain
Lilian Asiimwe
Rachel Baker
Ravi Mainh
Kerry Yin
Devyaniben jethi
Nancy Adossi
Tamara Campbell
Ezra Dey
Mikayla Morra
Suzanna Alsayed
Arya Shah
Harel Lichtenstein
Maxine Weller-Joseph
Yahya Mahmoud
Athena Drummond
Amanda Song
Gloria Lee
Benjamin Samson
GABRIEL AKWETEY KWAKU EKPE
Eric Chang
RAZAK SALISU
Mark Reece
Peter Cauchi
Rohan Roy
Sharda Samaveda
Dan Carter
Anna Lepetukhina
Vince Porco
Chris Frenette
Mohammed Rizwan Cutterwala
Marine Fouquet
Eric Niragira
Aishat Abiodun
Brian Jin
Bassam Abdellatif
Caitlin Devon
Kirusanth Parameswaran
April Robinson
Olena Vinyukova
Tharmila Rajasingam
Sanjay Nair
Vansh lal
Nick Vella Muskat
Justin W.
Oluwapelumi Esther Joseph
Naila Ansari
TK Prentice-Cupid
Tiba Aldarraji
Jennifer Zee
Amir Nazari
KARL GREGICH
Patrick Soy
Hamid Wali
Monique Oyetakin
Nyoka Robinson
Jerry Chen
Suhu Homevoh
Tomy Gasimov
Mohit Gulati
Anjul Saxena
Heather Stewart
Luke Stanley
Carly Gallagher
Zafar Mahmood
Sally Roe
Anna Sotnik
Vanessa Venturoso
Sina Rafiei
Ahmed Hasswa
Sherika Harris