Toronto's Big Business, Tech & Entrepreneur Professional Networking Soiree
Toronto's Big Business, Tech & Entrepreneur Professional Networking Soriee
About this event
LIKE FB PAGE FOR FUTURE EVENTS - CLICK HERE 
 MAKE SURE TO RSVP.
**FREE GIFT WITH CONFIRMED RSVP AT THE EVENT** 
 ***TO ATTEND BUT RSVP MUST***
 This is the largest networking mixer for Entrepreneurs , Startups and Business Professionals In Toronto. 
Calling All: Tech Startups ! Entrepreneurs ! Bussiness Owners ! Professionals ! Free-lancers, policy-makers, game-changers, and heroes!
Starting Post Covid 2021 with Toronto's Best Professional Networking Affair. Please join us for an evening of creativity, inspiration and passionate conversations.
Join & raise a glass - make connections with co-founders, partners, coaches or core team members for your start-up- meet fellow professionals and mingle with makers of great and big ideas - take home treats from growing community and some business cards.
Hosted By - Toronto Entrepreneurs, Startup & Business Coalition.
Ambiance:
- Name Tags will be provided to everyone who attends. We request you put your name and industry on your name tag.
- Make sure you bring enough business cards.
- The dress code is Business Casual.
Timings:
- Event is from 6:30 PM to 9:00 PM..***Arriving on time recommended.
Admission: FREE to attend. Must RSVP.
Drinks Policy: 
One drink minimum (mandatory), it will help support the venue as they are holding space for us.
***Since this is a drinking establishment, all attendees must be 21+.***  
For Sponsorship & Business Queries Email
Moveyourcareer@gmail.com
Your chance to meet new clients and generate more business?
• Do you know that Nearly 100% of people say that face-to-face meetings are essential for long-term business relationships?
• Do you know 92% of people trust personal recommendations more than any other form of marketing?
• Do you want to grow your business?
• Do you want to build long-lasting, strong relationships within a diverse group of professionals?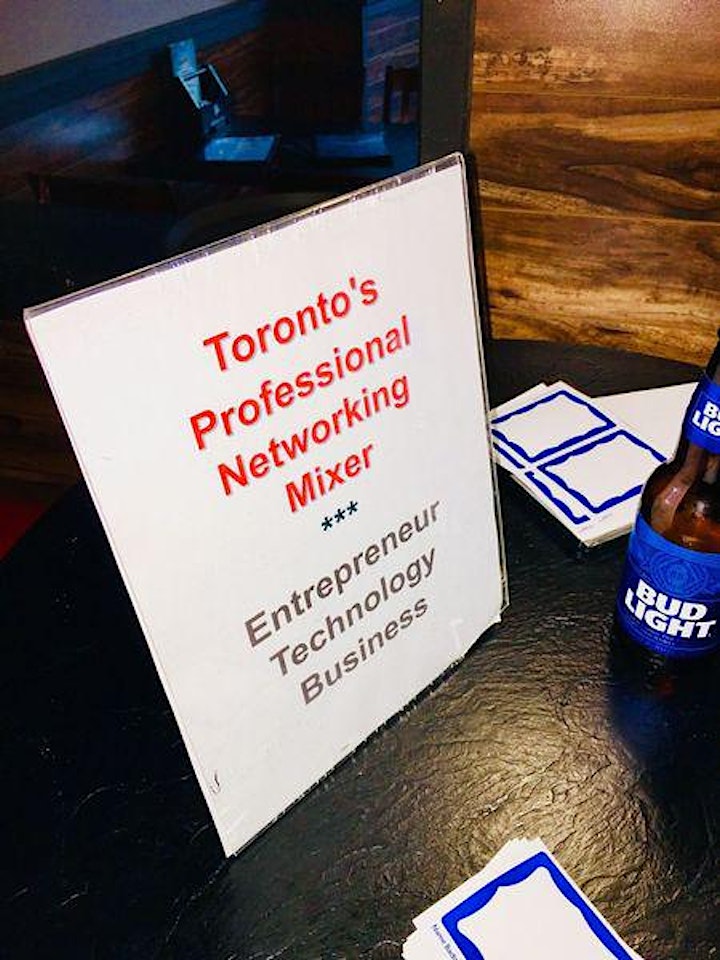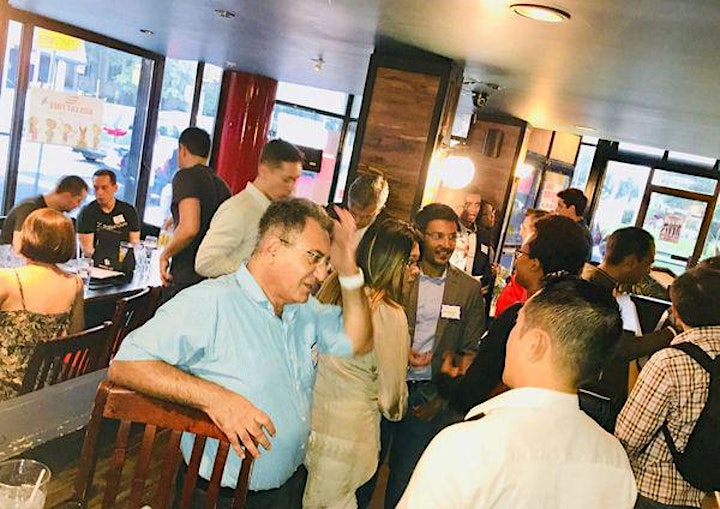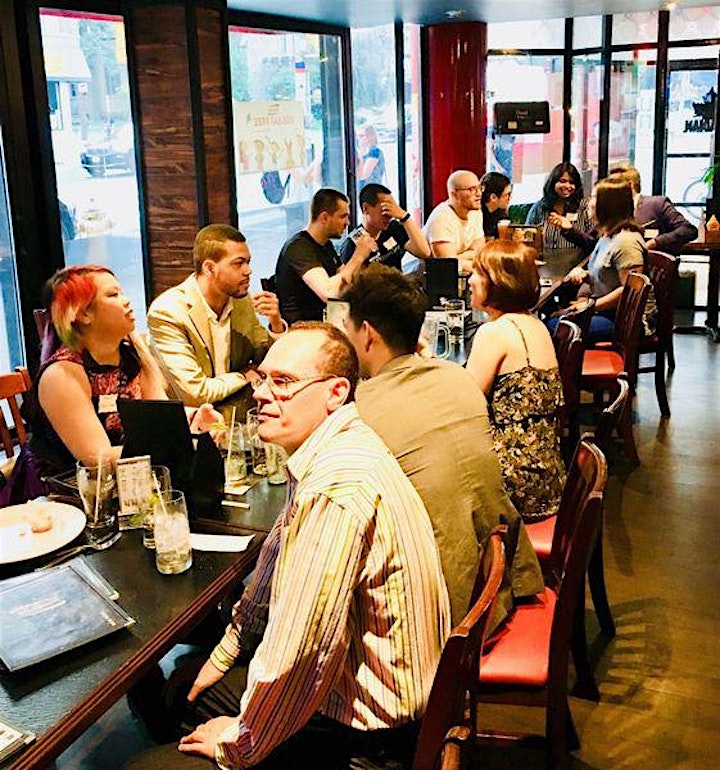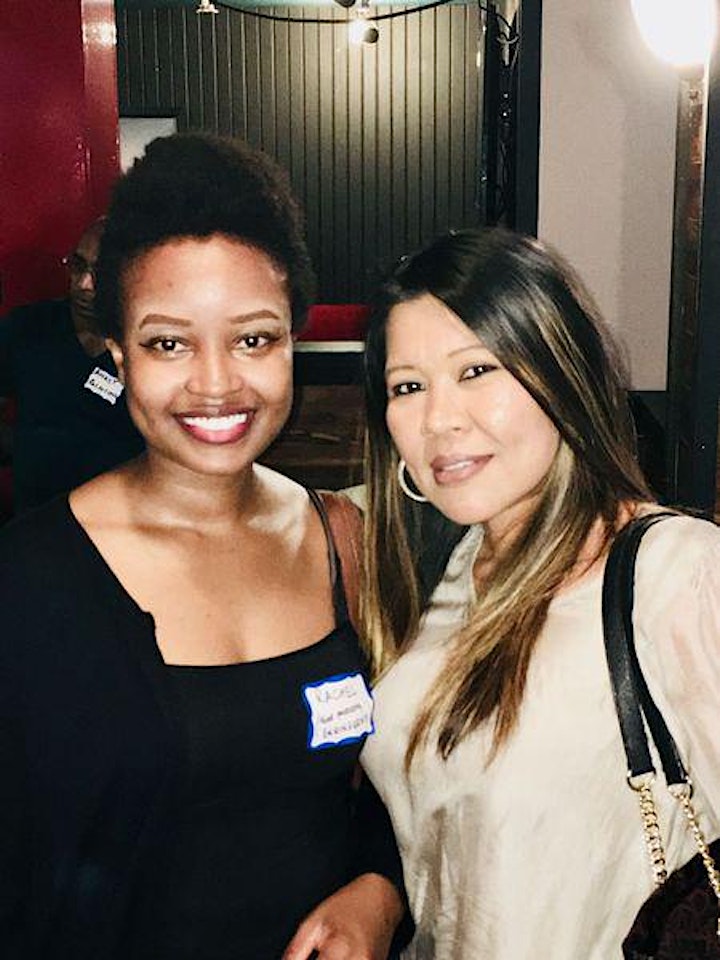 Covid Restrictions – Attendees To Follow (No Exception)
Attendees Must Be Vaccinated And Carry Proof Of Vaccination
Temperature Checks
Use of Face Masks Encouraged During The Event.
Contact Tracing is Done Through Rsvp Email Provided.
RSVP AS OF SEP 23TH
First Name Last Name
Kathy Tang
Zaid Opal
Jason Chan
Yash Kapilesh
MOHAMAD SARIF CHAUHAN
Rogelio Cazares
Kris Sharma
JAMILA NAZIWA
Rey Walter Magbanua
Lily Zhou
Ijeoma Onumaraekwu
Sabine Kwan
Heba Isa-Odidi
Teresa Smith
Radu Stoian
ROMIDA NTEMOU
Adedayo Adebowale
Sanjay Prasher
Phoebe Yu
mahyar nemati
Donya Khandan
Afzal Baig
Zina Wong
Alice Xue
Sidra Khan
Eileen Xu
Kaiwen Dai
Afshan Ahmad
TARHMBEN JENNET ARREY
Mona Khorasani
Arash Ghanbaryfar
Tom Puchalski
Ishroop Josan
Joanna Puchalski
David Schiller
Andrew Morris
Shannon Talbot
Udesh S
Michelle Asare
JMH Manufacturing
Sophia Little
CHIGBO NONSO FRANCIS
Keri PARKER
Alyssa Segula
Mohamed Bouabdallah
Aiste Chaskovskiene
Dmitry Gagarin
J Johnson
Yahya Mahmoud
Shabani Maguzu Kasiga
Mohamed O. Mohamed
Harwinder Singh Randhawa
Karim Damerje
Nasim Eskandari
Eliz Amlani
Crystal Correa
Harshith Vaddiparthy
Zhe Tang
mahyar nemati
Durlabh Sandhu
Harsangeet Sandhu
Bruce Fernandes
Shakil Mithun
Ammar Ahmed Khan
khatija bhujwalla
Jeff Tseng
Kithmini Pali
Opeyemi Ouedepo
Josephine Aryitey
Davinder Kandhari
Naeem Budhwani
Joanne Liang
MOYINWIN VICTOR AYODELE
Upinder singh
ADEBESHIN OPEYEMI VICTORIA
Patrick Quelhas
Faisal Naeem
Sneh Nainan
NONSO FRANCIS CHIGBO
Kyley Paul
Imad Qureshi
Faisal Naeem
Organizer of Toronto's Big Business, Tech & Entrepreneur Professional Networking Soiree
Toronto Entrepreneur and Startup Network


Are you looking for co-founders, partners, coaches or core team members for your start-up? Please join us for an evening of creativity, inspiration and passionate conversations by attending one of our events.
For Business Queries - Forwardyourcareer@gmail.com
Facebook Group- TESN
Meetup Group - MEETUP