Description
Tech in Motion is proud to present Toronto's 4th Annual Timmy Awards! 
The Timmy Awards by Tech in Motion is an annual awards ceremony recognizing some of the best places for tech professionals to work in Toronto. While many tech awards are given to brilliant individuals and their technological advancements, the Timmy Awards aim to recognize those who employ those technologists, the companies and managers supporting and driving the innovation. And we want YOU to weigh in. 
Nominate the Toronto tech companies and managers you know deserve recognition, vote for the carefully chosen finalists, and spread the word. Save the date so you can attend the award ceremony and cheer on our winners! 
Winning organizations and individuals will be crowned in the following categories at the Timmy Awards Ceremony this October. Click the links below to submit your nomination(s) by August 30th!
--- Award Ceremony Host & Judging Panel ---

Host:
• TBD

Confirmed Judges:
• Alexander Peh, Vice President of Innovation, RBC

• Victoria Pelletier, Vice President & Senior Partner, IBM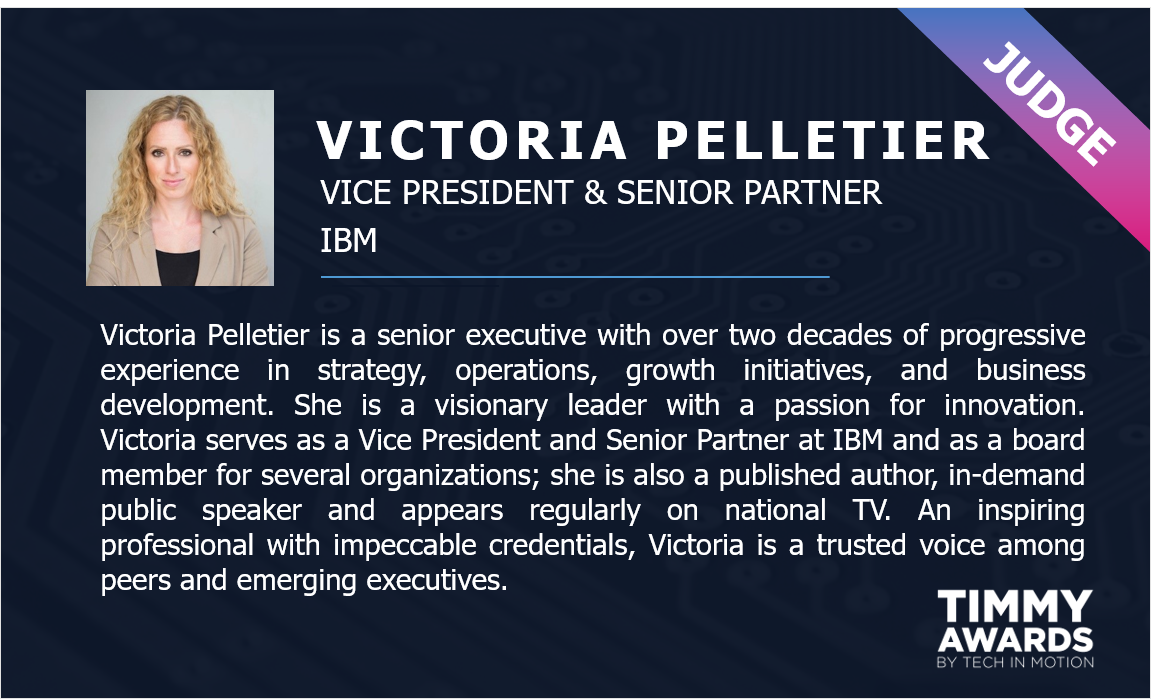 • Konval Matin, Chief Of Staff to the CPO, Shopify

--- Sponsors & Partners ---

Venue Partner:
• Soho Innovation Lab is designed for builders, innovators, and entrepreneurs with big ideas. As an investor-backed accelerator, we are looking for companies looking to build and grow, while working in a collaborative environment. We provide funding, community and physical space to thrive. Soho fosters an environment of entrepreneurship and innovation in Toronto's flourishing tech and startup ecosystem

Food Partners:
• Panago Pizza is a Canadian takeout and delivery pizza chain with over 30 years of experience in the industry and 195 locations across Canada. We have an extensive menu of recipe pizzas, salads, wings, and desserts! Visit Panago.com or call 310-0001 to order now.
• Feel Good Guru is on a delicious mission to revolutionize your everyday office lunch. We believe in feeling good all day long at work or at play and there's no better way to keep the team energized than by serving up the healthiest custom organic plant-powered salad bar with your catered hot meal. Salad: a verb meaning to enhance your body & mind and your bottom line!

Drink Partner:
• SIPBAR is an online booking tool to order a bartender or full bar service brought directly to your event. Select your bar service needs online and our amazing team of bartenders will service premium beer, wine, spirits and specialty cocktails at your event. SIPBAR can arrange, or provide recommendations, for anything you may need to host a fantastic event!

--- 2019 Awards Ceremony ---
We will kick off the evening with cocktails, hors d'oeuvres, music, and product demos from some of the best companies in Toronto tech! The award ceremony will take place mid-evening to reveal the runners up & winners in all 2019 award categories. A celebration will follow exulting the best and the brightest in tech; especially our Timmy's finalists and recipients! 
Check out our website for more information regarding award criteria, past winners, and so much more! 
---- 
Interested in sponsoring? Click here to get in touch: https://hubs.ly/H0h_cfk0 
Interested in Covering the Timmy Awards? Provide your details here  and we will get in touch as soon as possible!  
As always, we would like to thank our creators Jobspring Partners and Workbridge Associates for making the Timmy Awards possible. Interested in partnering with the Timmy's?  Contact Us!