Description
*Please note that the venue has a capacity limit. General Admission will be on a first-come, first-serve basis for the duration of the evening.*
The Timmy Awards by Tech in Motion is an awards ceremony recognizing some of the best places for tech professionals to work in Toronto. While many tech awards are given to brilliant individuals and their technological advancements, the Timmy Awards aim to recognize those who employ those technologists, the companies and managers supporting and driving the innovation.

You sent in your nominations, you told us why your workplaces and tech managers deserve recognition as this year's Best in Tech, you voted on who you think deserves to win, and now it's time join us for the ceremony to see who will be crowned this year's winners!
--- 2019 Awards Ceremony ---

Join us for our 4th Annual Timmy Awards Ceremony on Thursday, October 24th at Soho Innovation Lab where we'll announce the winners LIVE. We will kick off the evening with cocktails, hors d'oeuvres, music, and product demos from some of the best companies in Toronto tech! The award ceremony will take place mid-evening to reveal the runners-up & winners in all 2019 award categories. A celebration will follow exulting the best and the brightest in tech; especially our Timmy's finalists and recipients!
Check out our website for more information regarding award criteria, past winners, and so much more! 

2019 Timmy Award Finalists:
Toronto's Best Tech Manager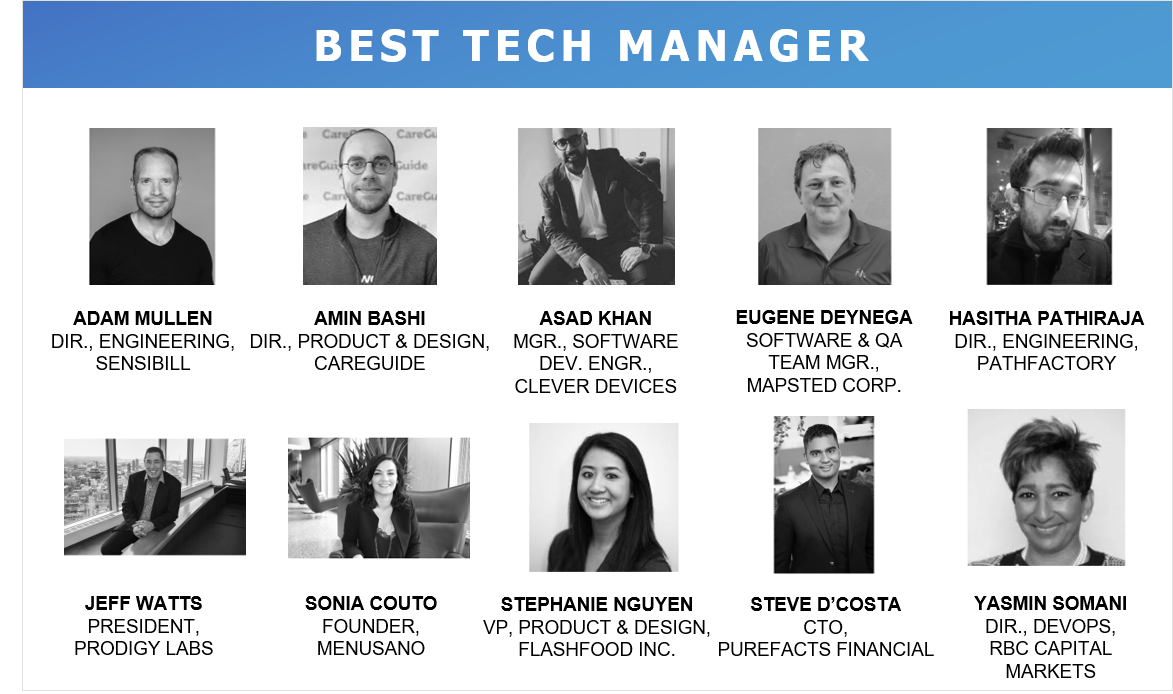 Toronto's Best Tech Startup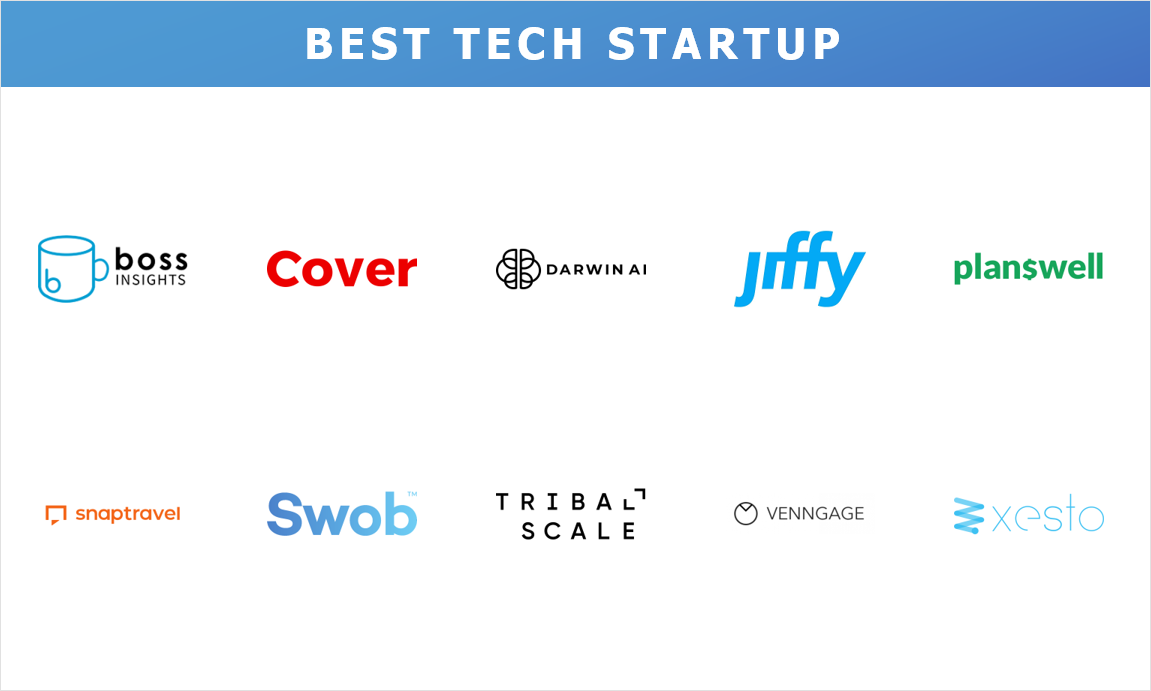 Toronto's Best Tech Work Culture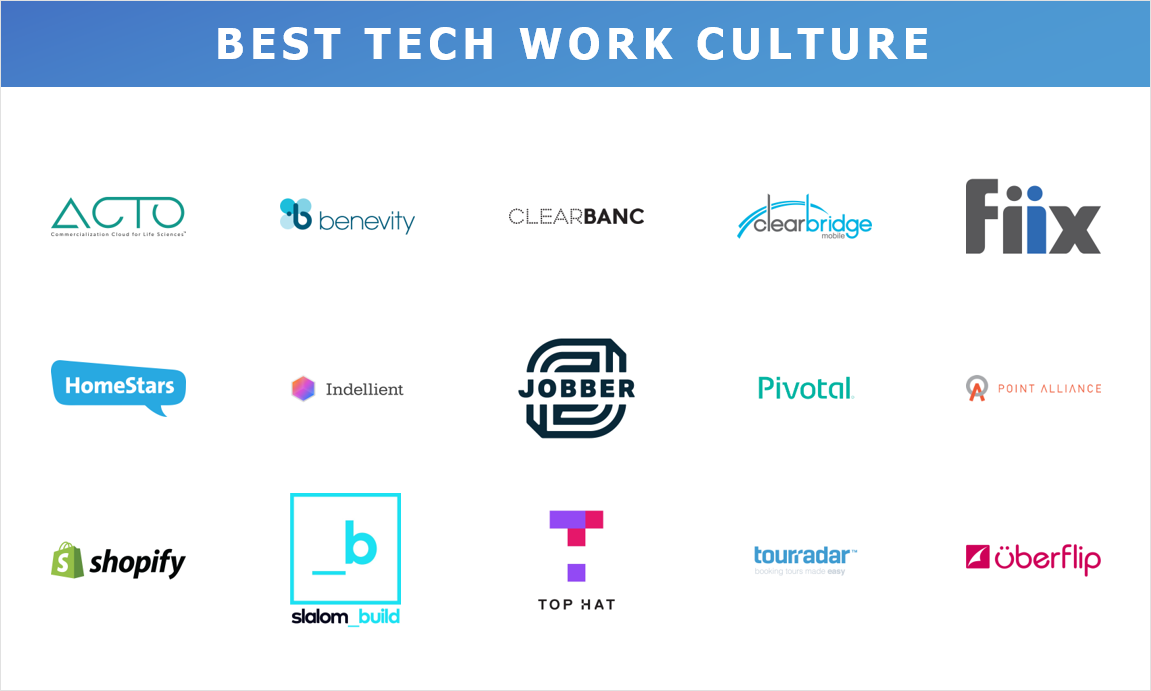 Toronto's Best Tech Workplace Diversity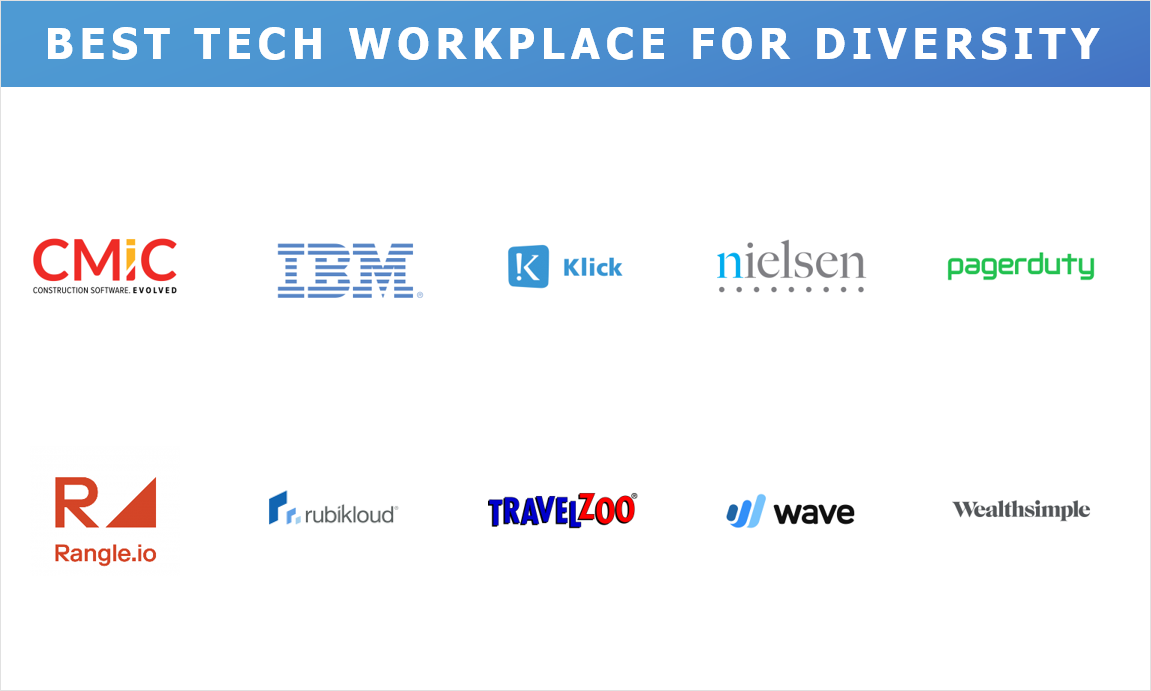 --- Award Ceremony Host & Judging Panel ---

Host:
• Nadia Genevieve Masri, Forbes 30 Under 30 | Founder & CEO, Perksy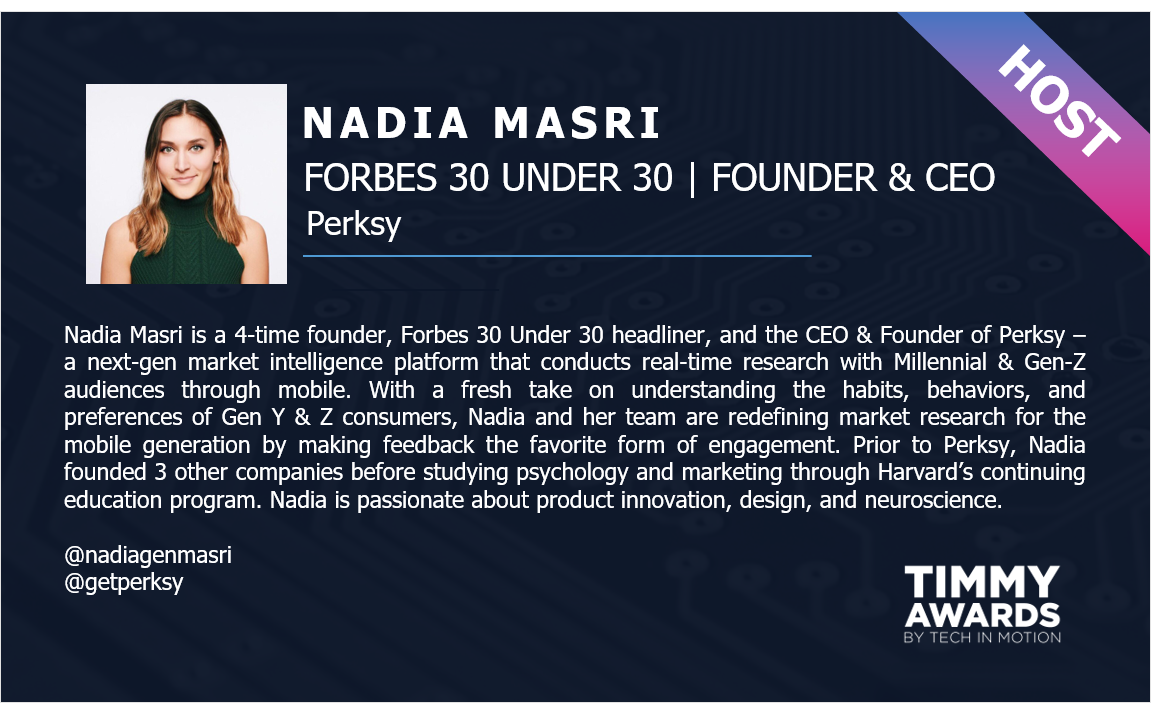 Confirmed Judges:
• Alexander Peh, Vice President of Innovation, RBC

• Victoria Pelletier, Vice President & Senior Partner, IBM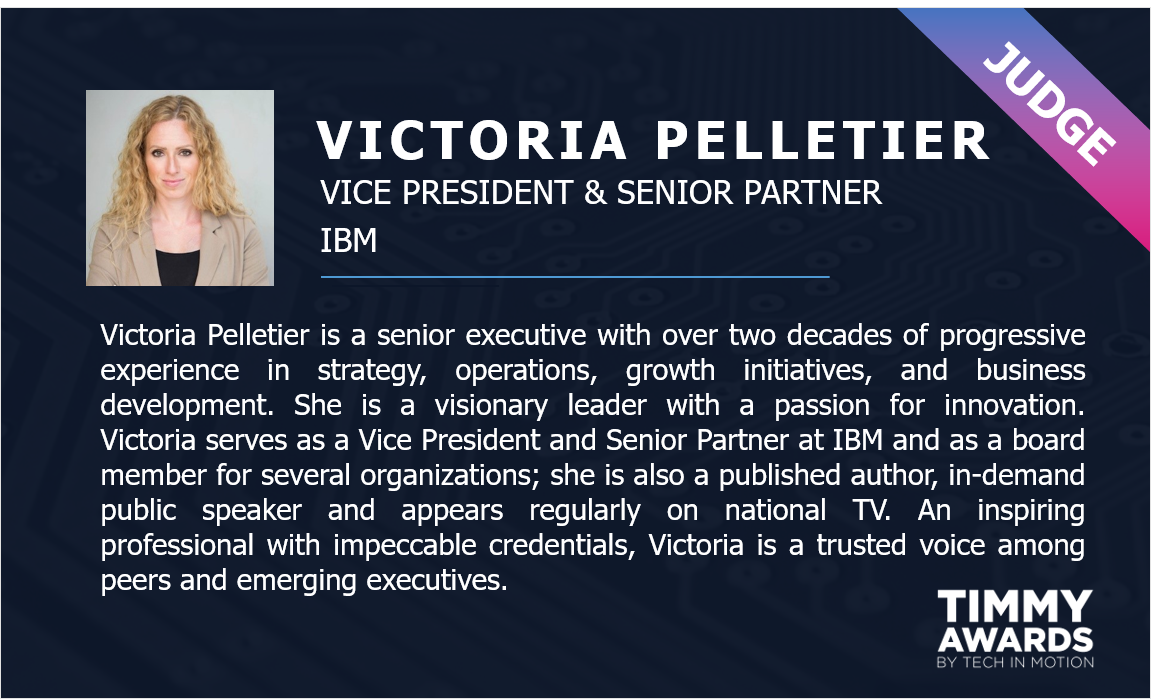 • Konval Matin, Chief Of Staff to the CPO, Shopify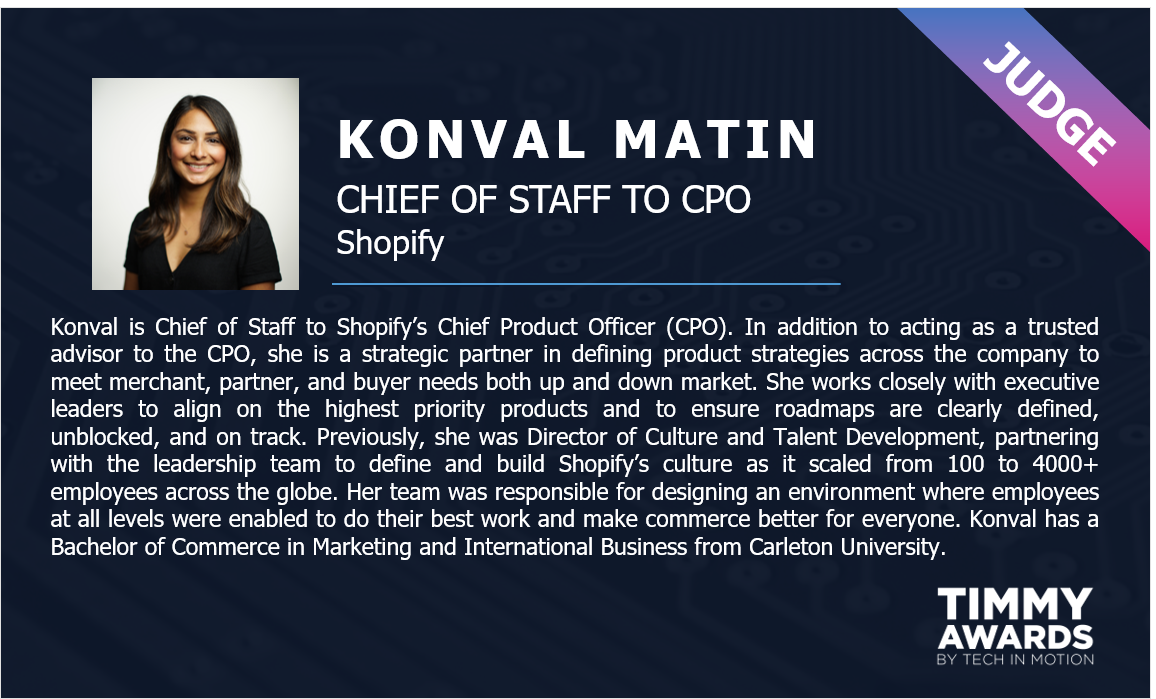 • Douglas Soltys, Founder & Editor in Chief, BetaKit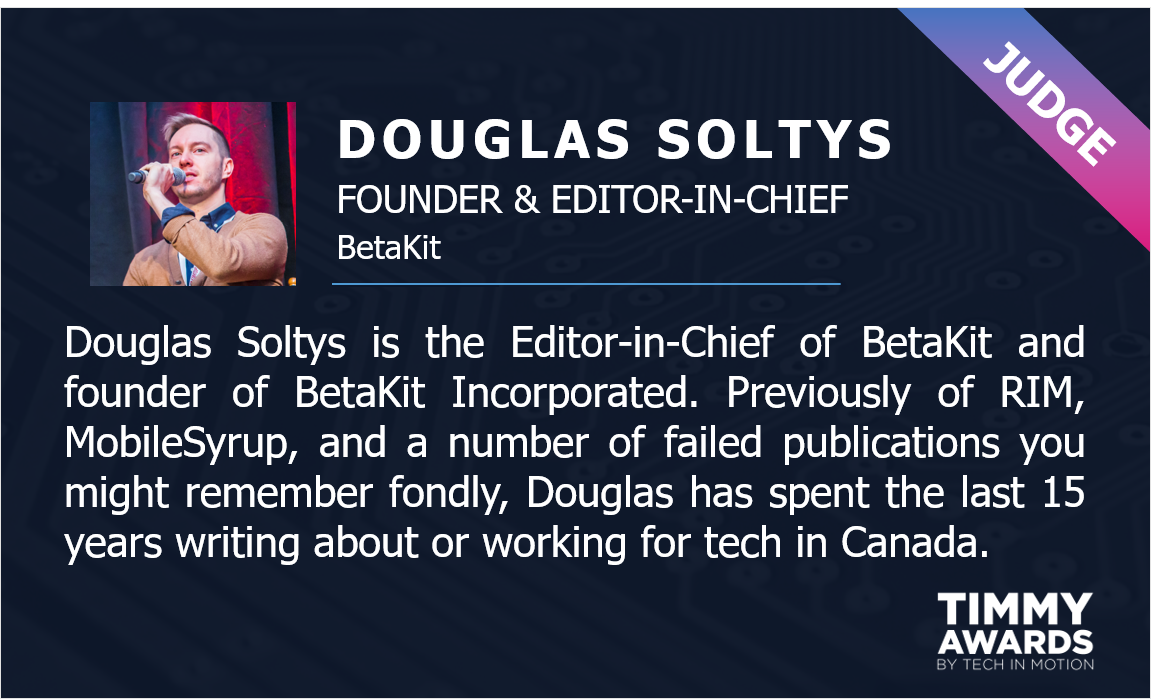 --- Sponsors & Partners ---

Venue Partner:
• Soho Innovation Lab is designed for builders, innovators, and entrepreneurs with big ideas. As an investor-backed accelerator, we are looking for companies looking to build and grow, while working in a collaborative environment. We provide funding, community and physical space to thrive. Soho fosters an environment of entrepreneurship and innovation in Toronto's flourishing tech and startup ecosystem

Food Partners:
• Panago Pizza is a Canadian takeout and delivery pizza chain with over 30 years of experience in the industry and 195 locations across Canada. We have an extensive menu of recipe pizzas, salads, wings, and desserts! Visit Panago.com or call 310-0001 to order now.
• Feel Good Guru is on a delicious mission to revolutionize your everyday office lunch. We believe in feeling good all day long at work or at play and there's no better way to keep the team energized than by serving up the healthiest custom organic plant-powered salad bar with your catered hot meal. Salad: a verb meaning to enhance your body & mind and your bottom line!

Drink Partner:
• SIPBAR is an online booking tool to order a bartender or full bar service brought directly to your event. Select your bar service needs online and our amazing team of bartenders will service premium beer, wine, spirits and specialty cocktails at your event. SIPBAR can arrange, or provide recommendations, for anything you may need to host a fantastic event!
Demo Partner:
• VR Vision is an XR (Extended Reality) company that provides immersive technology solutions for business. We provide virtual reality, augmented reality, 3D 360 video production, and web & mobile application development that are used to enhance marketing and training outcomes alike.
• Selff.ee Edible Photobooth, an innovative, first-to-market experiential marketing vendor that lets you eat your own face! Selffee activates at corporate events, trade shows, parties and other events, printing high-quality images of guests directly to food and drink items on-site, in real-time. Given its unique technology and selfie products, Selffee has transformed from the mere brainchild of a chiropractor and salesman to a formidable experiential marketing force on a national and international level. It now has teams in twelve North American markets and can serve clients literally anywhere around the world.
Photographer/Videographer:
• Jacky P.A. Tran is a freelance filmmaker and cinematographer from the Greater Toronto Area. From narrative and commercial works to weddings and music videos, Jacky uses his experience from previous creative collaborations and his background in journalism and communications to help tell stories that connect with us all.
• Anika Kitchen is here to capture the moments that matter most to my clients. In this digital age, we are accustomed to documenting our lives, Amare Studios will create photographs that serve as both art & documentation. It is my passion to capture moments in a way to recreates the feelings you experience and also invokes something new. My style is forever changing, growing, and adapting. You and your story are unique and your photographs will portray the essence that is you
• Now Creative Group is a creative agency fueled by entrepreneurial thinking and positive impact. The team focuses on strategic branding paired with quality content to share stories, create change, and enable growth.
---- 
Interested in sponsoring? Click here to get in touch: https://hubs.ly/H0h_cfk0 
Interested in Covering the Timmy Awards? Provide your details here  and we will get in touch as soon as possible!  
As always, we would like to thank our creators Jobspring Partners and Workbridge Associates for making the Timmy Awards possible. Interested in partnering with the Timmy's? Contact Us!