Description
Tech in Motion is proud to present Toronto's 3rd Annual Timmy Awards!

What are the Timmy Awards?

The Timmy Awards by Tech in Motion is an awards ceremony recognizing the best places for tech professionals to work in TO. While many tech awards are given to brilliant individuals and their technological advancements, the Timmy Awards aim to recognize those who employ those technologists, the companies and managers supporting and driving the innovation. And we want YOU to weigh in.

The 2018 TO Timmy Awards (details below): https://hubs.ly/H0d3jKJ0

Join us, Wednesday, October 17th, at Revival Bar to celebrate the winning organizations and individuals at the 3rd Annual Timmy Awards Ceremony!

We will kick off the evening with cocktails, hors-d'oeuvres, music, and product demos from some of the best companies in Toronto tech! The award ceremony will take place mid-evening to reveal the runners-up & winners in all 2018 award categories. A celebration will follow exulting the best and the brightest in tech; especially our Timmy's finalists and recipients!

Timmy Award winners are determined by (50%) public voting and (50%) judge's voting. This year's winners and runners-up can be found at https://hubs.ly/Hod3jKJo or viewed in the photos section on our Meetup page after they are announced live on October 17th.

--- 2018 Toronto Award Categories & Finalists ---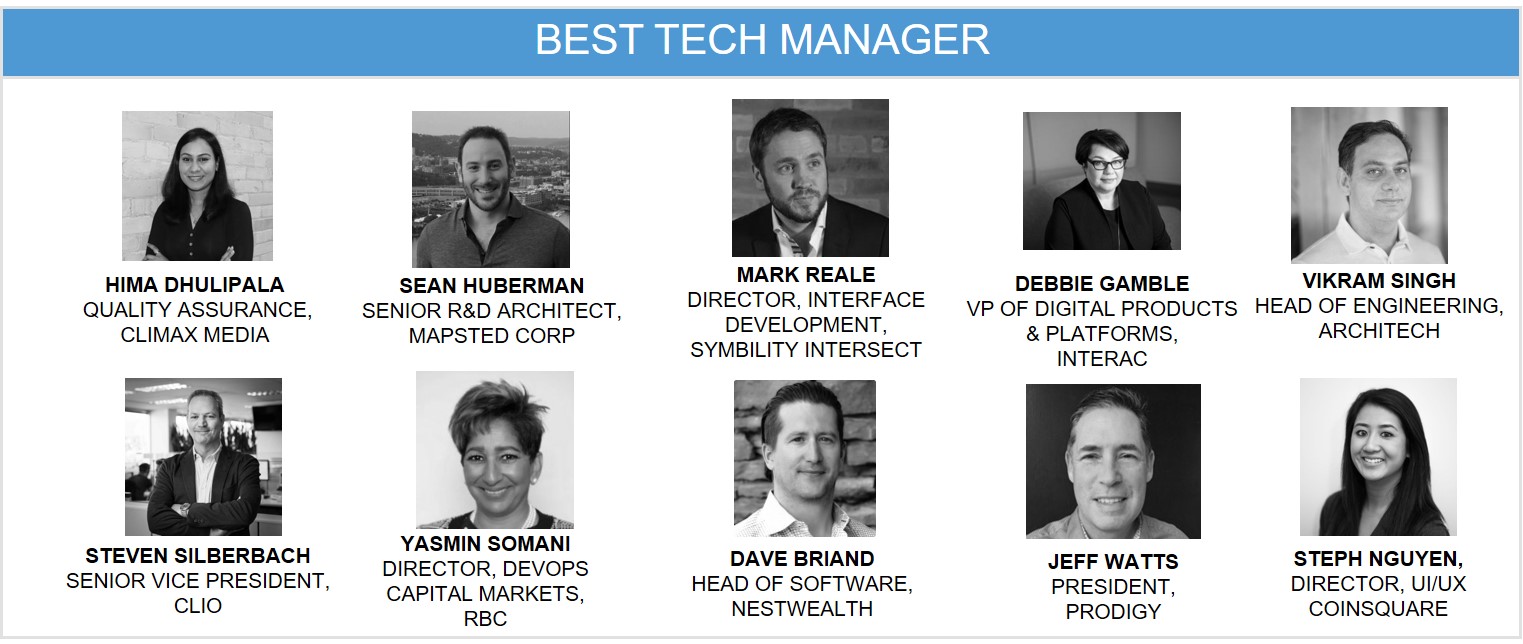 --- 2018 Toronto Host & Judges ---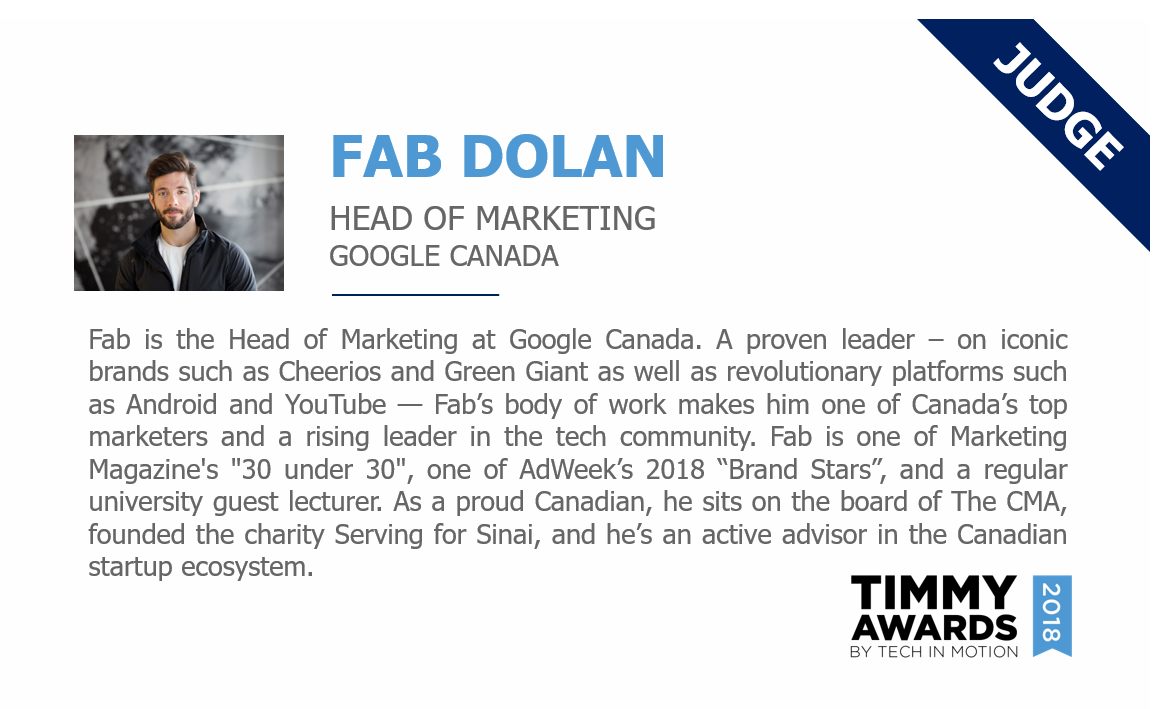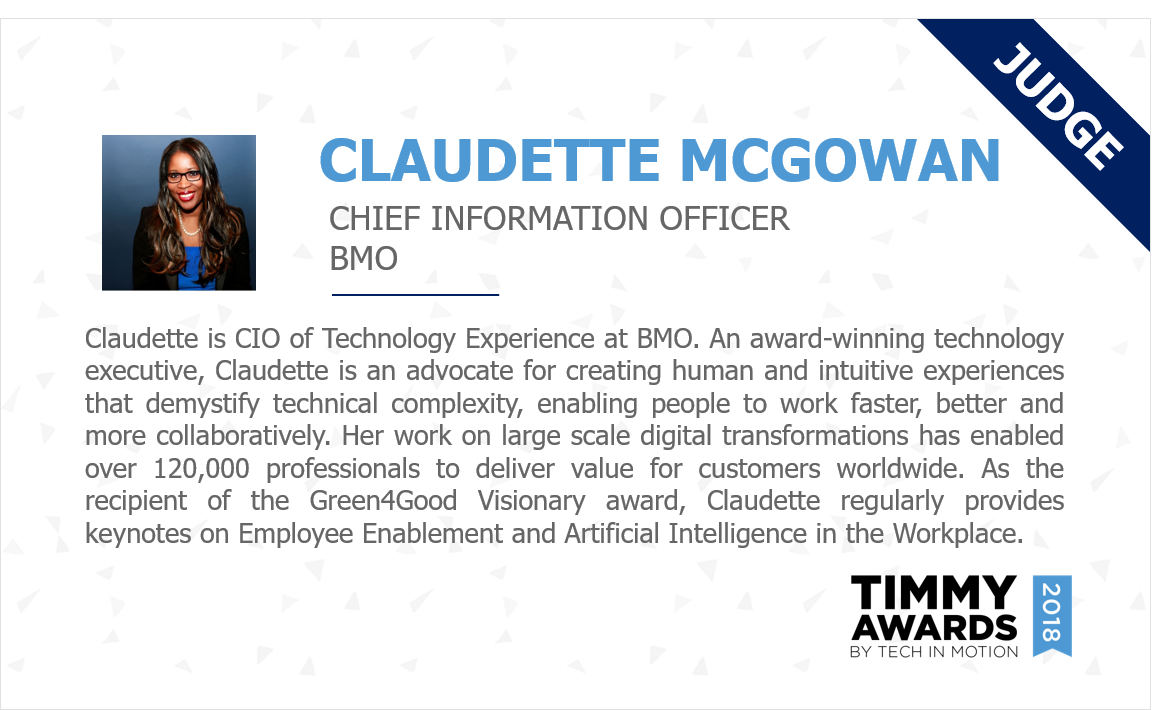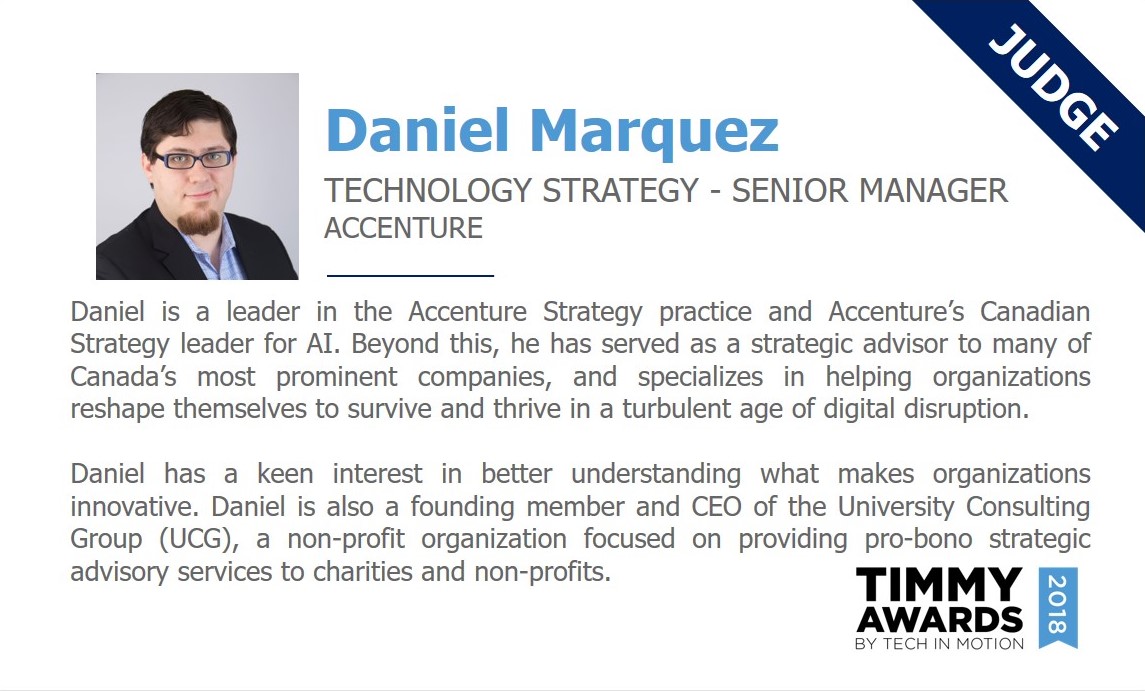 ---
Demo Company:
MakeLab's design team takes future tools like 3D printers and laser cutters to events around the world, showing people how to use and create with them for the first time. Learn more at www.makelab.ca.
Food Partner:

Feel Good Guru is a small local catering company providing the healthiest organic plant-based food for #luckyofficemates at tech offices in downtown Toronto. Find them @feelgoodguru.

Photographers/Videographers:

Joshua Davies is a photographer and cinematographer from Toronto. Currently working as the Director of Photography for HOLR Magazine, Joshua has experience covering events from fashion shows to concerts. Since joining HOLR Magazine Joshua has shot co-branded editorial for Club Monaco, Peace Collective, NBA Canada along with many more.
Sandile, a 23-year-old visual creative specializing in Portrait Photography and Video Editing. He used to live in Vancouver for 4 years until finally succumbing to Toronto's charm 3 weeks ago. He is new to Toronto and here to freelance, network, and zone in on any media and technical skills that assist in pushing only the best of stories out into the world.
DJ:
Stephen Henrik, our DJ, is the founder of Energene.org - tips to boost your energy - who will keep us energized at the Timmy Awards
Partners:
Pi Co. is a totally fresh and innovative take on pizza! Pi Co. offers made-to-order Neapolitan style pizzas, custom salads, gourmet dessert, and other small bites. We also cater, so treat your clients and employees to a premium customizable pizza option for all of your events and parties. Find out more and place an order here: http://www.pi-co.ca/

Jiffy is the easiest way to book quick, small jobs around the house. The app instantly connects homeowners with tradespeople, all at industry average or cheaper preset rates. Book any of the 30+ services (plumbing, electrical, handymen, etc.) on their iOS or Android mobile app, or online at jiffyondemand.com
---

Interested in covering the Timmy Awards? Provide your details here and we will get in touch as soon as possible: https://hubs.ly/H0d3j-50

As always, we would like to thank our creators Jobspring Partners and Workbridge Associates for making the Timmy Awards possible. Interested in partnering with the Timmy's? Contact us: https://hubs.ly/H0d3jYj0