Location
Department of Biological Flow
Grange Park
(NW Corner)
Toronto, Ontario
Canada
Description
THE ACCELERATION TOUR:
Picture this.

An outdoor tour of public artworks with a twist: instead of walking between each work as a group, we will be running from work to work. And a twist to the twist: instead of running at an even pace for the entire duration between each work, we will practice a form of accelerationist running, in which one is running at approximately 50% of one's personal capacity by halfway to the next work, 75% of capacity by the three-quarter mark, 95% when almost there ..... and arriving at one's peak velocity.

You are gasping for breath, muscles screaming, heart pounding, sweat pouring.

Now it is time to experience the artwork ..... slowly.
FB: https://www.facebook.com/events/258338067670326/

~

THE ACCELERATION TOUR emerges in response to two seemingly disparate strands in contemporary aesthetics: first, the SLOW ART DAY founded in 2009 by Phil Terry (http://www.slowartday.com/), which suggests that for one day each year people visit museums and galleries to look at art slowly, recalibrating the practise of spectating "to focus on the art and the art of seeing"; and second, the recent article by Alex Williams and Nick Srnicek titled '#ACCELERATE: MANIFESTO FOR AN ACCELERATIONIST POLITICS' (http://criticallegalthinking.com/2013/05/14/accelerate-manifesto-for-an-accelerationist-politics/), which offers a new direction for Left politics, one that "pushes towards a future that is more mod­ern, an altern­at­ive mod­ern­ity that neo­lib­er­al­ism is inher­ently unable to generate."
Philosophy meets art.

Though apparently synthetic on the surface of things, THE ACCELERATION TOUR proposes to hold both of these initiatives in tension by challenging certain underlying assumptions in an embodied practice. This is an experiment in speculative aesthetics, exploring questions of synaesthesia, attunement, tempo, intensity, calibration, exhaustion and trauma.

Participants of all fitness levels and skills in running or art spectatorship are welcome---this is not a competition. The idea is for each runner to understand their own potentials as they unfold during the course of the event and maximize them accordingly. Furthermore, "running" here can be understood more broadly to encompass a variety of mobilities, such as wheelchair acceleration.

The Acceleration Tour premiered in late 2013 at the TIME FORMS conference in Montreal.

FB: https://www.facebook.com/events/258338067670326/


.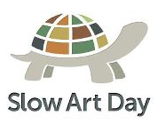 Department of Biological Flow
Art viewing: 9:30 AM - 12:30 PM
Lunch: 12:30 PM - 1:30 PM
At Grange Park (behind Art Gallery of Ontario and OCADU)

Host: Sean Smith
Email: sean@departmentofbiologicalflow.net
FB: https://www.facebook.com/events/258338067670326/

Slow Art Day is a worldwide celebration of art that encourages people to look at art SLOWLY – and thereby experience art in a new way. You can see more about Slow Art Day and the mission behind it on our website: http://SlowArtDay.com.
As Slow Art Day approaches, you'll hear from your host with more information, as well as instructions about what to do when you arrive for Slow Art Day.
More info about Slow Art Day movement: facebook | twitter | tumblr