About this Event
The Global Siyum
*Group Seating: See below for more information
The Siyum unites worldwide Jewry in an unparalleled display of achdus. Jews from all walks of life join in pursuit of a common goal - the completion of Shas, in its entirety. In countries across the globe, the dedicated ranks of Shas Yidden are learning and achieving, as they work toward the upcoming 13th Siyum HaShas. The singular allegiance to Torah will once again be apparent, when we gather in Toronto to celebrate the momentous culmination once again.
The last Siyum HaShas on August 1, 2012, was the most monumental event in recent Jewish history. It impacted, inspired and uplifted over 120,000 participants across 80 cities and 18 countries. The special moments and experiences of the last Siyum HaShas left a lifelong imprint on the collective memory of generations of Klal Yisroel.
The upcoming Siyum will be an even greater global celebration with an anticipated 200,000+ participants across cities and countries around the world. It will once again be historic.
When and where will the event be held?
Sunday, January 5, 2020 at the Metro Toronto Convention Centre, South Building
Doors Open- 2:00PM
Siyum Begins- 3:00PM
Estimated End Time - 6:00PM
How does seating work?
You are able to choose a pricing tier upon registration. See map provided below to select an area of seating. Please note that men and women will be seated separately. Seating is sectional. We therefore ask that you arrive early to procure a favourable seat within your section. Group seating can only be reserved for groups of 30+ of formal institutions (shuls, schools, etc.) If you'd like to reserve seating for a group, please contact: toronto@thesiyum.org.
GROUP SEATING: If you would like to sit with your Shul/school, please select the $40 ticket option and select your Shul/school from the drop down menu in the order page.
*Floor plan is subject to change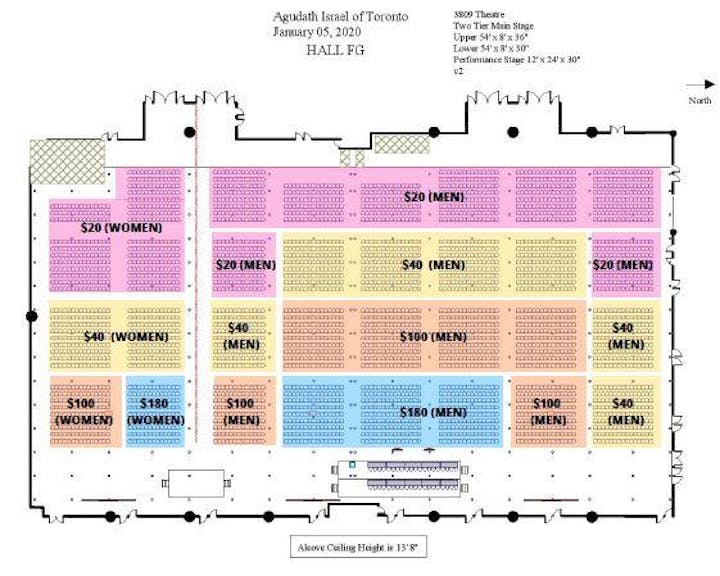 Sponsorships of $100 will be receipted for $75
Sponsorships of $180 will be receipted in full.
Is there an age requirement?
Age appropriate children are welcome to attend.
Will food/beverage be provided?
Only VIP tickets include a snack and beverage. Your ticket does not include food or beverage but there will be options available for purchase at the venue.
Can I purchase more than 1 ticket to attend?
You may. You will be responsible for distributing all purchased tickets to their intended recipients.
The Committee
These individuals have dedicated their time to carry out the great legacy of R' Meir Shapiro zt"l to ensure the expansion of לימוד התורה and the increase of כבוד שמים generated by The Siyum
TORONTO EVENT COMMITTEE
Avromi Abish
Shaul Anisfeld
Yossi Braun
Menachem Brown
Rabbi Ahron Freidman
Shloimy Goldreich
Rabbi Chaim L. Gross
Chaim Y. Landau
Zale Newman
Shmuel Zimmerman
Israel Zlotnick
Yehoshua Zolty
Interested in becoming a Donor or Sponsor?
To donate or sponsor Siyum Hashas Toronto, please contact Shmuel Zimmerman at: szimmerman@dovcapital.com
Cancellation Policy:
All cancellations must be made in writing and sent via email to toronto@thesiyum.org. A full refund, minus an administrative fee of $15 per registration, will be made on cancellations submitted to our office by Monday, December 16th. Cancellations after this date and "no shows" will not be eligible for refunds. Refunds will be credited back to the original credit card used for payment. Registrations are transferable. In the event of a show cancellation, Siyum Hashas is not responsible for any airfare, hotel or other expenses incurred by registrants. NO REFUNDS WILL BE ISSUED BEGINNING Tuesday, December 17TH. Siyum Hashas Toronto reserves the right to change the above policy at any time without prior notice.  Submission of this registration form for processing by Siyum Hashas Toronto is considered acceptance of the terms and conditions noted above.
Recording and Image Waiver:
Siyum Hashas Toronto reserves the right to broadcast and transmit recorded content via TV, Satellite, Cable, Internet, and any other means of distribution. Siyum Hashas Toronto also reserves the right to capture photographic images during the event and use them for promotional purposes. By entering, you agree to be filmed, photographed and recorded. You also agree that all material captured by Siyum Hashas Toronto may be used by Siyum Hashas Toronto and its partners for promotional purposes, worldwide.