Description

Join us for Promptings Academy
May 13-14, 2016!
Kody Bateman, Founder and CEO of SendOutCards, has developed a powerful message with an unforgettable experience by instructing you to become your best self, and then act on who you are to change lives.
His signature training, Promptings Academy is held in different regions of the world throughout the year. This event will provide you with insightful personal development tools fused with pivotal business building fundamentals to help you in your personal and professional life. The purpose of the Promptings Academy is to align your mind with success by following the SendOutCards 2-fold mission; helping millions of people act on their promptings while providing a vehicle for financial freedom.
With an introduction to a manifestation process, along with an essential 5 Habit curriculum, you will gain core training on how to further develop successful habits and utilize them daily. This will help you to achieve expert proficiency in each of these areas: heartfelt card sending, smart phone use, the APA technique, training others and personal development. Kody also introduces guest speakers for expert education and hands-on training during the course of the weekend, to further instill the 5 Habits of Success.
You are invited to join us at this exceptional personal development event to:
- Learn about yourself and your true passion
- Set new goals for success that is in alignment with who you are
- Implement daily successful habits
- Create core purpose statements
- Learn and follow a manifestation process
- Learn more about Send0utCards as a personal and business tool
The personal development portion of the Seminar is Saturday, May 14th and is open for guests, as well as SendOutCards customers and distributors.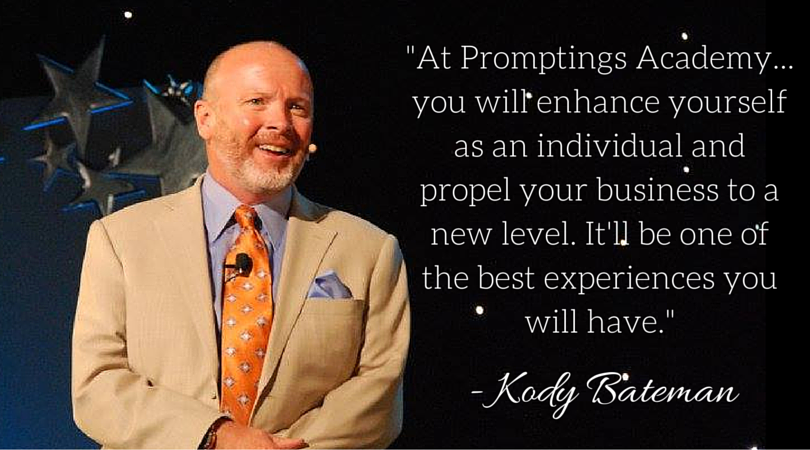 ---
Agenda
Friday, May 13
7:00 - 9:00 p.m. - Business Building Training
Saturday, May 14

9:00 a.m. - 5:00 p.m. - Personal Development and Business Building Training
Promptings Academy Speakers
Kody Bateman - Founder and CEO of SendOutCards
---
Recommended Airport
Toronto Pearson International Airport
Hotel Accommodations - Holiday Inn Burlington Hotel & Conference Centre
To book your stay for the event, please contact the hotel directly.